Saturday Update
by Big Hungry
1-13-2018
(619) 223-1627
Website

We have the New Lo-An out on an offshore trip fishing for Bluefin Tuna down in Mexico. Check back with us later for a fish report update. We have everything from offshore Tuna trips to inshore shore trips fishing for Yellowtail, Bass and Bonito. Call today for availability or to book your trip. (619) 223-1627.

The New Lo-An called in an early report of 13 Bluefin Tuna in the 50-70lbs range and 60 Yellowtail for their 1.5 day trip due back Sunday morning.

The New Lo-An has just added a few 1.5 day trips that are making the long run for the nice grade Bluefin Tuna. The trips will be departing on Sunday, January 14th, Tuesday, January 16th, and Friday, January 19th. All of these trips leave the dock at 5pm and they DO NOT require a passport.

The Mission Belle called in with 23 Yellowtail, 1 Halibut, 1 Lincod, 5 Calico Bass, 70 Rockfish, 15 Whitefish and 15 Bocaccio for their 3/4 day trip in Mexico.

The Daily Double called in with 1 Yellowtail, 5 Calico Bass, 21 Sand Bass, 2 Sculpin, 2 Perch and 1 Triggerfish for their am 1/2 day trip.
Upcoming local trips:

The DAILY DOUBLE is running local 1/2 day trips at 8:30 am. Ticket price is $48 for adults, $40 for seniors or active duty military and $35 for juniors 15 and under. California fishing license and equipment rentals are extra.
The Mission Belle is currently scheduled to fish the Coronado Islands. Ticket price is $150 for adults, $140 for juniors, seniors and active duty military. Ticket price also includes a tourist visa and Mexican fishing permit. A valid passport or passport card is required for all passengers going on this trip.

For reservations, questions, or private charters please call (619) 223-1627. Reservations can also be made online 24 hours a day.
< Previous Report
Next Report >
< Previous Report
Next Report >
More Reports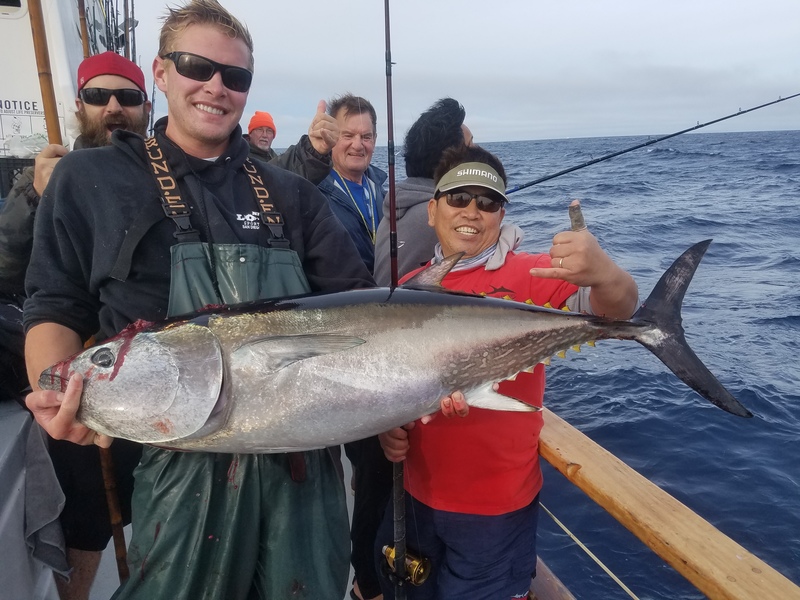 1-9-2018
The New Lo-An had limits of 40-60lb bluefin as they returned to the dock this morning.Their next 1.5 day trip......
Read More
1-8-2018
Captain Adam on the New Lo-An just called in from their 1.5 day trip with LIMITS of Bluefin Tuna for their 22 anglers. All of the fish are ranging from 40 to 60 lbs. The boat returns to the dock early Tuesday morning. Their next 1.5 day trip departs Wednesday, January 10th at 5:00 pm and they have another trip departing Friday, Janurary 12th at 5pm. Trip cost is $325 per ticket. Give us a call or book online. Capt. Chad......
Read More