Shogun Fishing Report
by Shogun Office Staff
1-14-2018
(619) 226-8030
Website

Hello everyone;

We're back on line!!! Let's put it this way, we were out of range fishing, not just long range, but long range. With 8 days of reports to do, I won't get into a long drawn out report, but I'll say this, it was a decent trip. The only thing missing from this trip was the filler Yellowfin (70-80 pound fish). We did have some 30 to 50 pound fish, but most of the fish were in the 120 to 190. We did have double digits for the trip. Our two hundred's were in the 201 to 253 range. But with fishing giant Yellowfin, you will have a few heartbreaks. We had our share of losses.

Lucky anglers for the trip (200 pound fish), Bill Gilpin 231 pound Yellowfin, Gary Ah Sing 227 pound Yellowfin, Melvin Tanaka 205, 208 pound Yellowfin tuna, Wayne Tanimine 201 pound Yellowfin tuna, Ron Watanabe 229 pound Yellowfin tuna, Duane Gray 226 pound Yellowfin tuna, Tom Grogan 204, 213 pound Yellowfin tuna, Kim Hofer 215 pound Yellowfin tuna, Richard Quaid 220, 237 pound Yellowfin tuna, Ryan Jenkins 247 pound Yellowfin tuna, Mike Takaki 251 pound Yellowfin tuna (largest of the trip), Craig Ito 216 pound Yellowfin tuna. We had another 10 fish in the 190 to 196.6 range.

Weather for the trip, was excellent, with a few shower, but for most of the trip it was 10 to 12 knots of breeze, clear skies, and sunny. It was good that we had the breeze, or things could have been a little HOT.

When you think of fishing a long trip (15 days or longer), you go on these trips for a reason, and that's to get giant Yellowfin tuna, and when you are fishing giants, they don't come easy, it takes time at the rail. Put your time in, and you will be rewarded.


< Previous Report
Next Report >
Shogun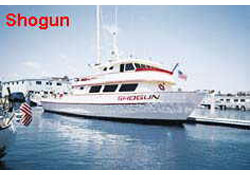 < Previous Report
Next Report >