Ocean salmon options are on the table: Oregon and California Ocean KMZ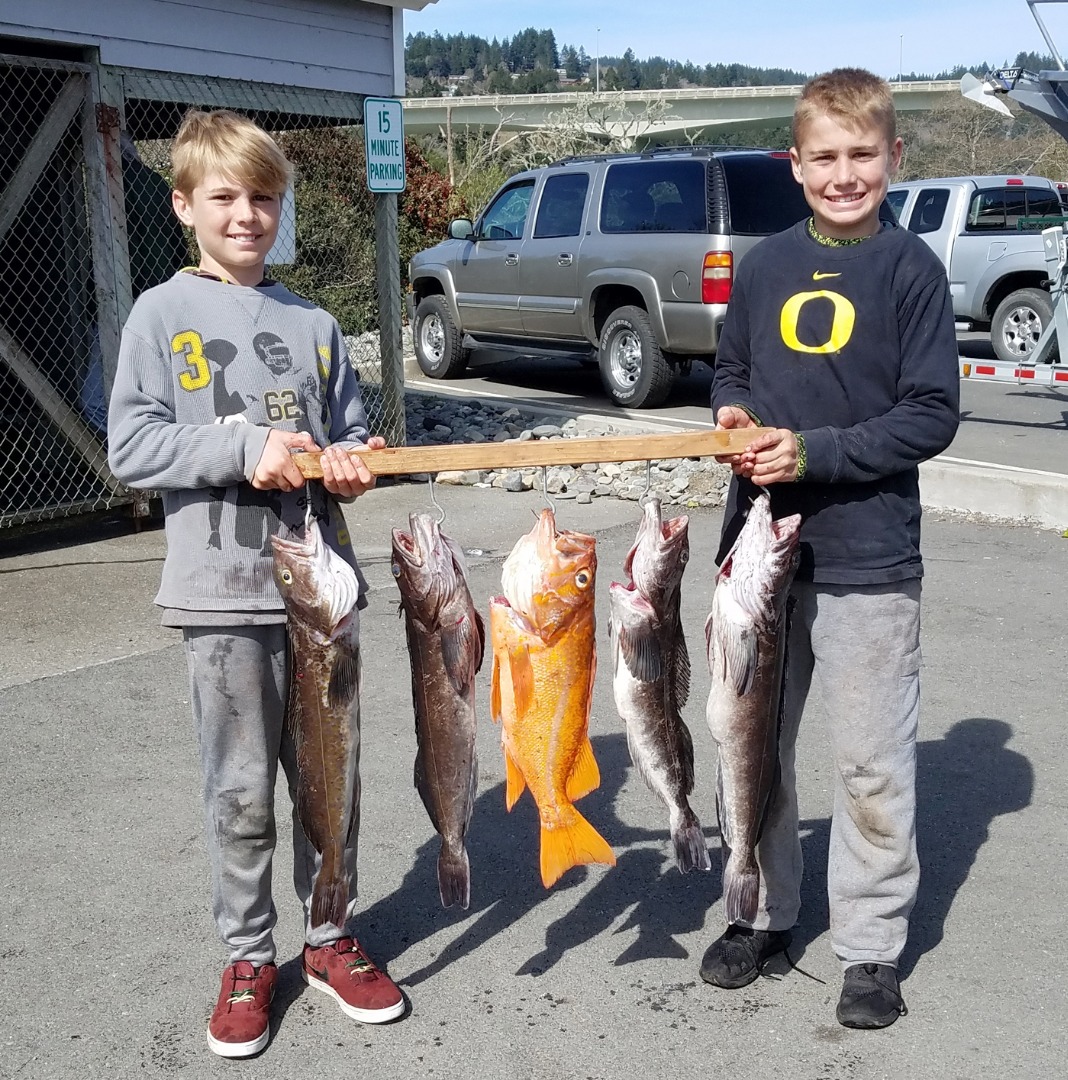 Two Medford youths and their father limited out on rockfish and lingcod while fishing out of the Port of Brookings Harbor last week. Photos by Larry Ellis.
After one long year, the KMZ is going to finally be getting a salmon season. After one week of deliberation in Rohnert Park, California, members of the Salmon Advisory Subpanel (SAS) came up with three salmon season alternatives for the Oregon and California Klamath Management Zone (KMZ).
Under conventional circumstances, both the Oregon and California KMZ tries to match their salmon alternatives with each other, but this meeting was far from being conventional.
It's a very different year this season," said Richard Heap, vice chair of the SAS and representative for the Oregon KMZ. "It's been a very complicated process this year; probably the worst that I've ever seen. We won't know until we get back from (the PFMC meeting in) Portland where we will be going next."
Certain guidelines were first issued by the National Marine Fisheries Service (NMFS) at the beginning of the meeting.
"When we were getting ready to do this, the National Marine Fisheries Service' guidance to us was that they wanted us to meet somewhere near the upper end of the Sacramento River required escapement range," explained Heap about this year's process. "And that range runs from 180,000 (salmon) on the top end to 122,000 on the bottom end."
It now behooves the reader to know what the word 'escapement' means, and we're specifically talking about Chinook salmon escapement. The word 'escapement' can actually be found in the word's very definition.
Escapement simply means all the Chinook that escape from being caught by commercial and sportfishermen. In addition, those Chinook that escape from being caught must also make it into the Sacramento River to spawn.
So you can have Sacramento River escapement, Klamath River escapement, Rogue River escapement - you get the picture.
Back to the Sacramento...
"So what we did was to set Alternative 1 in both KMZ zones and all of the California fisheries to vantage to a level of 151,000 returning Sacramento River spawners," noted Heap. "In Alternative 2, we are managing to a level of 165,000 Sacramento spawners and Alternative 3 we managed to 180,000 fish. So they (NMFS) didn't say, 'You're going to have to manage to 180,000. I'd just like you to be near the upper end.' So the two states got together and strategized, and we came up with the 151K, 165K and 180K numbers to show them what would result if we did that."
So this will be unlike any other year. Normally, after the three options came out in March, the SAS could say that in all likelihood they would be getting option X. This year, the PFMC will not be adopting final management measures for the 2018 ocean salmon fisheries until after the meeting concludes on April 11.
Still, both KMZ zones will be getting a salmon fishery of some sort this year, which is far better than the zero-harvest of 2017.
Here's how the ocean salmon seasons are stacking up so far in both the Oregon and California KMZ.
HUMBUG MOUNTAIN TO THE OR/CA BORDER (OREGON KMZ)
ALTERNATIVE 1
(Managed for 151,000 Chinook)
May 19 through August 26
Open 7 days per week. All salmon except coho, 2 salmon a day. Chinook minimum size limit of 24 inches total length.
ALTERNATIVE 2
(Managed for 165,000 Chinook)
June 1 - 17
July 1 - 15
August 4 - 12
Same as Alternative 1
ALTERNATIVE 3
(Managed for 180,000 Chinook)
May 19 - July 4
Same as Alternative 1
OR/CA BORDER TO HORSE MOUNTAIN (CALIFORNIA KMZ)
ALTERNATIVE 1
June 20 - July 31
August 20 - September 3
Open 7 days per week. All salmon except coho, 2 salmon per day. Chinook minimum size limit of 20 inches total length.
Klamath Control Zone closed in August. See California State regulations for additional closures adjacent to the Smith, Eel and Klamath Rivers.
ALTERNATIVE 2
July 1 - September 3
Same as alternative 1
ALTERNATIVE 3
June 16 - September 3
Same as alternative 1
So sharpen your hooks and buy plenty of bait. It looks like everybody in the KMZ will be fishing this year.
I'm really excited about this year's ocean salmon forecast. There should be plenty of Sacramento River 4-year olds and a whole bunch of Klamath River 3-year-old kings (330,000) in this year's mix.
That's not even counting the Rogue River's stellar projection of 462,800 Rogue River fall Chinook that will be finning their way through the ocean this year. The Oregon KMZ will be cashing in on some of those fish in July as they make their way across the Rogue River Bar.
To put things in perspective, this year's projection of 462,800 fall kings is higher than both the Sacramento and Klamath River single forecasts. Last year, some of the old timers were saying that this was the best fishing they have encountered on the Rogue in 20 years.
This year, there will be 216,000 more fish swimming in the ocean than last year's stellar run. So get ready to tie into some 3-, 4- and 5-year old Rogue River fall hawgs in the Rogue Bay this year.
All in all, the salmon fishing should be excellent in both the ocean and Rogue Rivers when their seasons roll around.
Bottom Fishing Remains Stellar When Seas Are Calm
Anglers fishing out of the Port of Brookings Harbor have had a few calm days that allowed them to trek uphill, downhill or from the middle both ways in search of rockfish and lingcod.
Almost everyone who tried for the bottom grabbers were rewarded with black rockfish, blue rockfish, canary rockfish, vermilion rockfish and China cod. The fish were averaging between 3 and 5 pounds so there were some hefty specimens of Sebastes for those fishermen who were casting plastic, using bait or chucking iron.
The lingcod bite was fair to good last week as well, with anglers catching their prehistoric tooth-meisters on whole herring, leadfish or their favorite plastic concoction. It seems that the gnarlier a bait is, the more enticing it is to the lingosaurs.
There were some bluebird days where the Port's parking lot was nearly filled to capacity with boats of all shapes and sizes.
One father from Medford took his two sons out on one such day and they all limited out on both rockfish and lingcod.
Crabbing Phenomenal
Don't forget that crabbing finally opened up once again in the ocean on March 5. The Department of Agriculture and the Oregon Department of Fish and Wildlife recommends cleaning your crab before they go into the cooker.
In years' past, a lot of people savored the crab that were cooked without gutting them because they savored what was called the 'crab butter', which is another word for cooked viscera. So to be on the safe side, clean your crab before cooking them.
Crabbers have been finding their Dungeness in depths ranging from 40 to 60 feet in areas where rocks or reefs meet sandy bottom. There have been many limits reported.
If you're lucky, you can find your bait right at the cleaning station immediately after an angler fillets his or her rockfish and lingcod.
In Oregon, the limit is 12 male Dungeness crab measuring 5-3/4 inches across the inside of the crab points.
Tight lines!
Larry Ellis, author, writer, columnist and photographer has had a 50-year passion for fishing in California and Oregon's saltwater and freshwater venues. He is a well-known writer for Oregon, Washington and California Fishing and Hunting News, Northwest Sportsman, California Sportsman and Pacific Coast Sportfishing. He currently writes monthly for Salmon Trout Steelheader Magazine, and is the author of two books, "Plug Fishing for Salmon" and "Buoy 10, the World's Largest Salmon Run."  Both books can be bought from Amato Publications (amatobooks.com), Amazon and eBay. Ellis particularly loves living in his hometown of Brookings, Oregon - The heart of salmon country and gateway to fishing paradise.
< Previous Report
Next Report >
< Previous Report
Next Report >
More Reports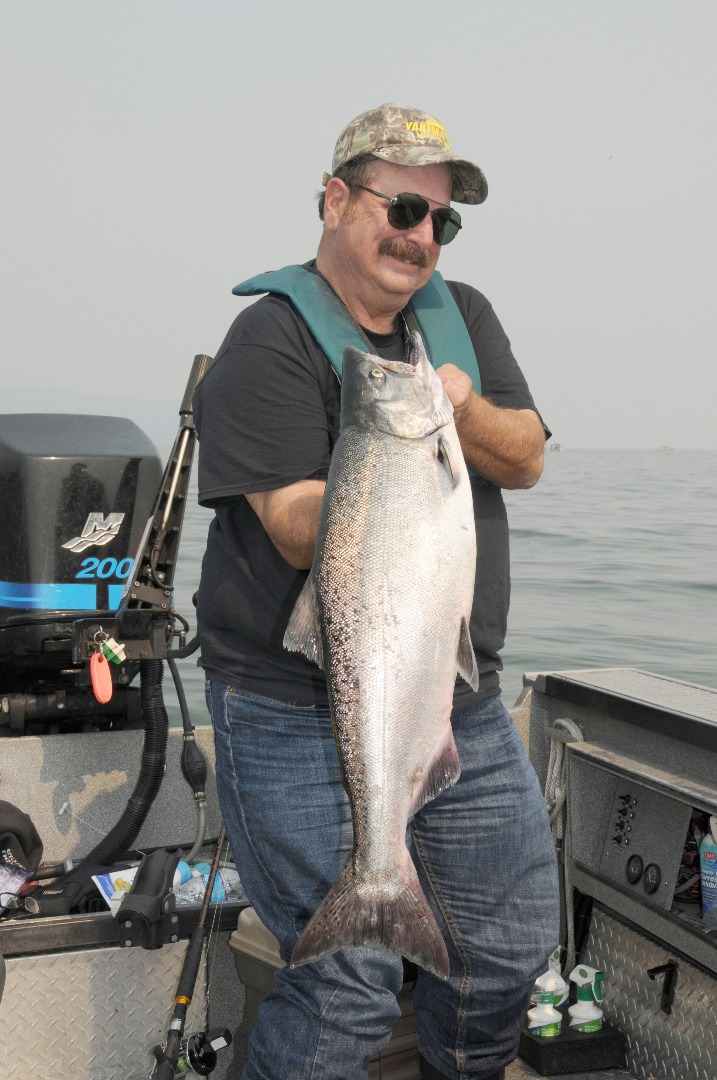 3-10-2018
This is without a doubt, the most exciting time to be a salmon fisherman. Not because anybody will be fishing......
Read More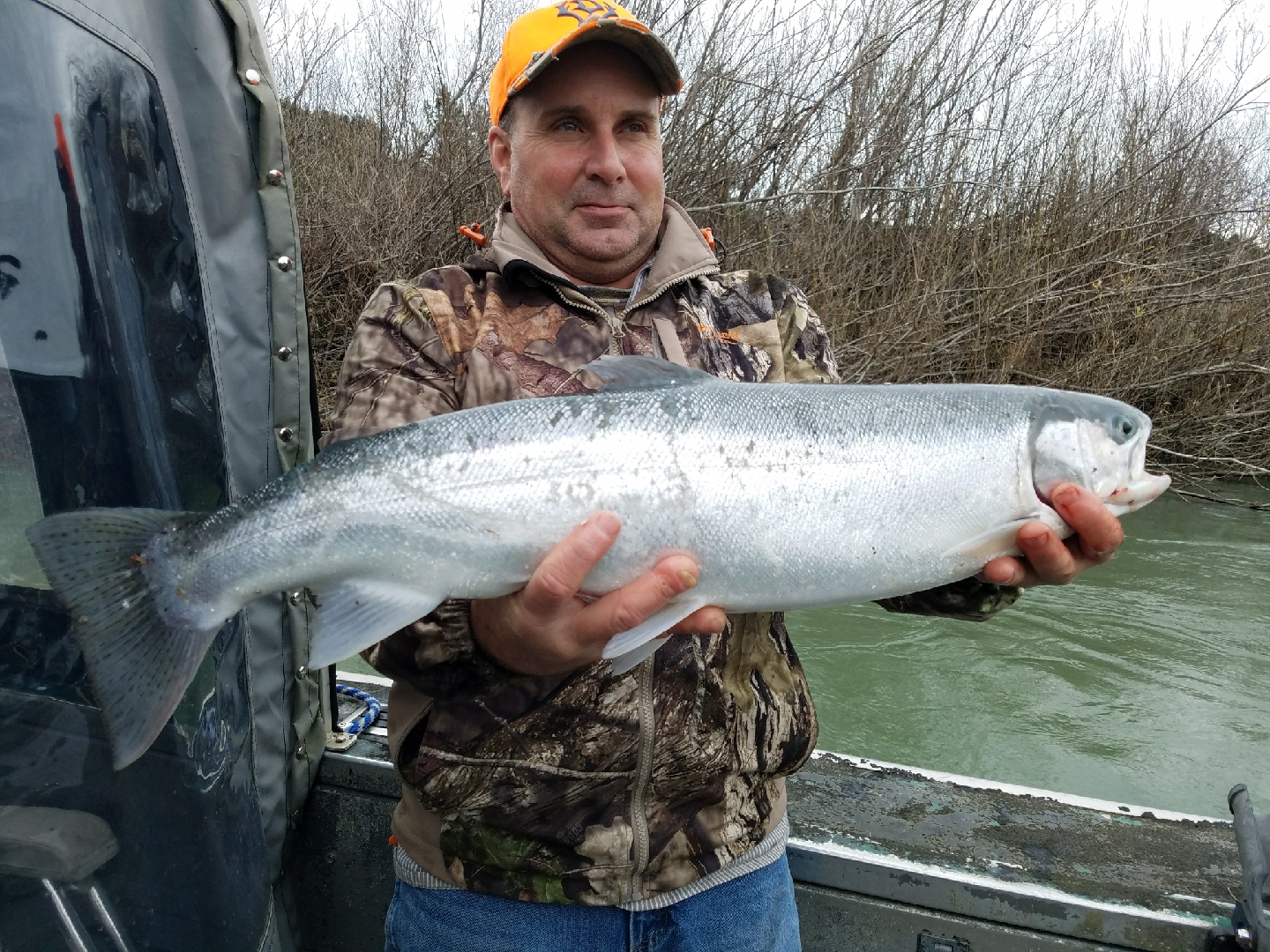 3-3-2018
There is no doubt that the unseasonable variability of rainfall this year has affected the intensity of angling and fishing......
Read More