A Plethora of Oceanic Delights - Oregon KMZ Rated Slow to Fair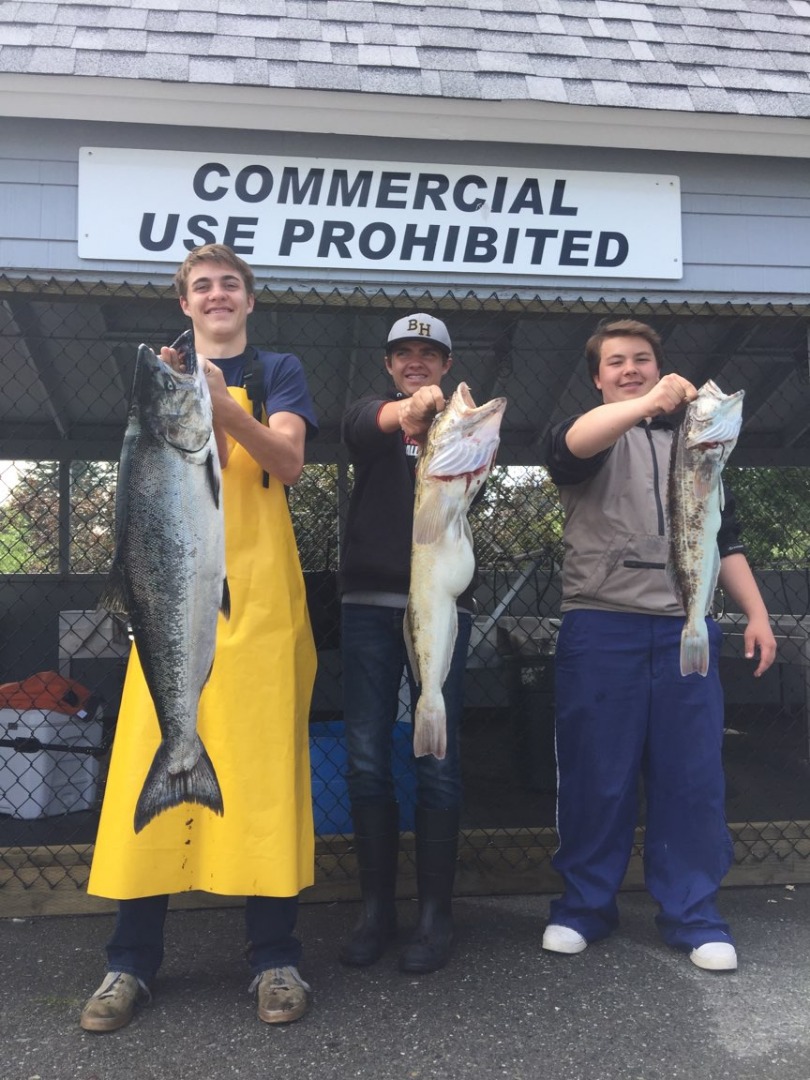 Conner Christensen was one of the lucky anglers who caught a large salmon in the ocean out of the Port of Brookings Harbor last week. Standing next to him holding the large lingcod is his brother Kallen and Tommy Berg, all from Brookings, photo courtesy of Tiffany Berg.
Last week, seas as flat as a sheet of liquid mercury beckoned salty dogs to trip the bottom-grabber fantastic, and as an added bonus, a few large Pacific halibut were caught as well.
The newly refurbished Port of Brookings Harbor fish cleaning facility saw a plethora of fish species meeting the sharpened ends of fillet knives.
As far as the Sebastes genus goes, most commonly caught species were black rockfish, with a few canaries and vermilion being filleted as well. Limits were the rule rather than the exception.
Anglers were fishing as close as the outskirts of the kelp beds in approximately 30 feet of water, while others decided to go deeper for their prey, fishing the numerous rocky reefs that abound in between 60 and 90 feet of water.
The most successful fishermen were using single jigs such as leadfish and soft plastic baits such as single-tail Mogambos, twin-tail Scampis and 5-1/2-inch jerk baits.
Limits of lingcod were also filleted at the cleaning station, with some specimens ranging up to 15 pounds. Lingcod were eating the usual rockfish baits plus they were also gobbling down already-hooked rockfish and sea trout.
When a lingcod inhales a lively rockfish or kelp greenling, they are called hitchhikers, because their inwardly-curved razor-sharp teeth causes the lingosaurs not to let go of their prey. So if you hook a small fish and suddenly your rod gets heavy and bends double, most likely you have hooked a hitchhiker.
The trick in getting a hitchhiking lingcod to the surface is to always maintain pressure on the fish. If you get the fish to the surface and you give it some slack, it will surely let go and head back to the bottom.
Should this 'letting go' scenario happen to you, don't fret. Simply drop your wiggling bait back to the bottom on a slow descending cadence. Nine time out of ten, the same lingcod will pick your fish back up and the fight will restart.
I have found that slowly reeling up hitchhiking lingcod, inch by inch, is the best way to play these fish. They won't even know that they are hooked until they are gaffed or netted. But exercise extreme caution when these hitchhikers hit the deck – they will be HOT, and full of energy.
Some anglers also caught a few large Pacific halibut. One fellow got his 70-pound barndoor while fishing uphill toward the Thomas Creek Bridge. Another anglers caught his 50-pounder while fishing almost straight out from the Brookings jaws. In both cases, the anglers were fishing in approximately 225 feet of water.
A few big skates (they are actually called 'big skates') were also hooked on the halibut grounds. A lot of times, anglers will think that they have caught a very large halibut. The dead giveaway that you have hooked a skate is that skates will make short jerky runs. But like all things fishy, you never know whether you've caught a skate or a halibut until you see color.
Anglers also picked up some very nice petrale sole while fishing the halibut grounds. As far as sole goes, petrale have always demanded the highest price in the fish market. So if you're lucky enough to get into a school of petrale, you've hit the flatfish lottery.
In Oregon, a fisherman is allowed 25 flatfish per day, not including Pacific halibut, which have a limit of 1 fish per day.
Fishing for Chinook in the ocean has been termed slow-to-fair at best. But every day that I hang out at the fillet tables, I will see at least 2 Chinook brought in to be filleted.
Chinook fishing in the Oregon KMZ might just break wide open in the next few weeks, so make sure that you have at least one to two trays of good, frozen anchovies per person just in case those pesky coho are caught. Coho, also known as silvers, must be released.
Lower Rogue Chinook
Fishing for lower Rogue Chinook is starting to pick up day by day, with a few guides having success by trolling the spinnerbait/anchovy either with beads and a blade, or just by itself.
"In the bay we are seeing 4 or 5 fish a day, but we're not seeing more than 4 or 5 boats," says Jim Carey, owner of the Rogue Outdoor Store in Gold Beach. "It looks like the water temperature is up to almost 69 degrees, and it looks like the fish are starting to hold in the bay. So we're getting there. July 4 weekend is the true kickoff, but we're already seeing the numbers that we normally see on July 4 happening early."
It is worth mentioning that anglers now can keep both hatchery and wild Chinook.
"I fished Sunday and got two," said guide John Anderson from Memory Makers Rogue River Guide Service. "There were six or seven fish caught today and yesterday, and Gene Garner got two. I'll be fishing 5 to 6 days in the bay next week."
Here's a quick synopsis of how the Rogue bay fall Chinook fishery works.
A salmon's comfort zone is water temperature between 50 and 54 degrees, with 52 degrees being ideal.
But heat from the valley in towns like Shady Cove, Medford, Grants Pass, Galice and the Rogue River Canyon heat up the river above and beyond a salmon's comfort zone. It is not uncommon to see upper tidewater holes such as Elephant Rock, John's Hole and Claybanks often getting water temperatures in the 70- to 80-degree range.
As the tide comes in, it brings cool, ocean water to the upper tidewater holes. During this period of time, Rogue Chinook enter the river along with the cooler ocean temperatures as well.
But as the tide recedes, warm river water takes the cool ocean waters' place and forms an artificial dam of uncomfortably hot river water. We're talking about places like John's Hole and Claybanks.
When Rogue fall Chinook hit this impenetrable wall of uncomfortably-warm water, they turn tails and head back to the bay, where they can find their ideal comfort zone again.
The aforementioned scenario repeats itself day by day, and over a short period of time, Chinook stack up in the bay like sardines in a can.
If the bay water is too warm, the Chinook will either head to the Cat Houses (the beginning of the bay), or they will often head back to the ocean to find their ideal water comfort zone.
This is why you will often see throngs of salmon leaping and splashing on an outgoing tide – they are heading back to the bay! It's an incredible spectacle to behold.
But trying to get these outgoing salmon to bite is like pulling teeth. The uncomfortably-warm water usually puts these fish off-the-bite. But when these fish, or new freshies hit the bay, they are loaded for bear. It is always easier to get a fresh incoming missile to attack your spinnerbait than an outgoing fish that's not feeling its Wheaties.
But give these sluggish, outgoing fish a day or two for some R&R and they'll be back; full-on bait-biting machines, full of vim, vinegar and vitality.
Tight lines!
Larry Ellis, author, writer, columnist and photographer has had a 50-year passion for fishing in California and Oregon's saltwater and freshwater venues. He is a well-known writer for Oregon, Washington and California Fishing and Hunting News, Northwest Sportsman, California Sportsman and Pacific Coast Sportfishing. He currently writes monthly for Salmon Trout Steelheader Magazine, and is the author of two books, "Plug Fishing for Salmon" and "Buoy 10, the World's Largest Salmon Run."  Both books can be bought from Amato Publications (amatobooks.com), Amazon and eBay. Ellis particularly loves living in his hometown of Brookings, Oregon - The heart of salmon country and gateway to fishing paradise.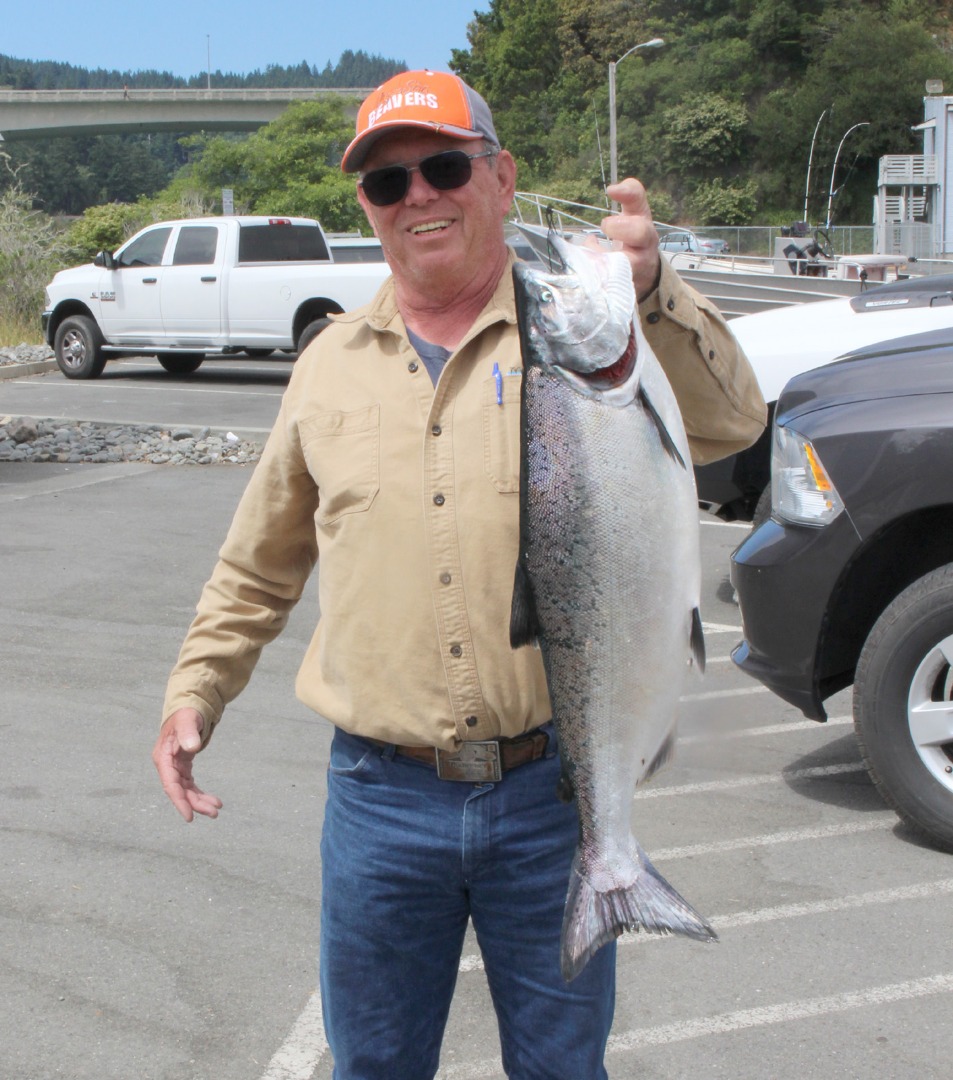 Mike Knowles from Brookings was fishing with Dee Shurtleff out of the Port of Brookings Harbor last week when he clocked this king near the whistle buoy, photo by Larry Ellis.
< Previous Report
Next Report >
< Previous Report
Next Report >
More Reports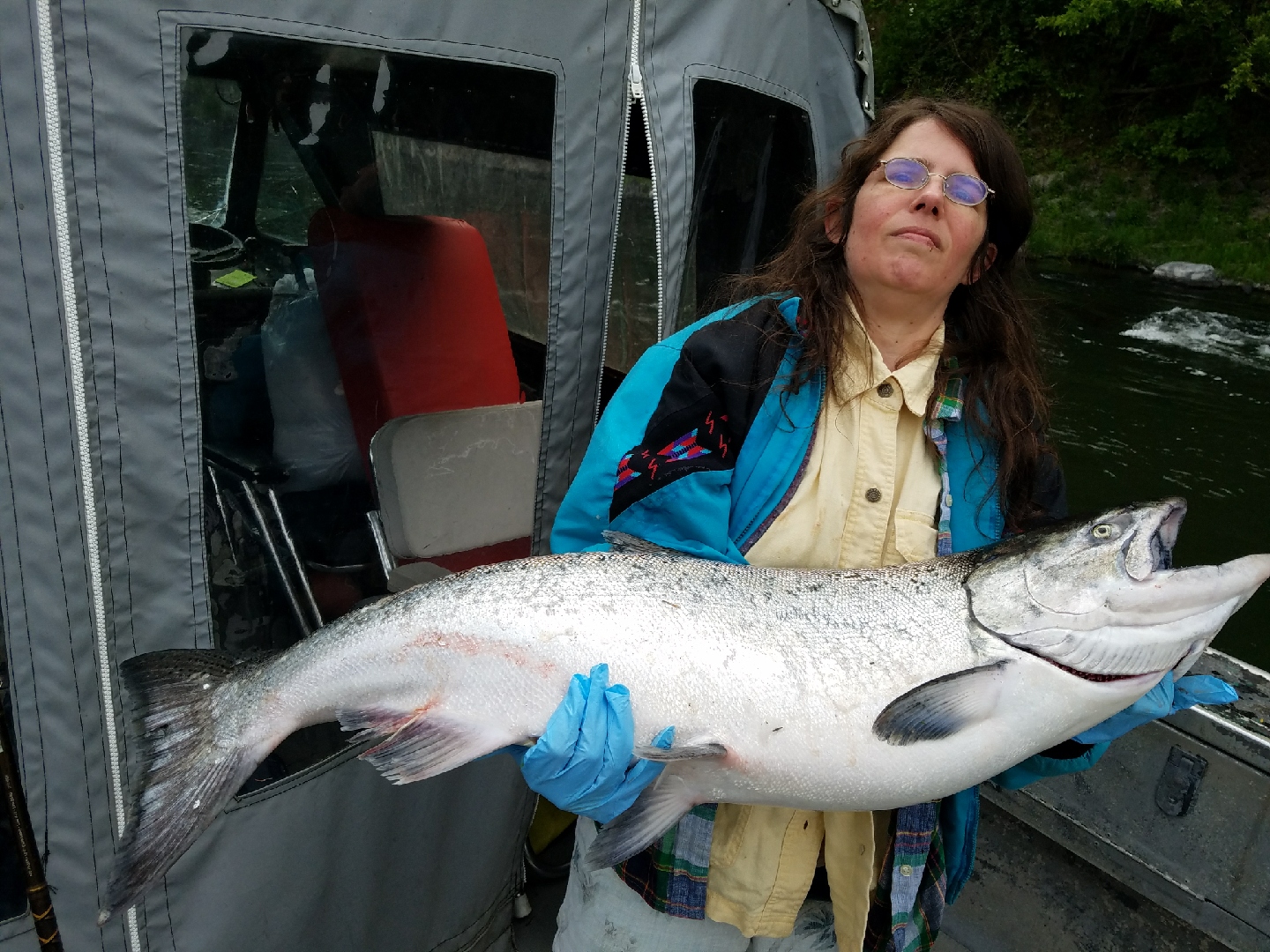 6-16-2018
I know it's not fall yet, so the phrase 'fall Chinook' on the lower Rogue seems to be an oxymoron. ......
Read More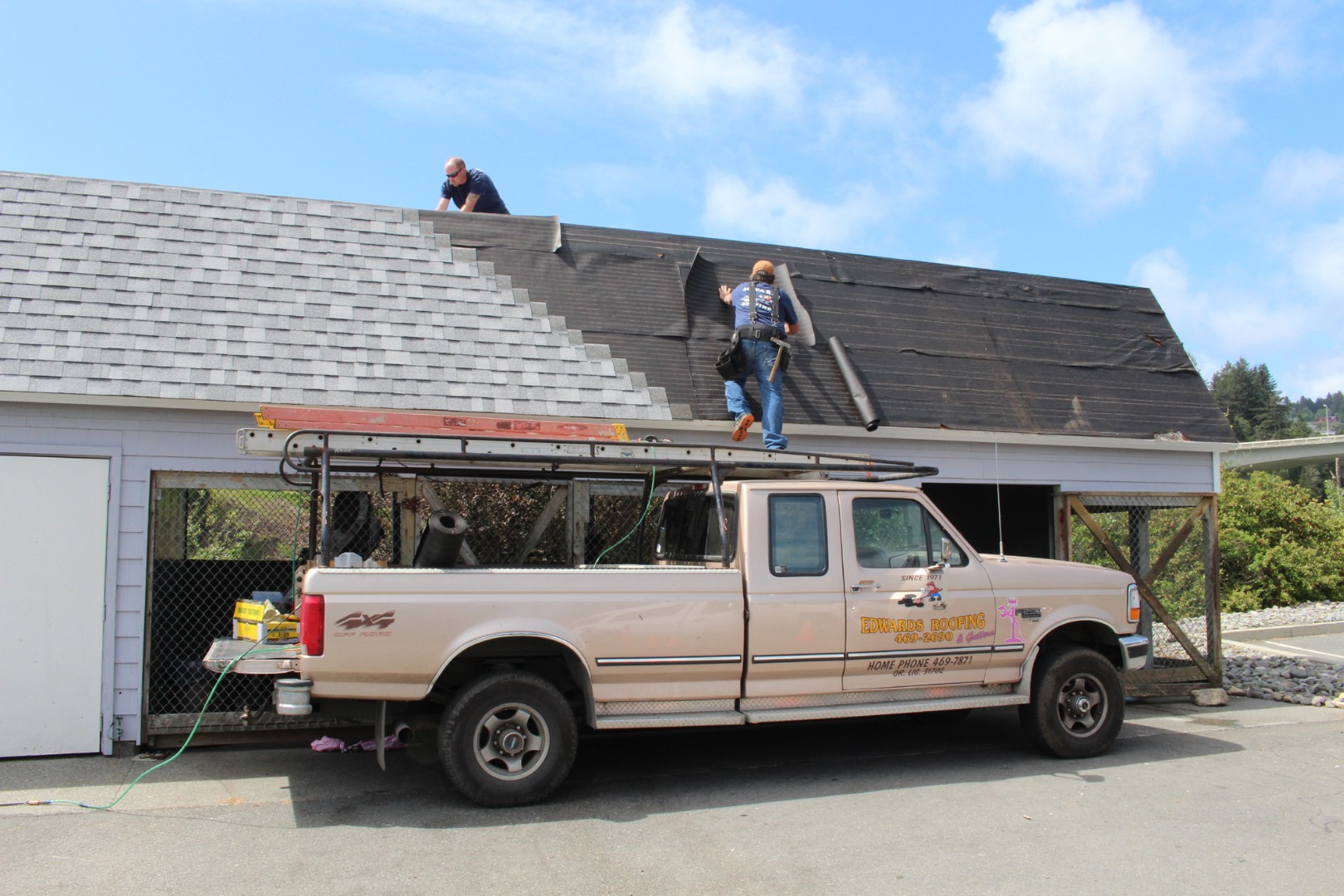 6-8-2018
One thing that anglers neglect at the end of each successful fishing day is caring for their catch properly. A......
Read More