Royal Polaris 7 Day Alijos Rocks Trip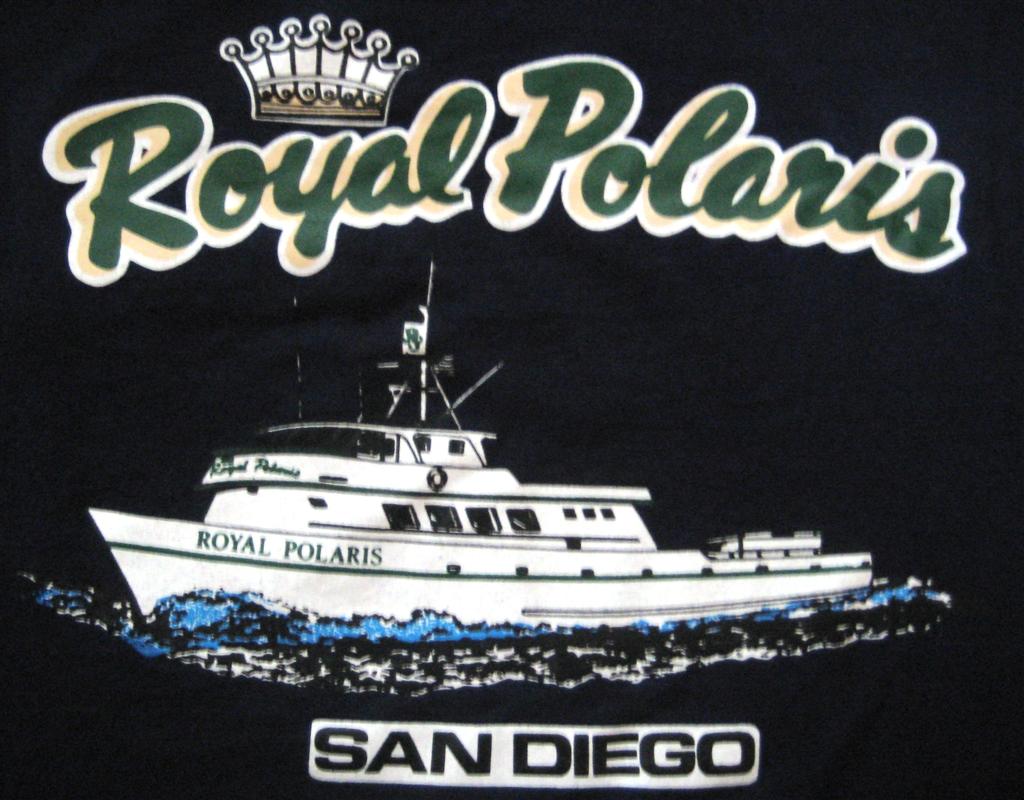 by Chad Woods
9-22-2008
(619) 221-8500
Website

On September 5, 2008, Homan Khaki and I boarded the Royal Polaris. The crew and anglers worked together to quickly load our fishing gear, clothes, tackle boxes, and more. Once we completed loading everything we headed towards the bait receiver. Captain Billy Santiago carefully chose our bait. It took some time to load bait. Soon we cleared the point and began our 500 mile journey to the Alijos Rocks. A Royal Polaris trip earlier this season was very fruitful so the decision was easy to head back to the Rocks.
During the first day of travel many of us assembled our rods and reels. We did not want to rig our outfits yet as we still had a full day of travel plus the traditional fishing seminar. Before our dinner, Chartermaster Corky Yokae gave away some great items. Including 5 Newell Reels,
Seaguar Fluorocarbon
, Yozuri Fluorocarbon,
Catchy Tackle
and some Gamakatsu Hooks. Everybody was happy with the sponsor giveaways. We took a rest after enjoying a very nice meal prepared by Chef Jimmy.
September 6th was full of anticipation. We had a fishing seminar around 10 hundred hours. Captain Billy Santiago went over the details for the upcoming day of fishing at Alijos Rocks. Billy recommended how to setup our fishing gear. He went over in detail what had been effective last time at the Rocks. After the seminar, many of us started rigging our outfits for the next day's fishing at Alijos Rocks.
At around 8 AM on September 7th we started trolling for Wahoo at the Rocks. It was not long until we had our first jig strike. Many of us were wired up with Wahoo Bombs or Raider Jigs. The first stop produced. We had one troll fish and many bomb/jig fish. After that the wahoo fishing slowed down as we caught a few more.
Billy decided to drop anchor at the South Ridge. It was not long before we had our first Yellowfin Tuna on the boat. As time went by we started to see better quality. As the day proceeded, we saw many more nice tuna come on board. It was pretty cool! We knew it was a big fish when the deckhand asked for a second gaff. During the day we must have had a dozen or so "two-gaff" fish. The fish bit pretty good all day. We did have a few more Wahoo too. As the sunset, the fishing slowed down. We stayed on anchor to see what tomorrow brings for this spot.
We started fishing when the sun came up on September 8th. The fishing today was once again excellent. We had steady fishing on the Yellowfin Tuna with an occasional Yellowtail. Today the size was not as good as yesterday. Most of the Yellowfin Tuna were in the 25 to 35 pound class. Once again we fished until sundown. We were getting close to limits on Yellowfin Tuna. We moved after the sun went down to Alijos Ridge. Some anglers stayed up all night fishing for Yellowtail.
We moved back to the Rocks on September 9th. We trolled for Wahoo but had no success. We soon anchored up on the North Ridge of Alijos Rocks. We had great fishing on Wahoo. Many anglers were fishing bait outfits with wire leaders. On occasion the Wahoo would bite through the wire leaders. We did catch a fair amount of nice grade Yellowtail today. As expected, the Yellowfin Tuna were biting good. Around 2 PM,, Billy pulled the anchor. We were soon on the move to fish the beach for Yellowtail and Dorado. Billy said that everyone should relax and get ready to fish tomorrow.
On September 10th, we arrived at San Pablo and it was not long before we had a hot bite on Yellowtail. They were chewing everything. Most anglers were using jigs. Surface jigs worked well. Yo-Yo Jigs were also working. Anglers were also catching fish on live sardines. The bite was very steady. We did hook and release one nice Striped Marlin. In the middle of the bite, we had a school of Dorado come in on us. That was pretty fun. I love it when the Dorado jump. It was around 2 PM or so when Billy said that we will be moving up the line. We have a long way to go. In about 4 or 5 hours we were at Isla Cedros. During dinner Billy announced that we will be fishing for rockfish on our way home and our ETA at Point Loma will be 5 AM.
During the morning of September 11th we began breaking down some gear. It took time to cut off the hooks and jigs, clean off the reels, and wrap up the rods to store up on the beach. We did have some decent rockfishing at San Quintin.
Soon we were back traveling again. During dinner, Billy reminded us about 9-11. We had a moment of silence for our lost brothers and sisters. God Bless America! We had the finale dinner. It included a nice ribeye steak and cheesecake for dessert. It was excellent thanks to Jim and Anthony for the excellent food during our trip.
We arrived at 5 AM on September 12th. We had to unload over 700 fish. It took time. We all participated in the process They weighed the Jackpot. The results were as follows:
Corky Yokae (La Mirada, CA) 110.4 Yellowfin Tuna
Homan Khaki (Camarillo, CA) 109.6 Yellowfin Tuna
Jim Varey (San Diego, CA) 109.2 Yellowfin Tuna
Our fish count for the trip was 318 Yellowfin Tuna, 295 Yellowtail, 18 Dorado, 58 Wahoo and some Reds and Calicos.
I would personally like to thank Frank Lopreste and his entire staff. The trip went flawlessly. We had great fishing. Aaron, Cole, Rafael, and Eddie work like a seasoned team on deck. Captain Billy was in the action too. And of course, Darryl was on the kite. They all did great. We all had fun and I look forward to fishing on the Royal Polaris again in the future.
Don't forget to watch Homan's latest video! It's pretty good.
Click here
for the RP 7 Day video.
Royal Polaris