WHITE SEABASS ON THE PACIFIC DAWN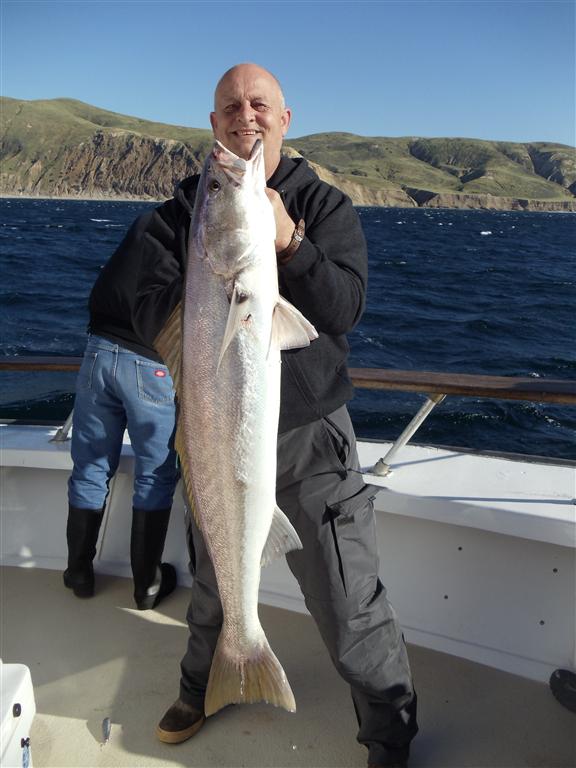 by John Thompson
4-19-2011
(805) 676-3474
Website

FULL MOON, RISING TIDES, WARM WEATHER, that's just what you want to here when you scheduled to go on a charter with White Seabass on your mind. That was what the 22 anglers headed out on the SFR Charter aboard the Pacific Dawn out of Ventura Sportfishing. Everyone arrived early in anticipation of the next days fishing, and we were soon loading our gear and being greeted by the crew. For this trip we had Capt's Pat and Opie in the wheelhouse and Mike and Jeremy on the deck and Shell in the galley. Capt Pat gave us our safety talk and we were soon under way. Magic Mountain has nothing on the ride out to "eagles nest" at Santa Rosa Island. Most everyone slept through the trip out and we arrived around 4:30am at the fishing grounds. We were greeted by 25 knot winds and a chill in the air. Not discourged, several early risers were soon jigging for squid and several were soaking a bait which was difficult to do in these winds. At gray light capt Pat decided that we would head towards the island and drift over the seabass grounds. It took a little while but we soon had a hookup and Rocky Brown put the first White Seabass on the deck. We ended the morning with 8 seabass around 25lb. The bite came to a halt and capt Pat announced that it was time to go rockfishing. He told us we were going deep and it would best to have spectra line on your reels for the best chance to get some fish. Several folks did not have spectra, so the crew got some of their gear out and insured that every angler had the proper set ups and right kind of line for deep water rockfishing. It sure paid off with some very large grade reds soon coming over the rail, and we also managed a few Ling Cod in the count. Congrats to Grady Hoskins for getting his first legal Ling and to Alex Rapoport for his first White Seabass. To celebrate, Alex also hooked his second White Seabass and passed off to his brother to keep it in the family.

If you haven't been to VENTURA SPORTFISHING yet, get over there and check out there line of tackle, they have everything you will need for a great day of fishing. Give them a call at 805-676-3474 to set up your next fishing trip.

Also, thanks to the crew for insuring that everyone had the right set ups for the day and those that didn't you loaned them your own gear. On a side note, thanks for gaffing my personal best White Seabass. If you would like any of these pictures please email me at john@sportfishingreport.com and I'll be more than glad to forward them to you.
Pacific Dawn