Mirage Does It Again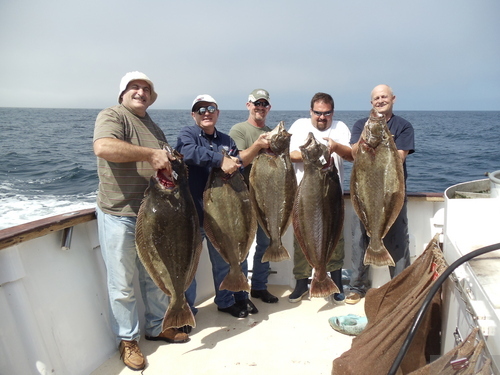 by John Thompson
9-18-2011
(805) 382-1612
Website

Our last charter of the year aboard the
MIRAGE
out of
CHANNEL ISLANDS SPORTFISHING
turned out to be a light load of 14 anglers. As we boarded we noticed that the bait tanks were loaded with squid and this increased our excitement and hopes for the recently elusive White Seabass to make a showing. On this trip we would have Capts Tucker and Vinny, with Ryan and Dan on the deck and Andrew in the galley. After our safety talk, Capt Tucker said we would fish the front side of Santa Rosa during grey light for White Seabass and Halibut and the look for Whitefish and rockfish to fill our bags.
I was waken at 4:30 am by the anchor being dropped and when I got on deck the were already a few anglers getting ready to soak some bait. Coffee first and the out on deck and I dropped down and waited. We had a small bit of excitement in the dark, but it turned out to be a batray. I was lucky enough around 7am to get bit and by it\'s actions I knew a Halibut was on his way up. Ryan was quick and accurate as he gaffed my 40lb Halibut, within minutes we had 2 more hanging and they soon hit the deck. Ten minutes later we had another one hanging, which was also in the 40lb class. Our last Halibut of the day was the eventual jackpot winner coming in at around 50lbs.
At around 9am Capt Tucker announced that we going to go look for whitefish and rockfish, he said that we were going to stay shallow. What a great decision that was as our first stop produced some excellant grade whitefish, chuckle heads and many legal lingcod. As luck would have it the lingcod were biting almost everything that was on the bottom, we had a limit of lings by 11am and we still continued to catch and release another limit of lingcod during the day. We ended the day with 5 halibut from 20lbs to 50lbs, 28 lingcod, 140 rockfish, 52 whitefish and 1 sheephead.
THANKS to the crew for an awesome day for all 14 very happy anglers, you guys are great!! If you would like any of these pictures, you can email me at john@sportfishingreport.com.
Mirage