Pacific Dawn Finds White Seabass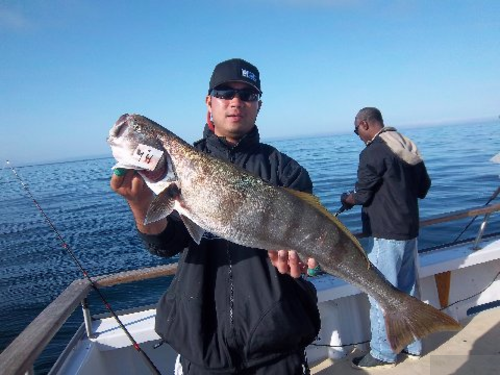 by John Thompson
5-21-2012
(805) 676-3474
Website

While I was at the Fred Hall Show, I spoke with Mike Thompson of
VENTURA SPORTFISHING
about some upcoming trips they had planned for this year. He told me that the
PACIFIC DAWN
had scheduled a limited load 2 day charter that had a few openings, so without hesitation I signed up along with a good friend and we have both been anxious for this trip to finally happen. We arrived at the dock early and were the first to sign in and then went and had dinner. When we arrived back at the dock almost everyone was there and waiting to head out. For this trip we had Capt\'s Pat and Mike in the wheelhouse, with Moses and Hunter on the deck and Glen in the galley. After we all boarded and got the bunks situated we headed to the galley for our safety brief and plans for the trip from Capt Pat.
Our plans were to head for Santa Rosa Island and attempt to snag some squid for those elusive White Seabass and then fish at grey light for them. Then we would head to San Miguel for some rockfishing the rest of the day and return that evening to Santa Rosa to try and entice a halibut or white seabass to bite at grey light on day 2. I was woke up by the anchor being dropped at around 3am, so I got up to help snag squid. Capt Mike and I were snagging a few here and there, when Capt Pat came out and said the saw a nice size reading on the meter of some squid the were starting to float. They never came to a float and we continued to snag them, Capt Pat got the crowder net down just in case and as luck would have it the seals actually chased the ball of squid right to the boat for us. They dropped the net down and in one big heave managed to net about 75 percent of the squid ball. I held the net in place as they scooped out the squid and the total count was 33 scoops of squid in that one try. We were now set for bait for the entire trip and also were able to pass along a few scoops of squid to another boat.
At grey light we all soaked baits for no takers, so Capt Pat announced that we were going to head for San Miguel and get in our rock fishing for the trip. It was about a 3 hour run to the first spot, we all relaxed had an awesome breakfast of biscuits and gravy and were ready for some action. It didn\'t take long after we were told to drop that we soon had some monster reds coming up over the rail, just about every drop resulted in a double. We also had some chuckheads and a few lingcod coming up also, but 90 percent were reds. We soon had our limits of rock fish, congrats to Grady Hoskins the day 1 Jackpot winner with a nice 15 lb lingcod he got on his last drop of the day. It was also his first ever jackpot.
Day two found us back at Santa Rosa Island for another try for some white seabass, we were not to be disappointed on this day. It was not a wide open bite, but often enough to keep you going. We ended day 2 with 12 white seabass from 15 to 25 lbs, jackpot for day 2 went to a 35+ halibut. We also had the biggest sheephead I have seen in a long time, it went 18 lbs. The final count for this trip was 12 White Seabass, 1 Halibut, 1 Sheephead, 1 Cabezon, 15 Whitefish, 10 Lingcod and 340 large grade rockfish.
If you would like any of these pictures you can email me at john@sportfishingreport.com and I will gladly forward them to you.
< Previous Report
Next Report >
Pacific Dawn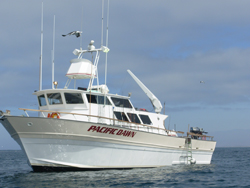 < Previous Report
Next Report >