PUBLIC'S HELP SOUGHT IN A WYOMING MULTIPLE ELK POACHING CASE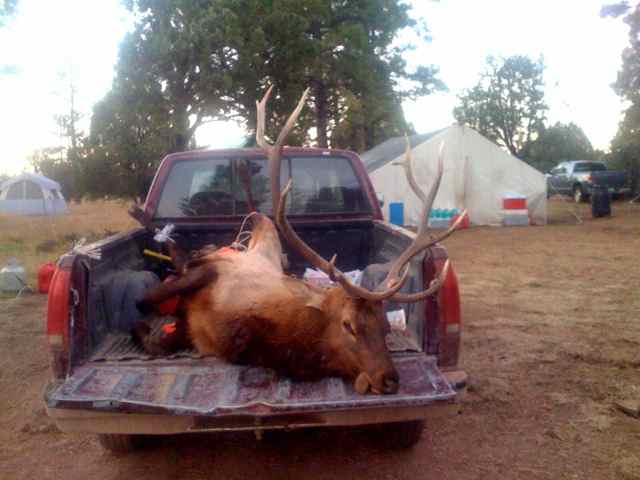 by Wyoming Game & Fish
10-23-2013
307-777-4600
Website

GREEN RIVER-- The Wyoming Game and Fish Department is asking the public for their help in finding the person or persons responsible for illegally killing three elk on Little Mountain, south of Rock Springs.

Early on October 18, three elk were shot and left to waste in Hunt Area 31. A cow and a bull were killed outright and a calf was crippled. The bull and cow were dead a long time and the meat could not be salvaged. The calf was later euthanized and the meat salvaged. The elk were seen by two nonresident deer hunters who reported the incident to Green River Game Warden Duane Kerr. The two hunters helped Kerr locate the elk and now Kerr is asking for the public's help in finding the poacher or poachers.

"Game Warden Andy Roosa and I spent the next three days searching the area for tracks, rifle brass, or any other evidence that could have been left behind, but none was found," said Kerr. "We were able to recover some evidence at the scene. Anyone who was in the Little Mountain area on October 18 may have seen a person or vehicle that might have been involved in this case. We hope this information might bring in some leads from the public."

Kerr says the incident is becoming more common than it should be.

"It appeared that no one approached the elk after they were shot and the injured calf suffered for several hours before it could be taken care of," Kerr said. "Elk Hunt Area 31, the Little Mountain area, is one of the most difficult bull elk licenses in Wyoming to draw. Residents have less than a 4% chance of drawing the any elk license and only one in three applicants receive an antlerless elk license. For someone to kill and leave these elk only takes future hunting opportunities away from law-abiding hunters."

In October of 2012, three cow elk and one bull elk were found shot and wasted within less than five miles from this incident in Elk Hunt Area 30. The people responsible apparently shot into a herd of elk, killed a bull they wanted, and left the others to rot. Those subjects were never identified.

"Wyoming's wildlife resource is a valuable commodity and it is really disheartening when people feel the need to target practice on wildlife," Kerr said. "As we teach in Wyoming Hunter Education classes, if you shoot at an animal, always follow up your shot. Look for any evidence of having hit the animal and do the work it takes to recover it. Don't let game animals go to waste. It's not only illegal, it is unethical."

Anyone with information on this or any wildlife violation may call the Stop Poaching Hotline at 1-877-WGFD-TIP. Tips may be reported to local game wardens or online at wgfd.wyo.gov Tips may also be reported to the Green River Game and Fish Office at-1-307-875-3223 or Duane Kerr at 1-307-875-3325. Callers can remain anonymous and may be eligible for a cash reward of up to $5,000 if the information leads to a conviction.

< Previous Report
Next Report >