Sea Hawk Sportfishing - Shelter Cove, CA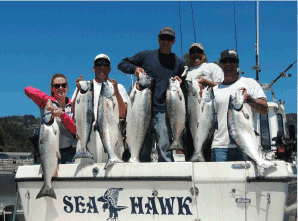 Sea Hawk Sportfishing
Shelter Cove
Shelter Cove, CA 95540
Fish Counts for July 19th, 2016
Boat
Trip Type
Anglers
Fish Count
Sea Hawk*
Salmon
7
14 King Salmon
Sea Hawk Sportfishing Dock Totals
1 Boats
1 Trips
7 Anglers
14 King Salmon
As of 2:30 PM July 19th, 2016
There are no records
Annual Landing Totals
Chinook Salmon
Annual Landing Totals
Species
2018
2017
Chinook Salmon
Tide Chart
For all the tide predicitions please visit TideStations.com.

Sea Hawk Sportfishing Fleet
Sea Hawk Sportfishing Fish Reports

Date
9-6-2016
8-30-2016

Sea Hawk Update

It has been a busy last week that saw us going in many different directions. Last wednesday and thursday we...

more »

Jake Mitchell
Sea Hawk*

8-17-2016
8-14-2016

Salmon Slow

Since this last Wednesday the salmon bite has really died off and has been slow at best. With the piss...

more »

Jake Mitchell
Sea Hawk*

7-28-2016

Shelter Cove Update

After a couple days of slow salmon fishing the bite has picked back up. It hasn't been quite as red...

more »

Jake Mitchell
Sea Hawk*

7-19-2016

Limits by 8:20 AM

The salmon bite has finally picked up and its been WFO this past week. We've been limiting out the boat...

more »

Jake Mitchell
Sea Hawk*

3-14-2016
1-7-2016

Now Booking 2016!

Happy new year everyone! The fishing season is right around the corner and I have began taking reservations. Due to...

more »

Captain Jake Mitchell
Sea Hawk*

8-22-2015
8-11-2015
ABOUT US
SportfishingReport.com™ Built by Avid Sportsman for Avid Sportsman!
We understand what fisherman need to be successful in the pursuit of target species across the United States.

Never again will you need to search countless resorces to find accurate information on the fishing grounds. SportfishingReport.com™ has brought the west coast Fishing Reports to you in one easy to use site. Now you can vew the latest catch reports, conditions, trip schedules and book your trip all in one website.