32nd Sacramento Show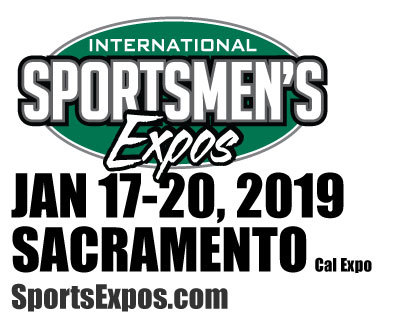 A generation old, California's largest outdoor expo keeps growing! Five buildings plus outside space filled with gear, local and worldwide destinations, plus a dozen free theaters and demo areas. Fishing, hunting, offroading, boating, RVing, camping, kayaking--it's all here to see, try and, if you want, buy, too! Don't miss this giant, once-a-year opportunity to expand Your Life Outdoors!
Click here
to join our mailing list!
WHAT: 32nd Annual Sacramento International Sportsmen's Exposition (ISE)

ONLINE: www.SportsExpos.com or www.FaceBook.com/SportsExpos

WHEN:
Thursday, January 17th --> 11:00 AM - 8:00 PM
Friday, January 18th --> 11:00 AM - 8:00 PM
Saturday, January 19th --> 10:00 AM - 7:00 PM
Sunday, January 20th --> 10:00 AM - 5:00 PM
WHERE:
CalExpo
1600 Exposition
Sacramento, CA 95815
ADMISSION:
Adult Admission - $16.00
Active Military & Youth 15 & under - FREE!

PARKING:
Cal Expo Parking: $10 per vehicle
VETERANS: Visit Vettix.org for a pass (limited quantity)
No Pets No Weapons, Firearms or Ammunition

SEMINAR SCHEDULES: Click here to view the schedule!

ATTENDEES: ISE Sacramento is the region's largest presentation of nearby and worldwide travel destinations, plus fishing, hunting, offroading and outdoor products. Attendees rendezvous at the ISE from throughout California, Oregon and Nevada.

EXHIBITORS: 625+ companies exhibit in 5 building and outside space, including:
Lodges and resorts
Travel/Destination Groups
State and Federal agencies
Outfitters and guides
Fishing and hunting retail
Boats, trailers, accessories
Watercraft: kayaks, pontoon, SUP
UTVs and ATVs
SUVs, trucks and accessories
RVs and campers
Camping gear and apparel
Camo, optics, calls
Outdoor media
Mountain-living furnishings
Wildlife and outdoor art
Outdoor clubs and organizations

SPECIAL FEATURES:
NEW—Sportsman's Warehouse and Turner's Outdoorsman retail
NEW—Long guns, Camping Gear
NEW—Expanded Outdoor Product Showcase, Presented by RMEF & Sportsman's Warehouse
NEW—RMEF Great Elk Tour
Wilderness Archery Shoot-Off
Kawasaki Offroad Test Track
California Sportsmen Theater
WesternBass.com Aquarium Demonstration Tank
Kayak City Theater
Sporting-Dog Arena
Fly-Fishing Theater, Tying How-To Center, and Fly-Casting Pond
4 Buildings B-I-G…
YouthFair@ Expo Center