Go Don Go
by Royal Polaris Crew
1-29-2019
(619) 226-8030
Website

The Jerry Brown Line One spectra trip is having excellent fishing on YFT from 100# to 266# with beautiful flat, calm weather. On Saturday, they boated 31 YFT with the largest caught by chartermaster Don Burnside. Kudos to Don for his 266 pounder! We should all hope that at 83 we too can be making 4 to 5 long-range fishing trips a year and battling fish of this size. Congrats to Joe Amagrande for his 213#. Many of the other fish caught ranged from 170 to 190lbs.
On Sunday, they ended up with 12 YFT on board with 1 over the 200# mark. The weather and the bite continued to be excellent but many of the anglers in this group were enjoying a much deserved break from fishing and chose to spend their time playing cards and carousing in the lounge. Roy was pulling his hair out with only 4 anglers at the rail. Anyone want to take bets on whether Roy will have any hair left when the RP returns?
< Previous Report
Next Report >
Royal Polaris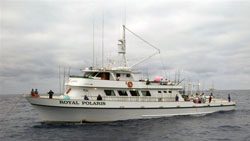 < Previous Report
Next Report >
More Reports
1-26-2019
Just checked in with the RP and they have 18 fish aboard (by noon). Biggest so far today is 208# caught by Jim Tallerico. Most fish are in the 120-140# range with some 150-180#. Check back later. ......
Read More
1-25-2019
The weather finally cleared up giving the guys beautiful, flat calm conditions for their first day of fishing. Total fish count for the day: 40 wahoo and 8 YFT in the 40 to 70# range. They are off to a nice start this morning with 7 YFT ranging from 100# to 187#. Unfortunately, we are still experiencing difficulties with our wifi so I'll continue to keep you updated as Roy calls in. ......
Read More