Lake Camanche Fishing Report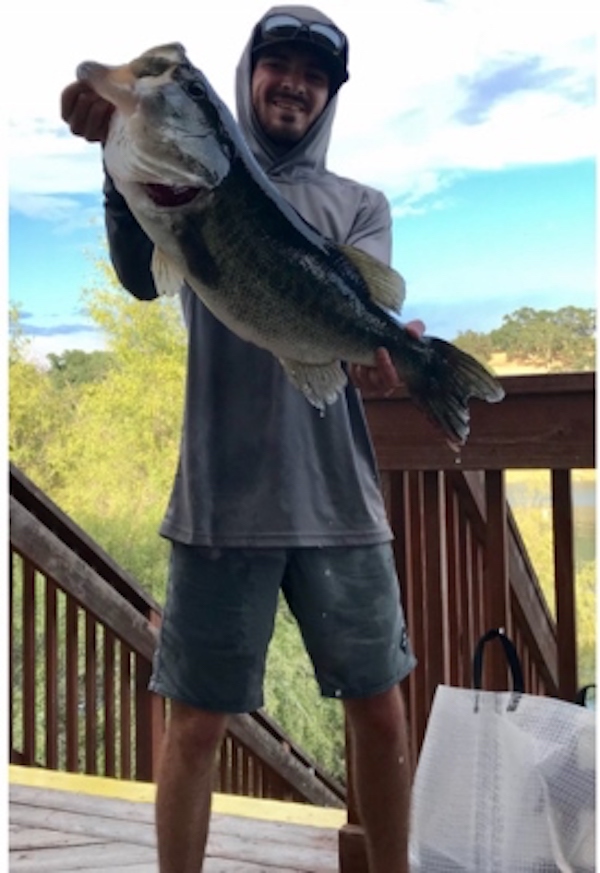 Largemouth Bass
Bass Guide, austinbarkk, aka Austin Baker of Rio Linda hauled in this monster 8.98 lb. bass using football jig which he posted to Instagram commenting, "Well I guess @lakecamanche missed me a little. Been a while since I caught a big one here. @mr_b_lure_company football jig was the ticket. Would love to see this fish pre spawn. Also, shout out to @gonefishinmarine and @reelcrazy1 for keeping me on the water in between boats.
Photo Credit: Courtesy of Lake Camanche
by Lake Camanche Staff
6-9-2019
(209) 763-5121
Website

WOW! Lake Camanche was up to 87 % full and was at an elevation of 228.23′ above sea level at the time of this report. Pardee Lake was still at 101% full and spilling over its spillway. The flow into Lake Camanche increased to 3,788 cubic feet per second while releasing only 2,900 C.F.S. into the Mokelumne River again at the time of this report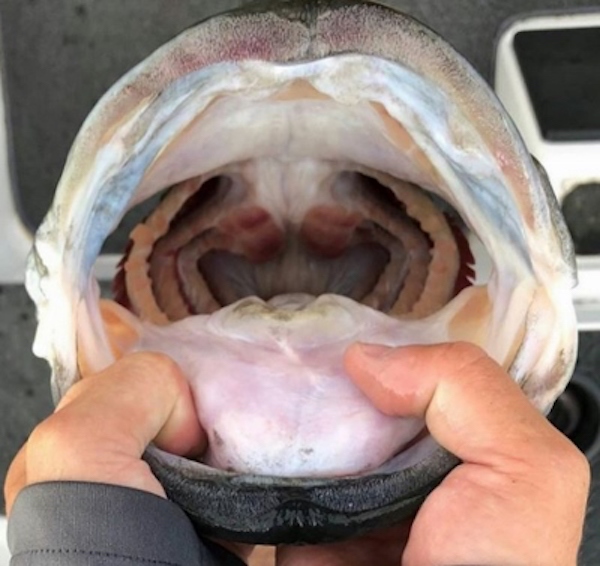 mr_b_lure_company added, "@austinbarkkhas been putting the Mr B Football jigs to the test and having great results. Check out this Lake Camanche Hawg!" and "Holy buckets Peter! There was a Mr B Football jig down in there, somewhere.@austinbarkk landed this Double Fister at Lake Camanche…one of the lakes he guides on. Check him out."
Photo Credit: Courtesy of Lake Camanche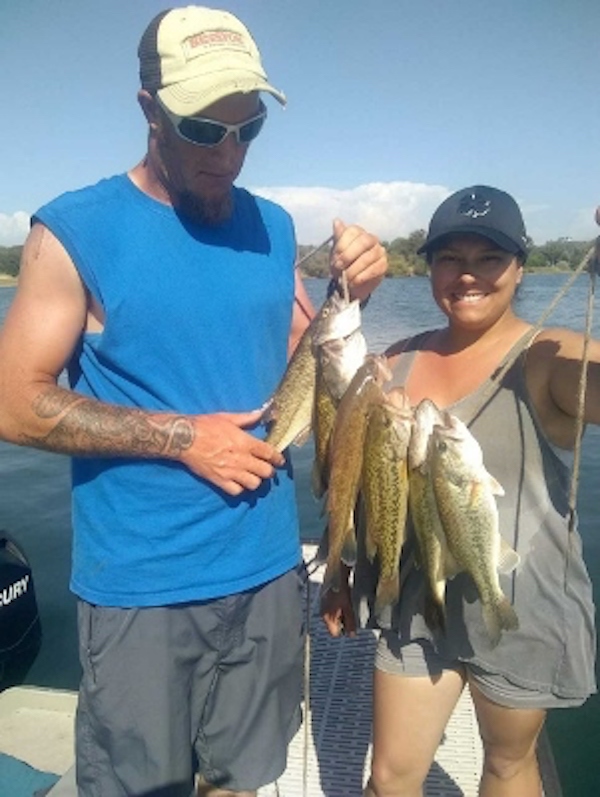 Camanche employee, Sarah sent this picture and report on 6/4. She wrote, "Both of us used a drop shot, using Bass Pro Shop Tournament Series worms, we both fished off of a boat, and didn't stay in one spot. We fished multiple areas along the shoreline where we thought might be good "sabotage spots" "I personally caught 15 smallmouth bass, 4 of which were legal size, biggest was 16" Jason caught about 9 smallmouth bass and 1 spotted bass, only one of his small mouth was legal size 14" and the spotted bass was 13" We kept 6 in total that were legal size and they tasted great! It was a fun day!"
Photo Credit: Courtesy of Lake Camanche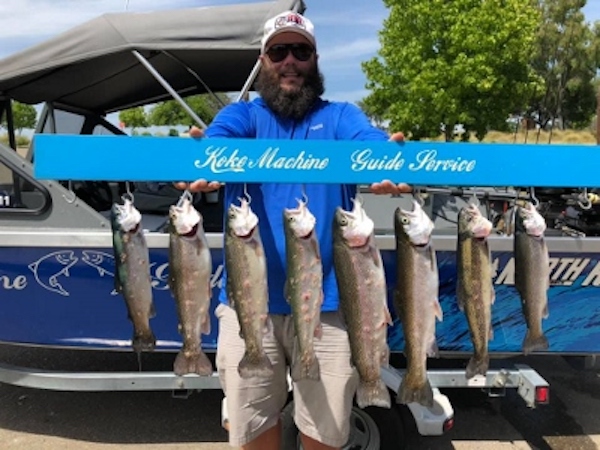 Our local trout expert, Robbie Dunham posted this report and picture to Facebook on 6/5, "Today I fished with Paul from the Fishermans Friend… He is totally a Bass Guy… Never seen a Downrigger in Action!!! Well today I fixed that… Met me at North Shore ramp at 5:30… Started down the River Channel and worked our way to the Dam… Open Water with Speedy Shiners!!! Ended the Day with 8 on the stick, with 12 grabs… Had 2 1/2 hour period with the "Kiss of Death"…. Not Good… We took turns bringing in these Fish!!! Here are a couple Photos from my Phone… My good Camera battery went dead… It's on the Charger now… Until next time….Robbie, Koke Machine Guide Service." When asked about the appearance of the trout Robbie replied, "They are called Copods. They only cling on the skin and scales. They DO NOT burrow into the Meat. They don't look very good, but it doesn't affect the meat at all. I Fillet and Skin them."​
Photo Credit: Courtesy of Lake Camanche
< Previous Report
< Previous Report
More Reports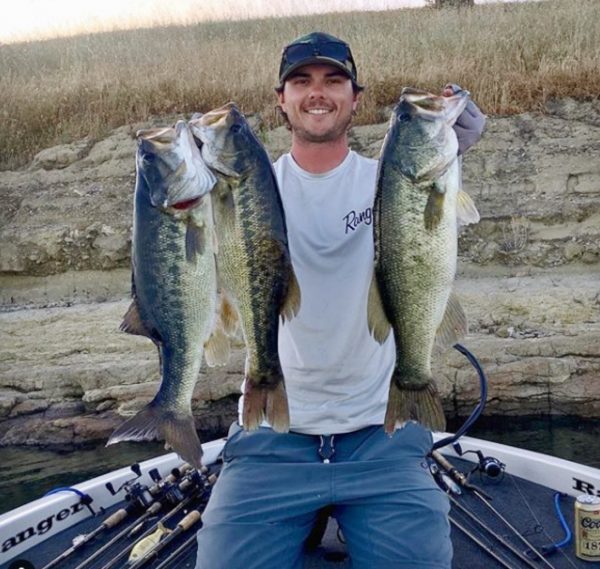 6-1-2019
Lake Camanche's elevation has increased up to 83% full and at elevation 225.35′ with increased flow from Pardee. Pardee was releasing......
Read More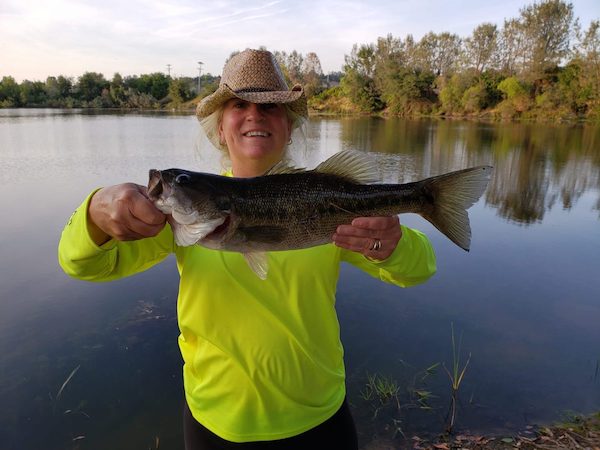 5-12-2019
This week the Lake was still reading 78% full with an elevation of 222.40′. Pardee was releasing 2,749 C.F.S. into......
Read More