June News Letter
Eagle Lake - Susanville, CA (Lassen County)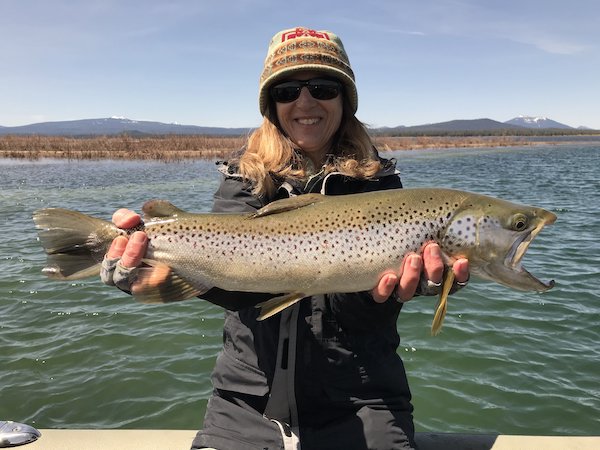 Photo Credit: Courtesy of Fly and Filed Outfitters LLC
Hi friends.
I hope you have all had a trip, or two to your favorite fishing destination this summer. I have been guiding Eagle Lake since the end of May. It has been wonderful here. The big winter has really improved the lakes water conditions, and brought the hard pulling native rainbows out of the deeper water and onto the plentiful rock piles where we still water nymph for them. I can honestly say the lake is fishing as good as I have seen it in many years. I am not certain I will be returning this fall; as I will be hitting my home waters in Central Oregon; however if next winter keeps the water level up, I will be guiding Eagle in June 2020. I have a single client that has booked 6/20 & 21/19 & is asking to share the trip with another fly fisher. Cost would be $550.00 total for the two day trip. Contact me directly if you can make it.

The new boat built by Koffler Boats in Eugene, OR. has worked out better than I had imagined! It is truly a beast of a boat and is designed perfectly to highlight my still water methods. I hope you can come up to Central Oregon this summer and make some fly fishing memories with me. The Cascade Lakes around Bend, & Sun River are where I will be guiding. I have dates open in July, September, & October. Much of early August is booked, with dates towards the end of the month open.

Crane Prairie Reservoir, Wickiup Reservoir, East Lake, & Paulina Lake are the lakes I will be targeting this summer. Fishing has been good to excellent; with the exception being Wickiup-which is recently experiencing a significant algae bloom. Scott Cook, owner of Fly and Field Outfitters in Bend providing the scoop. This is the great shop I am working out of to guide the Cascade Lakes.

Speaking of lake turnover, & algae blooms-As the lakes heat up, the fish will begin to channel up and seek the more oxygenated inlets in Crane, & Wickiup. Sight fishing for cruising rainbows, and browns can be epic during the warm days of summer. The damsel fly nymph migration, callibaetis emergences, & midge hatches are substantial on the Cascade Lakes. We use a variety of still water methods like indicator nymphing, dry/dropper rigs, sight casting to rising trout with mayfly, & caddis adults, and casting sinking tip lines while streamer fishing to fool these native Crane Bows and wild brown trout. The callibaetis hatches on East Lake and Paulina can be epic during the hot days of summer. These are higher elevation alpine fisheries that fit well into the summer program. All the Cascade Lakes are beautiful with each having unique characteristics worthy of scenic shots while posing with your trophy trout.
I am very excited to be guiding off my new boat, on some of the best trout still waters in the west. I hope you can make it up and experience these fisheries with me. You may contact me; or follow me on my Facebook page; or website tomloe.com

I will be posting fishing info on the lakes I am guiding in Central Oregon after I return in late June.

BE the fly...
Tom Loe
https://www.tomloe.com
driftfish1@gmail.com
760-937-2015
Fly & Field Outfitters, Bend Or. www.flyandfield.com 1-866-800-2812 Toll Free
Fly and Field Outfitters LLC, and Tom Loe are permitted by the Deschutes National Forest
< Previous Report