El Salto Lake Report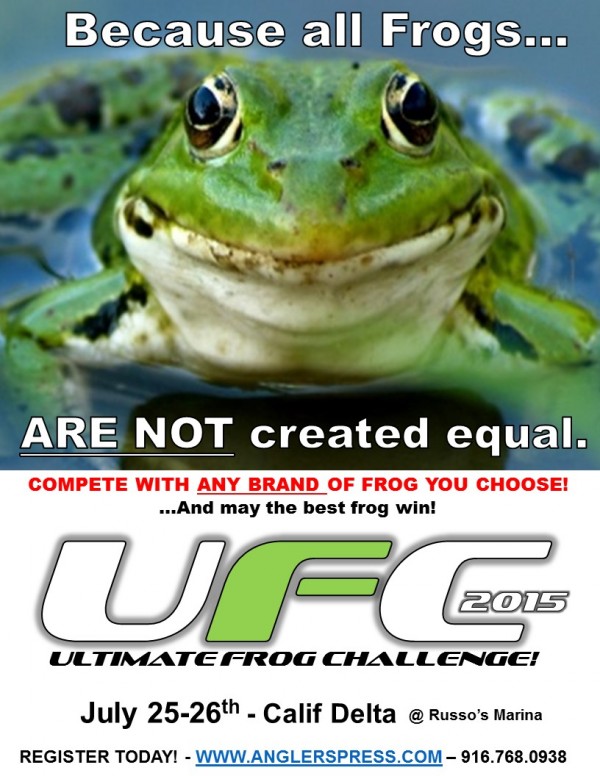 by Board of Directors
6-24-2015
(949) 863-9947
Website

If you have ever been wanting to take the trip of a lifetime to a peaceful world-class lodge where you can fish for incredible trophy bass – in the most rugged yet beautiful surroundings ever, then your chance has finally come as some lucky angler will receive that opportunity just by signing up for UFC 2015 – the Ultimate Frog Challenge event coming to the California Delta July 25th – 26th at Russo's Marina.

You heard right…just be one of those that sign up before midnight July 5th for this unique and "game changing" top water frog only event, and you will be entered into a drawing for a DREAM of lifetime bass fishing trip that will take you to world-famous Lake El Salto in Mexico, to over-indulge in a 3-day, 2-night trophy bass fishing adventure you will never forget!

And what's more is if you wish to take a buddy along for the ride… they will get to go with you for 50% off the regular price!

If you have never been to Lake El Salto in Mexico to partake in the incredible bass fishing it has to offer, then you have simply been missing out. Those that have been, remark that it is the closest thing to heaven – for a bass fisherman, and that's for two simple reasons.

The first, is the mild to warm temperatures that hold steady throughout the year, which make the lake an incredible big bass paradise, with the additional bonus of having fish that fall in the 3 to 6 pound range as common to catch as farm pond bluegill in the late spring.

The second is the world-class accommodations and service you receive from the minute you step off the plane in modern Mazatlán, to the time you leave the Hacienda style lodge created by Freshwater Fishing Hall of Fame inductee and world-renowned outfitter Billy Chapman Jr. as he has crafted out of the rugged Sierra Madre mountains, an impeccably maintained Lodge run by an incredibly efficient and overly accommodating staff, called Angler's Inn Lodge located right on the shores of Lake El Salto.

So if you plan to be at UFC 2015, get your entries in as soon as you can so you won't be left out of the running for a chance at this trip of a lifetime…a trip that you will never forget!

See you all at UFC 2015!
< Previous Report