Dang we had a LOT OF WATER!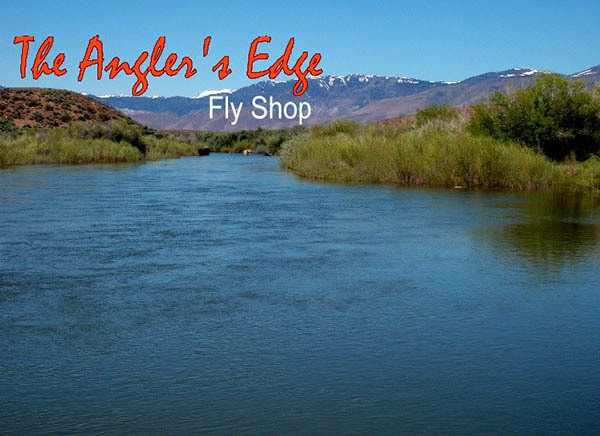 by Angler's Edge Fly Shop
7-15-2017
775-781-7112
Website

Fishing Report 07/15/17: 
So, it's not the most epic report, but since things have been so frozen, flooded and all around crappy, we're finally seeing some light at the end of a very heavy Winter. Reports will be improving as the rivers improve. But at least you can get an idea of where things stand.
A few things: If you have a smart phone, we're suggesting that you download a River flow app, either "River Data" (my favoite) or "Stream Flows", there are more out there. Save the rivers that you fish the most. Or you can always check them from our website under the Tab: Water Flows.
Mosquitos are horrid, use DEET
USGS has stated that the Carson Drainage will return to Normal Run-Off Flows (it's what we see in about June) around July 22nd. The Walker Drainage on August 18th. 
O'banion's Aspen Lake Fishing nicely! Call the shop to book 
E. Carson, CA: Flows: Running between 1,300 and 1,100 cfs above Hangman's (along hwy 89/4) River is starting to green up. And flows are coming down...slowly, but coming down. We believe that Alpine County MAY stock next week. This is is like a 50/50 belief. Catch & Release section (downstream at Hangman's Bridge) About 200 cfs coming in from Markleeville creek creating flows little higher than above the bridge. It is starting to turn green also, Should be more fishable in about 10 days. 
E. Carson, NV: Flows: between 1150 and 950cfs Getting a losing a few more cfs (Cubic Feet per Second) off of the irrigation canals. It's pretty close to fishable (not really wadable) We'll be taking a water temp next week to let NDOW know the temps for a stocking, though we'd prefer it to be down to the 500 cfs level so the fish are not swept into the canals where it is considered trespassing to be there. 
W. Carson: Flows between 250 and 200 cfs Alpine County stocked it last week. Meadow section was doing good on streamers and dead drifting copper johns and zebra midges. We expect another stocking this coming week. 
E. Walker, Miracle Mile, CA: Flows out of the headwall of Bridgeport Reservoir have dropped from 1,990 cfs to 969 cfs. Now at 800 we did have some of the intermediate fishers catch some fish, This was done by staying on ONE SIDE, not crossing and deaddrifting streamers. For goodness sakes, Know exactly where you are standing, the cut banks have been degraded and are sloughing off. 
E. Walker, NV: Flows about 1,000 cfs. Flows are higher than out of Bridgeport, du to an average of 40 cfs from Sweetwater creek. See cautions of the Miracle Mile. 
E. Walker NV Elbow Area: Flows 1,000 cfs. Stocked by NDOW about 3 weeks ago. Fish may still be around, though probably have been pushed down stream. See cautions Miracle Mile. 
West Walker, CA: Flows: 1,900 – to 1,400 cfs. In the Canyon along 395, water levels are moving by a foot or so. This will be fishable, about August 10th. I'd be looking at Pickel Meadows on Sonora pass in the meadow. Again, watch where you are standing. Dead drift a bunker buster (come into the shop for a famous diagram :) 
West Walker NV (Hoye Canyon): Private property, no longer open to the public. 
Topaz: A lot of water in the lake, which is pleasant to see. 3 times now, they've gotten close to capacity and they divert the water around Red Hill. The inlet area is off color far sade near the campgrounds will be better. Bass fishing is sporatic right now. 
Spooner: Stocked 3 times in 60 days. Weed bed is starting to grown Float tube is best for now. Leach patterns, Prince Nymphs, zugbugs, red or black zebra midges, prince, PT's, martis midges, buggers in black, purple and white. Catch a chub, kill it. (and you'll catch lots of those) 
Desert Creek: Stocked a couple of weeks ago. Still pretty heavy, in about 10 days should be much easier to fish. Fun little water, use your stealth not a lot of water in it. They'll happily take a dry, madam X EHC, a small hopper, Royal Wulff. 
Hobart: All roads in are Closed. You'll have to hike in. NDOW is working with road crews to see if repairs can be made, but due to the amount of damage everywhere from this epic winter, it probably isn't something high on their radar. 
Indian Creek: All the fish that were to be put in the rivers of Alpine county, have been put in there. It's still a mystery as to why the fishing isn't better. Bait guys doing better in the morning and fly guys better in the late afternoon/evening. 
Burnside: The mosquitos are plentiful. Rumor was that CA stocked, but after the creel survey taken this past week with a large crew of biologists, I'm going to say, no way jose was it stocked. 
Kirman: Winter kill 15/16 really put a hurting on this lake. Last year, reports into this shop was ONE brookie was caught, and the LCT population was way way down. So rumors and hearsay, is that CA will be stocking 20,000 fingerling brookies. It is amazing that, that will happen, lets cross our fingers. So spread the word, catch a brookie, let it go, let's get that population back up! 
Bridgeport Res: Go hit this water, A lot of fish in here! Report that it had suspended algae but there are fish to be had. Intermediate or type III line. Lots of trophy fish have been caught, so there are a lot of big fish left and just waiting for you! Olive buggers, Red zebra midges, black buggers, black rainbow warriors, dead drift crawfish. 
Pleasant Valley Fly Fishing Preserve Opening July 22nd!! Due to the shortness of the season out there, from the runoff, my suggestion is, if you're going to book it, better call into the shop and get on the books. It will fill fast. (I believe it's going to be an epic September out there!) 
Truckee: Water flows are all over the map. Water temps in the morning are running about 60 degrees. It was fishing pretty good. Watch where you are standing, don't be a drowning victim. Deaddrift crawfish, buggers, the standard sierra fare.
< Previous Report
Next Report >