Lots of LIMITS!
The Producer has LIMITS of Yellowtail & 12 Dorado!

The Producer currently has open spots for their One Day trip departing tonight at 10:00 PM. Click here for reservations!

The Real Sea Adventure 80 fished the Coronado Islands today and bagged 75 Yellowtail! We have the Daiwa Pacific departing for sure Sunday morning for another 3/4 day! (Passport required)

The Old Glory has LIMITS of Yellowtail and 14 Dorado!

The First String has LIMITS of Yellowtail, 11 Dorado & 4 Bonito on their Overnight Trip! They have a 3 day departing Sunday night running for sure, very light load! Click here for reservations!

The Legend has LIMITS of Yellowtail to 30lbs, and 24 Dorado! Come join The Legend on their 2.5 day on Tuesday the 25 for more of that action! GOING FOR SURE! Fishing is way too good to sit at the dock!!!

The Chief has LIMITS of Yellowtail and 3 Dorado! The Chief has a 2-1/2 day departing Sunday night with lots of room!

The Relentless LIMITS of Yellowtail. They are currently chasing some Dorado!

The Mustang Out on an overnight trip and have 110 Yellowtail, many are around 20 lbs! They have 22 Dorado and are in pursuit of more. This is a nice warm-up trip for a 2.5 day trip that departs on July 27th at 9:00 PM, don't miss any of the action and book ASAP!

Ocean Odyssey LIMITS of Yellowtail and 5 Dorado!

The Constitution is also reporting excellent conditions and has 15 Dorado and Limits of Yellowtail on their 1.5 day trip! They are expecting to port at around 6:00 AM tomorrow, 7/23/2017. The Constitution also leaves tomorrow for a one day freelance trip, get in on the fun here!
 
H&M is the West Coast's most established sportfishing landing providing Offshore adventures since 1935. Call (619) 222-1144 or reserve online at www.hmlanding.com.
< Previous Report
Next Report >
< Previous Report
Next Report >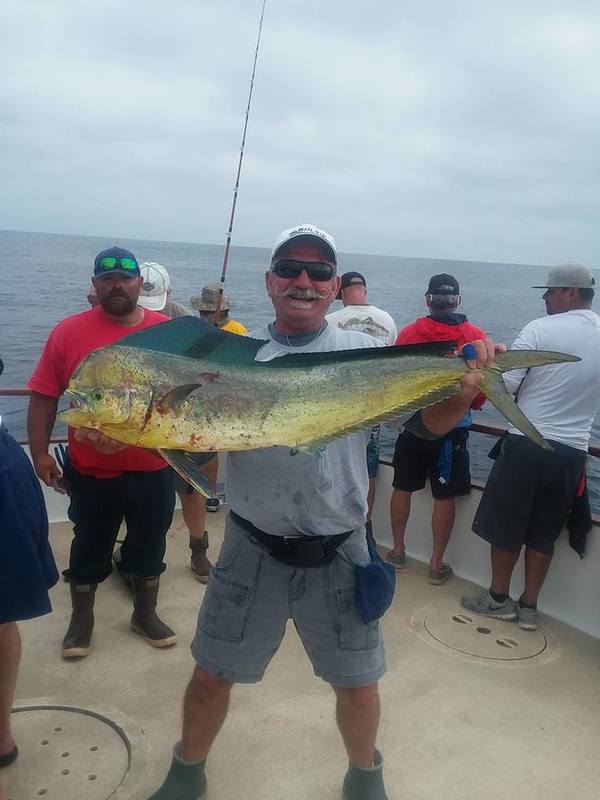 7-21-2017
H&M Landing is whacking them today! The Legend has Limits of Yellowtail and Limits of Dorado for the 1st day of......
Read More