Glory Hole Sports Fishing Report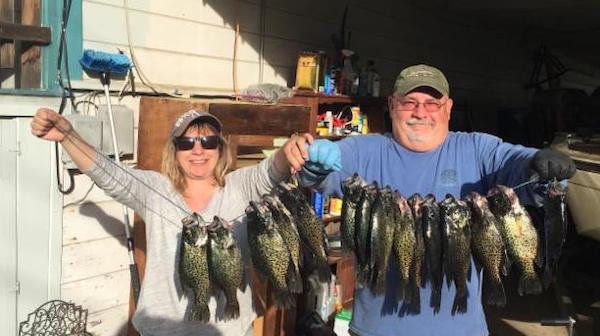 Black Crappie
A BOUNTY OF CRAPPIE
Photo Credit: Courtesy of J and Rita Linker
by Glory Hole Sports Staff
5-22-2019
(209) 736-4333
Website

New Melones Reservoir's current lake level is 1052.60 and 35.40 ft. from full, water levels rising 6.2 ft. in 14 days from storm runoff and melting snow in the Sierras feeding New Melones. Additional late season snow in the Sierras has added additional downstream runoff when temps rise to help increase lake levels on Motherlode lakes to near maximum capacity. Water temperatures are hoovering around 68 degrees and clear. The Tuttletown upper ramp is operational as well as the Glory Hole Point side of the lake which has the high ramp working. Angels Cove ramp is also in use.
We like to promote catch and release on New Melones. If you do so, provide us a picture and bring it in for a copy or email it to us at gloryholesports@yahoo.com so we can put it on the board or in the newsletter.
Anglers FYI: For anyone with a potential lake record please call us at the store and hopefully we can send someone to weigh, photograph and measure the catch at the lake. GHS is the unofficial recorder of lake records for New Melones, and we understand there is sometimes conflicting interest in the welfare of the catch, whether or not to release the potential record, sacrificing your place as a record holder for the lake.
We do promote catch and release. For potential lake records, record the statistics of the fish... length, girth, weight and photographed at the lake before releasing her. If indeed we can verify the information that is provided, such as a witness, comparing the scale used with ours, a photograph with the fish hanging from the scale and can see the scale weight, etc...then we can accept this as proof. If your catch has expired than indeed bring it in to GHS so we can record it here, and you can have it mounted!

TROUT
Local legend Tom Dutil of Angels Camp had a great day of bank fishing near Angels Creek using a Rapala and salmon eggs as his choice for baits which worked in his favor landing a limit of Rainbow trout. Thanks for sharing Tom!
Brown Trout has been doing good with reports of 3-6 lb. browns being caught and released. Most reports coming from trolling anglers targeting Kokanee. Colin Kelley of Modesto was trolling Angels Creek landing this limit of Kokanee with one 5lb.9oz. Brown Trout using Paulina Peak tackle.
Beautiful Brown landed by Rick Brown (no relation) He was trolling a pink hoochie w. blue & red dodger tipped with kokanee corn.
KOKANEE
Big Al's guide service reported landing a 18 1/4" Kokanee on Melones (no weight recorded). Any Kok angler hearing that news would be hard pressed to not want to get on the water and try going after the Glory Hole Sports recorded lake record of 2 lb.11oz. (no length recorded.) The big news is that New Melones Kokanee bite has been outstanding for the last two weeks with most anglers trolling and getting off the water before noon with limits of the landlocked salmon. Bruce Lund and fishing pardner of Pine Grove trolled the main lake to the spillway hooking up with these Kokanee and Trout. They reported using Pink Hoochies and garlic scent or bloody tuna.
Jay Winchester of Lockeford was hammering on the Kokanee once again along with Harold Garibald landing a limit of Kokanee up to 1.3 lbs. Trolling Apex lures down 25-30 ft. and using a watermelon dodger & garlic scent. Best bite time was 9:00am.
BASS
Yumbrella "A" rigs have been giving bass anglers a chance to experience nice size largemouth and spots hammering this presentation, unable to resist this 5 fish bait going thru the water. A five arm Umbrella rig can have up to 3 hooks attached to the lure. Try your swimbaits for some hard hitting action and follow up with finesse presentations when things slow down.
CATFISH
Anglers targeting Catfish are having good luck with cut baits.
CRAPPIE
There has been lots of reports that the Crappie bite on Melones is hot, with nice bag limits using minnows, and crappie jigs as J & Rita show us with stringers of them, at the top of the report.
NEW MELONES GUIDE REPORTS
"Take it to the Limit Guide Service"
We put 2 limits in the boat Friday by 11:40, the total weight of 10 koks was 11 lbs. The koks pictured are 15 and 14 inches.
Just another great week on New Melones with plenty of fat healthy Kokanee to be caught.
The koks are in the middle of the main lake we stayed in the 200' to 400' range and the best depth was 37' down to 44', we put most koks in the boat at 38'.
Watermelon colors are working well and Hoochies in pink and purple or pink and green seems to doing the trick also Assassin Spinners in pink and green and purple and pink.
Remember when you are putting your lure down in the 30' to 40' range make sure they are around 100' behind the boat.
See Ya On The Water
Take it to the Limit Guide Service
Gary Burns
209-559-3349
"Xperience Fishing Guide Service"
New Melones Lake is the place to experience some awesome bass fishing and each guided trip we are successfully catching both quantity and quality largemouth and spotted bass. With the lake level on the rise and the water temperature fluctuating (warming on clear days and cooling during the storm fronts), the bass are on the move. We have located mega-schools of bass that are there one day and gone the next. They are following large schools of shad which seem to be affected by the changing conditions. There have been a number of techniques that will produce bites day in and day out. The first go-to presentation and by far the most exciting, is the topwater action. We are mixing up our lure selection and using walk-the-dog style bait, wake baits and ploppers to trigger some impressive blow-ups. Shad, bluegill and baby bass patterns are working best. When the surface activity subsides, we will switch to reaction baits and have been doing well with crankbaits, spinnerbaits, flukes and small swimbaits. The jig bite has been coming on strong and many finesse techniques will also produce. Regardless of the conditions, the bite has been good on both rainy and clear days. The next couple months are going to be just as much fun, and there are bass to catch 365-days a year.
Pictured: Ryan Harris and Rick Helmonds with awesome largemouth and spotted bass that both smashed topwater lures!
Xperience Fishing Guide Service
www.xperiencefishing.net
xperiencefishing@yahoo.com
John Liechty (209)743-9932
"Josh Parris Guide Service"
Fishing is heating up on new melones, despite the minor cold snap. Top water has slowed down a bit with the cooling weather and rain. The reaction style baits and swimbaits continue to produce. Finesse is great for numbers and will get a few quality bites throughout the day. As the weather starts to warm back up the top water will pick back up.
Brandon with two of the Swimbait fish he stuck on a recent trip.
< Previous Report
Next Report >