Ken's Sporting Goods Fishing Report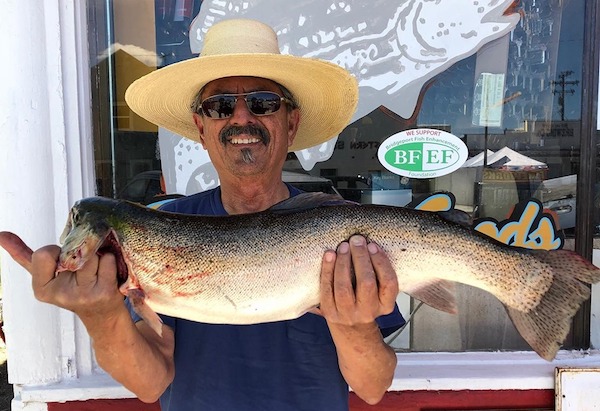 Ray Robles of Bridgeport bagged this 6 lb 11 oz , 2018 BFEF tagged rainbow on Bridgeport Reservoir today!
Photo Credit: Courtesy of Ken's Sporting Goods
by Kens Sporting Goods Staff
6-30-2019
Website

EAST WALKER RIVER
The East has come down to about 490cfs this past week. The fishing is still pretty tough at that flow but there are definitely some fish being caught. The upper mile is probably fishing the best right now, it's a little easier to get your nymphs down near the bottom where they need to be on this stretch as the water is a little more lazy than the lower stretches. Nymphing still seems to be the best technique though there are a few fish being caught on streamers. One of the keys, as usual, is to get your flies to the bottom where the fish are hanging out and feeding, if you don't get down there you probably will not have much success.
Recommended Flies:
Rubberlegs, darth baetis, rainbow warrior, silver streak, radiation baetis, buckskin caddis, crawling caddis, LaFontaines sparkle pupa, Fox's poopah, pheasant tail, dead drift crayfish, hell razor craw, zuddler, dali lama, double bunny, sculpzilla, san juan worm, squirmy wormy.
SCEIRINE RANCH
We haven't had any clients on the ranch this past week, like the California side the fishing can be difficult but could definitely be worth the trip!
HUNEWILL POND
We didn't have anyone on the pond this past week but the upcoming week is book pretty solid so we should have some reports coming up.
BRIDGEPORT RESERVOIR
Bridgeport has had a few slow days lately but overall it's been fishing pretty well with fish up to nearly 7 pounds being reported and lots of nice browns up to almost 4 pounds being caught. Bait fishing has been the best out in front of the marina, off of Rainbow Point and up in Buckeye Bay. Trolling has still been good with Thomas Bouyants, Rapalas and night crawlers. There has also been some decent fly action out in front of the marina as well as up in the channels in Buckeye Bay.
KIRMAN LAKE
We didn't have any news from Kirman this week, if we get any info we'll pass it along.
TWIN LAKES
The Twins have also been kicking out some good fish with some weighing up to over 5 pounds. Bait anglers are having some success with pinched crawlers, mice tails and inflated crawlers, trolling has produced some fish with Thomas Bouyants, needlefish and Rapalas. Fly anglers have been doing pretty well near the inlets with wooly buggers, matukas, zug bugs and soft hackles.
WEST WALKER RIVER
The flows on the West are back up again, it's running very high and muddy right now. It may be a few weeks before the flows come down up there.
VIRGINIA LAKES
The Virginias have livened up quite a bit lately, lots of nice fish being caught casting lures, mini jigs, bait fishing and fly fishing. The best lures have been Thomas bouyants and Panther Martins, the best baits have been pinched crawlers and mice tails. For the fly anglers try buggers, matukas, balanced leeches, mini leeches, stillwater nymphs, soft hackles and prince nymphs.
If you would like to receive this report via email, drop me a line at [email protected] and I'll get you on the list!
UPDATE:
June 23, 2019 - Yesterday was the Bridgeport Fish Enhancement's annual fishing tournament, it was a great success! The tourney sold out a couple days ahead of time so if you plan on going in 2020 be sure to get your registration information in early so you don't miss out! There were lots of fish in the 2 to 4 pound range weighed in with a couple over 4 pounds. We also saw stringers weighing on over 12 pounds for the day. This is a great fundraiser for the BFEF and all the money generated goes to planting more quality fish in local waters!
< Previous Report
Next Report >
< Previous Report
Next Report >
More Reports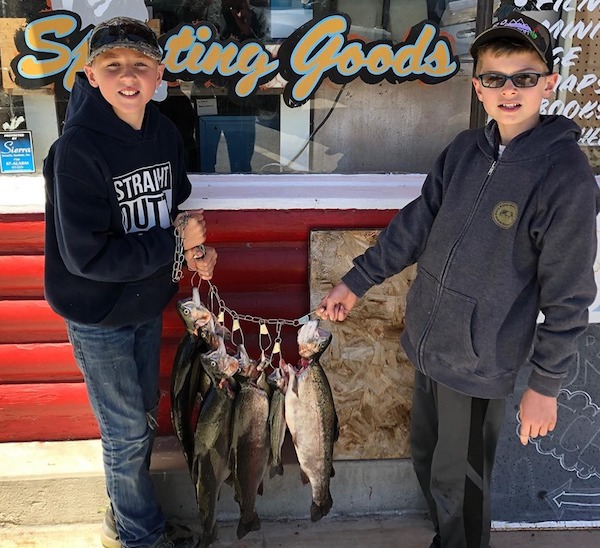 6-26-2019
Ben from Bishop and Nathan from Ripon with an epic stringer of 4 to 6 pounders from Virginia Lakes! ......
Read More
Kens Sporting Goods Reports
for Sunday, June 23rd, 2019

East Walker River (CA)
:
The East Flows Have Come Down
East Walker River Sceirine Ranch
:
Sceirine Ranch Fishing Report
Hunewill Pond
:
Hunewill Pond Fishing Update
Bridgeport Reservoir
:
Bridgeport Reservoir Fishing Report
Twin Lakes (Bridgeport)
:
Twin Lakes Fishing Report
West Walker River (CA)
:
Flows Are Back Up
Virginia Lakes
:
Virginias Are Fishing Well
:
Ken's Sporting Goods Fishing Report June 23rd