Salmon Season Underway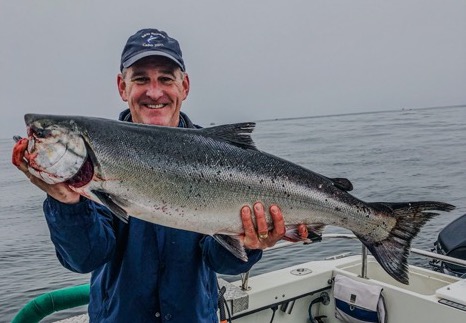 Kevin Huber with a nice early season Monterey Bay salmon
Photo Credit: Courtesy of GGSA
Readers of this newsletter will likely know more than we do by the time you receive this but here's a snapshot of the season to date.  
After being delayed for almost a month, the sport ocean salmon seasons opened May 1.  The commercial season opened then too with decent early catches in Monterey Bay out of Santa Cruz, Moss Landing, and Monterey.  After a week and a half, and some good size fish caught, that bite seemed to taper off. 
Low prices initially paid to the commercial fishermen bounced up by the second full week of the commercial season as catches ebbed.  Enthusiastic buyers seemed to pop up everywhere and the fresh salmon was welcomed by many customers dying to get some of the best salmon in the world.  
Although a few spots of salmon have been encountered by the sport fishing fleet off the San Mateo, San Francisco, Marin and even Mendocino countes' coast, no real school had been found, outside of that initial Monterey Bay group, as of this writing.  Seasoned hands say this isn't unusual for this time of year and hopes are high for better fishing in the coming weeks and months. 
The charter boat fleet has remained tied up due to covid concerns but we've just gotten word that charter boats out of Berkeley have been cleared to fish.  Hopes are high that government agencies will soon give a green light for the rest of the fleet to operate.    
Hopes are also high that state and county authorities will soon ease more restrictions on harbor and launch ramp access for the sport anglers.
The Golden Gate Salmon Association is a coalition of salmon advocates that includes commercial and recreational salmon fisherman, businesses, restaurants, a native tribe, environmentalists, elected officials, families and communities that rely on salmon. 
GGSA's mission is to restore California salmon for their economic, recreational, commercial, environmental, cultural and health values.
Currently, California's salmon industry is valued at $1.4 billion in economic activity annually in a regular season and about half that much in economic activity and jobs again in Oregon. The industry employs tens of thousands of people from Santa Barbara to northern Oregon. This is a huge economic bloc made up of commercial fishermen, recreational fishermen (fresh and salt water), fish processors, marinas, coastal communities, equipment manufacturers, the hotel and food industry, tribes, and the salmon fishing industry at large.
< Previous Report
Next Report >