70 White Bass C&R on Stillhouse Hallow Today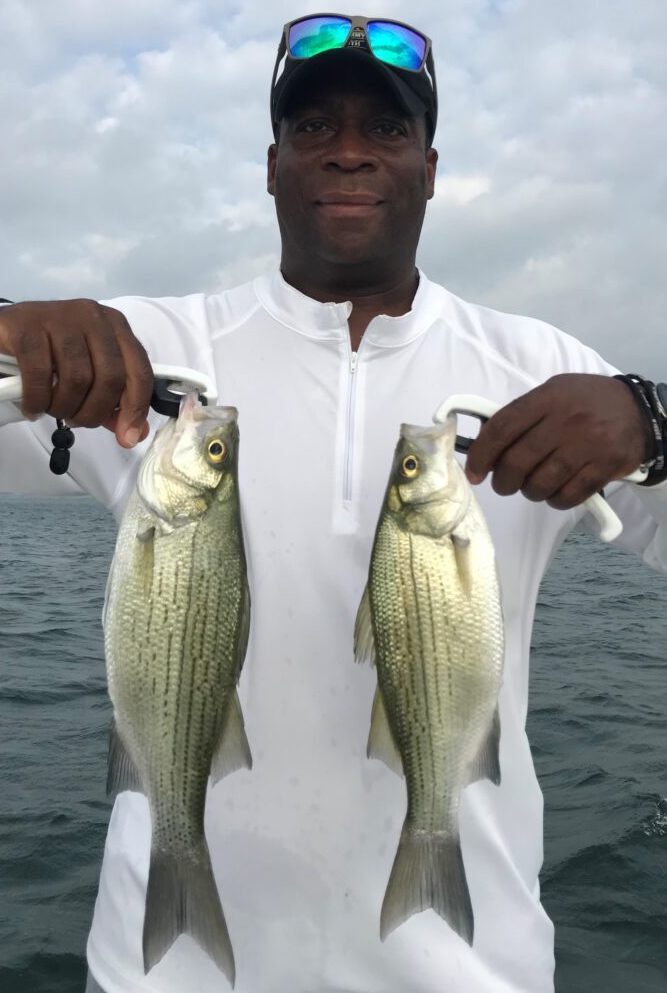 White Bass
Photo Credit: Courtesy of Holding The Line Guide Service
Today the weather "wrinkled" on us a bit versus the "cookie-cutter" weather we've enjoyed since the passage of last week's hurricane-influenced weather.  The winds were up early and strong this morning, and we dealt with 100% grey cloud cover all morning, as well.
The fish were still generally in the same pattern, but the topwater feeding activity was much reduced today as the winds and cloud cover made the surface more difficult for gamefish to pin bait against. Generally, we downrigged from 6:50 until about 8:00, then found white bass heavily schooled both on bottom and suspended and worked MAL Lures through them until around 9:20. 
We then moved to an area I'd not fished yet this summer and alternated between downrigging and using MAL Lures to close out the trip with exactly 70 white bass landed.
The use of Garmin LiveScope in downward mode absolutely helped put more fish in the boat as we were able to very precisely time the rise of our lures through horizontally moving schools of white bass.  We were also able to track the rise and fall of our lures 100% of the time, thus allowing us to continue retrieving when we saw we were getting followed, and, on the other hand, stop a retrieve short and allow it to return to bottom once we saw no fish expressed interest.
TODAY'S CONDITIONS/NOTES: 
Start Time:  6:25A
End Time: 10:35A
Air Temp. @ Trip's Start: 82F
Elevation:  2.95′ low, -0.06′ 24-hour change, 1 CFS flow
Water Surface Temp:  83.5F
Wind Speed & Direction: S12 prior to sunrise, slowly increasing to SSW 15 by 9:15, then gusting higher thereafter.
Moon Phase: Waxing gibbous with 99% illumination (full moon -1)
GT = 5
Wx SNAPSHOT:  
AREAS FISHED WITH SUCCESS:
**Area 853 – low light downrigging
**Area 062 to 071 – MAL Lures worked vertically for bottom-hugging and suspended fish
**Area vic 912/1133 – MAL Lures worked vertically for bottom-hugging and suspended fish
**Area 1222 to 668  – alternated between MAL Lure vertical work and downrigging horizontal work