Virginia Lakes Weekly Report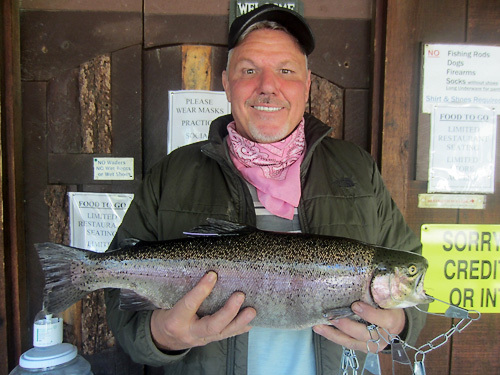 Al Santillo Studio City 6lb3 Buoyant 9-24 Little V
Photo Credit: Courtesy of Virginia Lakes Resort
ASPEN CONDITIONS: 
SATURDAY:  At 9727 feet the aspens are all yellow, and the color decreases as you drop to 8000 foot elevation where aspens are just starting to turn yellow. If a good wind comes up they will get blown off at the lakes.
SUNDAY: Aspens are going into gold, willows also.
WE are OPEN including the restaurant. 
Trumbull and Lower 139 are also open
The report below is normal, but not many anglers in the backcountry for a good report. Loads of hikers stretching their legs. Fly report is sporadic but results will be good if you persist.
SHORT TERM FORECAST:  Slight cooling through the weekend as a series of embedded short-waves pass well to our north. Behind those systems, high pressure forms off the NORCAL coast, before strengthening and shifting eastward mid next week. What that means for us is temperatures running near 92 degrees by Tuesday in the Owens Valleys and 75 degrees for Mammoth Lakes. Summer - like temps indeed for Fall. Continued warm and "bone dry" through most of next week. All in all, it looks like a hot Summer is transitioning into a hot and dry early Fall. Not good news for the fires yet burning in California...DMATT
BAIT: Crawlers, red power-worms. Green garlic, Salmon Peach and green garlic powerbait is catching a lot of trophy's. Hoppers HAVE NOT moved up the elevation scale and the baby boy hopper is everywhere but not up here yet. Good for fly anglers. Chartreuse glitter powerbait, and powerworms in red which are back-ordered to September. The only thing that's bringing up the hawgs from the depths is inflated crawlers.
LURES: Red/gold and rainbow Buoyant's small size, Kastmasters silver and gold, bleeding frog, Super Duper's, Tasmanian Devils, Lip Ripperz the new Hot Fire Wobblers. Bring along all your older lures they still work.  
FLY AND BUBBLE: Action has been sporadic over this past week due to the added pressure of the anglers trying to get away from the smoke. Flies to try are small Griffith's Gnats, Black elk hair caddis, small black foam ant or a furry ant, Zug Bug, Grey Hackle Yellow and trim the tail even with the bend of the hook and Black Gnat white parachute. Best dry fly for the week is the Black Gnat red tail and black leech.
FLY RODS: Bring more midges and nymphs - all stages. With a change in weather expected again and rain on Friday. Use dry flies when there's a chop on the water. Try the usual Hornberg, rainbow Hornberg, Loeberg (olive) without dropper. Dries would be black elk hair caddis, size 16 to 18 mosquitoes, small foam ants (byo). Normal rigs are set up with a streamer and midge dropper under a full sink line, but if you find a better method use it.
BACKCOUNTRY: Action has been slow, with a couple changes so go smaller darker and stay at 2lb leader with your bubble. Some fish are coming up on worms, small lures and small midges. I urge everyone to be careful with your catch if you do NOT intend to eat them especially with the current problems in our local hatcheries as stocking has been less than minimal
Virginia Lakes Resort is located near the top of Conway Summit between Mono Lake and Bridgeport, CA. We have everything you need to enjoy the Eastern Sierra. Check out our WEBSITE.
< Previous Report
Next Report >
< Previous Report
Next Report >
More Reports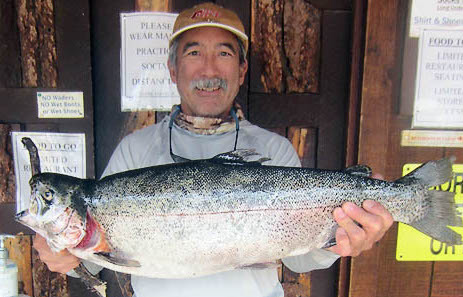 9-20-2020
WE are OPEN including restaurant. Trumbull and Lower 139 are also open.The report below is normal, but not many anglers......
Read More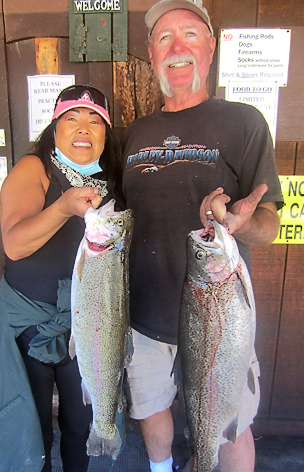 9-6-2020
Low pressure over N. California will also bring a slight chance of thunderstorms to Mammoth on Saturday. Those "cool" temps......
Read More