Sportfishing Mahahual Mexico Report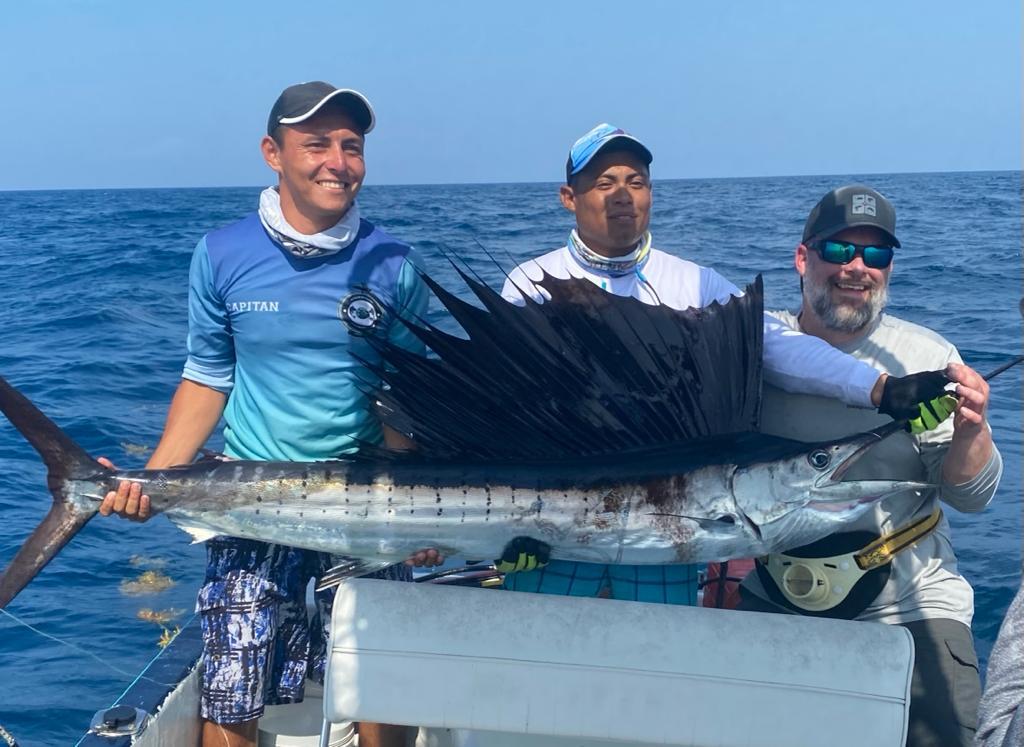 Photo Credit: Courtesy of Steve Heide
Mahahual, Mexico in the State of Quintana Roo, is one of the last undiscovered and unknown Western Caribbean beach communities remaining. Quintana Roo's most notable cities are Cancun, Playa Del Carmen and Tulum. The exit to Mahahual is another 2.5 hours south of Tulum on Hwy 307.
The Meso American Reef, the second longest reef system in the world, extends north past Mahahual a mere 1000ft from the beach allowing access to deep water fishing within minutes of leaving the beach. Trolling species include (SAILFISH – WHITE MARLIN – BLUE MARLIN – SWORD FISH – DORADO – YELLOW FIN – WAHOO – BARRACUDA) billfish are catch and release. Jigging (REEF FISHING) species include (SNAPPERS – GROUPER – AMBERJACK). Fly Fishing includes (TARPON – BONEFISH – PERMIT – SNOOK).
For up to date information on recent fishing excursions from Mahahual, I visited with costamayasportfishing.com owner's and anglers , Evan McKenzie and Nick Luke a Master Fly Fisherman from the UK. Their vessel, La Fortuna, recently won the prestigious Mahahual deep water tournament Pioneros de Mahahual. To sum up their information, trolling has been fantastic with Sails, White Marlin and Dorado hook ups daily. Fly fishing by wading off the beach has been hot due to crystal clear water conditions and the white sand bottom, Jigging is also providing excellent catches of yellow tail snapper. The fishing beauty of Mahahual is, the area is under fished due to the remoteness of the village location. However, accommodations are first class, AC, WIFI, cell coverage, beautiful rooms and cabanas to rent and the best ceviche in the world!
What are the costs of charter in Mahahual? Surprisingly very reasonable but you won't find 50ft Vikings! What you will find are the safe and comfortable Panga style vessels used from Mexico to Brazil (see photos).
La Fortuna charters for $400.00 - $900.00 US per day. This includes Captain/Mate and English speaking guide. Two or three anglers is the maximum and provides a very comfortable charter. La Fortuna is 26ft, beam of 6ft and powered by Yamaha. The vessel and crew are all medically certified, VHF and cell phone to port authorities included. All equipment is provided with Penn Rods and Reels and comfortable fighting chair. Coolers onboard for ice cold fishing beverages. These prices are the charter fishing standard in Mahahual with some charters less expensive and some more. I highly recommend La Fortuna as Evan is also the owner operator of the Nacional Beach Club, the epicenter of Mahahual on the Malecon. Rooms, cabanas, fresh water pool, bar and restaurant, your one stop charter location for friends and family to enjoy the beautiful white sand and crystal clear waters of the last little bit of unspoiled tropical paradise on the Western Caribbean, Mahahual.