Hubbard's Marina Fishing Report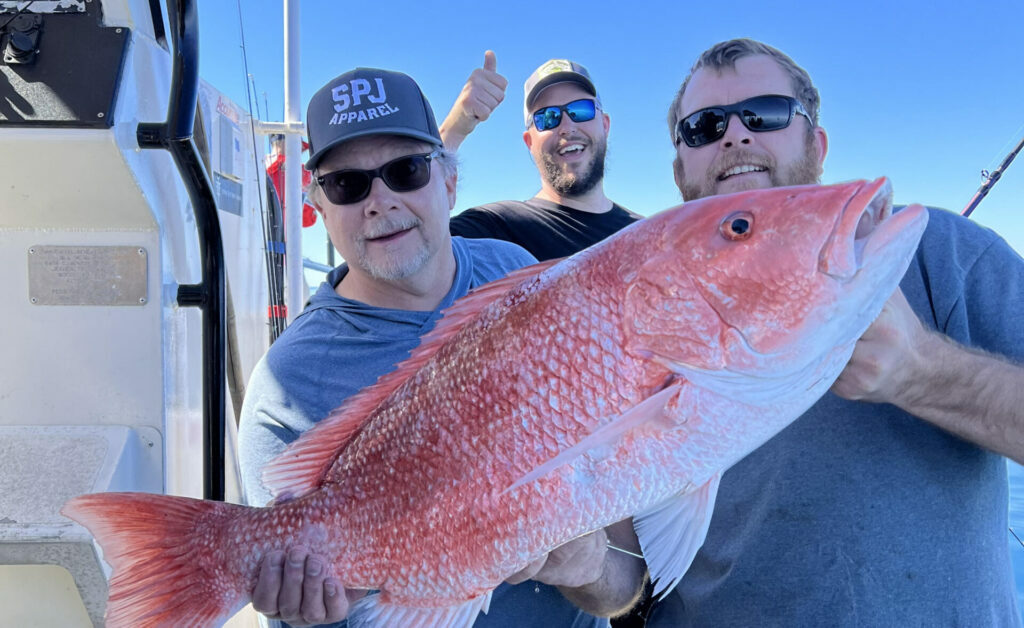 Photo Credit: Hubbard's Marina
by Hubbard's Marina Staff
5-27-2022
727-393-1947
Website

Nearshore Fishing Report
The hogfish bite continues to be slower but steady. We are still seeing a handful here and there on our 5-hour half day fishing trips, but on the ten hour some trips catch a few and some others will catch as many as ten to twelve just depends on the day. Often our ten hours are fishing a little deeper right now due to the increase in the lane snapper, mangrove snapper, and red grouper action we are seeing around seventy to one hundred feet of water. However, when we have stronger east winds from a high pressure, and we hang a little closer to shore we are often able to find more fishing closer to around 40-60ft of water. Live shrimp and lighter tackle remain the best way to target and catch more of the hogfish when we do run across them.
Speaking of live shrimp, the mangrove snapper loves them too and we are seeing quite a few nice mangrove snapper caught while still utilizing the same hogfish set ups we were using in shallower water for hogfish working in deeper water for mangrove snapper. I would suggest around thirty, but maybe as much as forty-pound test and a three to four ot hook. Using around one to two ounces of weight in the form of an egg sinker rigged knocker rig style is a great way to target the hogfish and the mangrove snapper too. We are also catching those lane snappers, vermillions, and porgies using the live shrimp too.
The lanes have been super thick in the deeper near shore waters lately. We are seeing them loving the cut pieces of squid, live shrimp, cut pieces of the threadfin working well too! Great time to get out there for plentiful lanes, vermillions, and perhaps some hogfish or red grouper and good chance at some nice mangrove snapper too. However, weather is a little tricky this time of year, don't let those chances of rain scare you off. We are back into that summertime pattern when we see those 40-60% chances of rain and that typically means we get some rain late afternoon and that's about it. Now today, it has a higher chance of rain through the day and that will last into Saturday but Sunday on we should only be seeing rain if we do at the very end of the day.
Mackerel action still going well around the beaches up to around thirty to forty feet of water. We are still catching quite a few trolling the spoons behind around number one or two planners with those four-to-six-inch trolling spoons. We are not seeing the kingfish ore much other pelagic action nearshore besides the very rare but sometimes spotted cobia.
Offshore Fishing Report
Amberjack season is winding down along with the Triggerfish season too. We see triggerfish open each year starting march first and they typically run until end of May. Then if there's still quota left over they will re-open August first until the quota is projected to be met. I would assume looking at landings that we should have some sort of august opening for triggerfish, just don't know yet how long it should or could be. Amberjack is a different story, the season is supposed to be August through end of October then opening the following may if there is quota left since their fishing year isn't measured January first through end of December they do a August first fishing year start to end of july. However, last year we didn't come even remotely close to our quota because the fishery is in rougher shape. Due to this it was open all of may, and we did catch some jack just not a lot of them. Its supposed to re open August first, but there could be an emergency rule coming to stop the re opening for jacks. This seems like a negative thing, but if the season does open august first and then in the start of 2023 they adjust down the catch level due to the weird fishing year start of august first we could then potentially be over the quota and thus in a situation where paybacks are needed and could severely hinder access even more so then reduced catch limits. This will all be played out at the June Council meeting in Naples, FL. So time will tell what happens with jacks for later this year.
The upside is that with the closure of jacks and triggers we have the red snapper season chaos beginning and also gag grouper opener too! Gag grouper bite best, come closer to shore, and are more concentrated in bigger numbers in months like October, November and December. However, we do find some really big gags in June and July and into August while offshore fishing deeper water for those red snapper. However, keep in mind these larger versions of the gags typically are not going to be concentrated in any real numbers. Also, keep in mind this year will likely be our last year for some good long gag grouper fishing. We are likely looking at severe reductions in access for gag grouper come 2023. We have seen some estimates on season lengths going as short as around 30-60 days.
Positive news though on our red snapper fishery! We now have a seventy nine day season starting June first and running through end of day August 18th. We have added a bunch of trips in for the start and mid august time frame and still have plenty of room come July too. June is pretty booked up and busy, but since the season is so much longer than expected we should see plenty of room and options open for guests later into the red snapper season.
People often ask, "what's the best way to target red snapper?" Well, the unfortunate truth is only that you need to get deep enough. Once out there past around 130-150ft of water all you need to do is to find that big old fish show looking like a Christmas tree off the bottom. Once you find them, they will bite just about anything you put down whether it's a shrimp, crabs, threadfin, squid, octopus, cigar minnow, threadfin, piece of trash, banana, spoon with a hook… literally anything! They are super concentrated, aggressive, and very ready to eat in most cases. We will get on these type of shows on our 12 hour extreme trips, 39 hour trips and the 44 hour trips along with some of our longer range private fishing charters too. However, we will not target or get deep enough for red snapper aboard our 5hr half day, 10 hour all day, or the 12 hour night snapper trips.
< Previous Report
Next Report >
< Previous Report
Next Report >
More Reports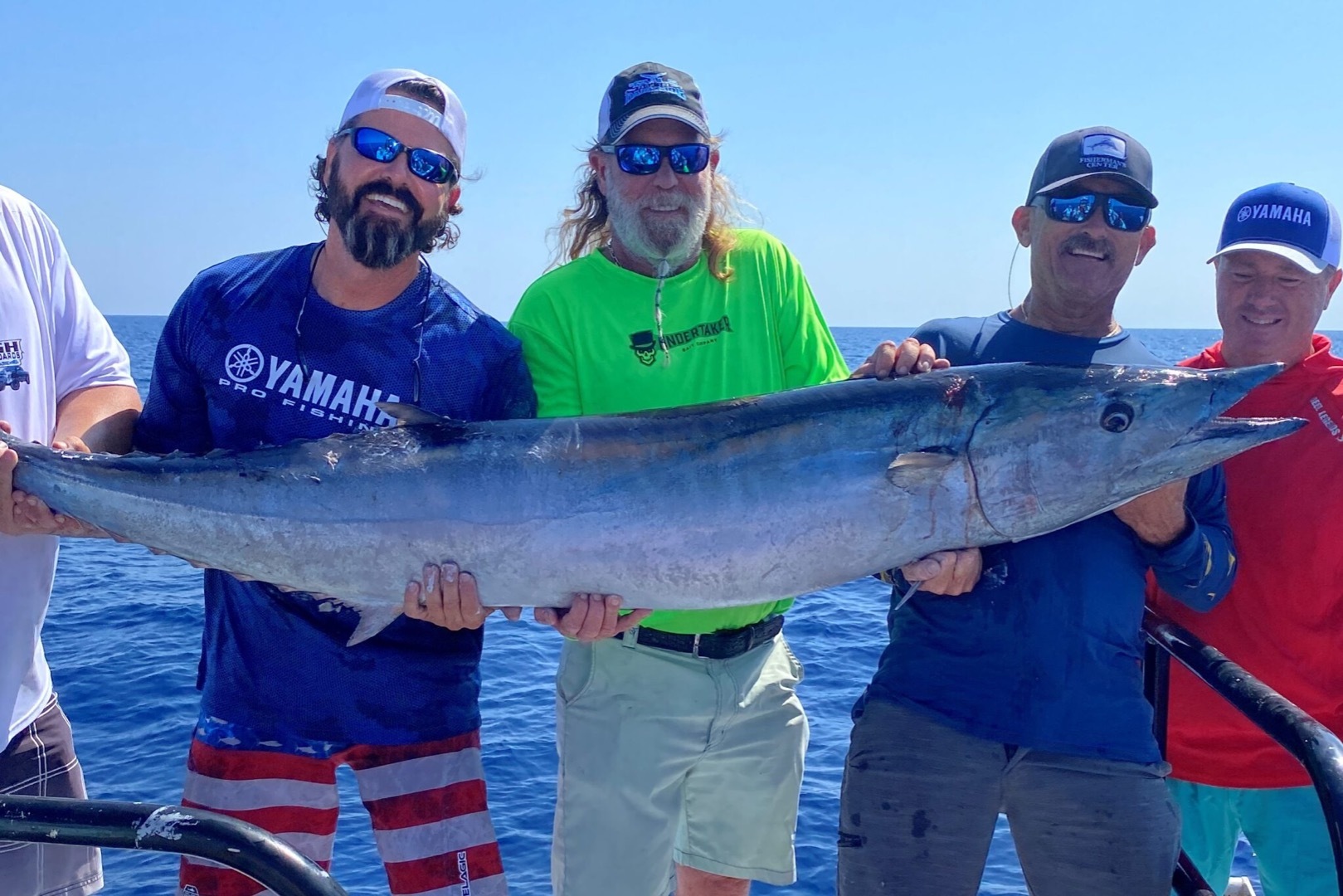 5-20-2022
This past week we had a truly awe inspiring offshore pelagic bite with a nearly 100lb wahoo followed the next......
Read More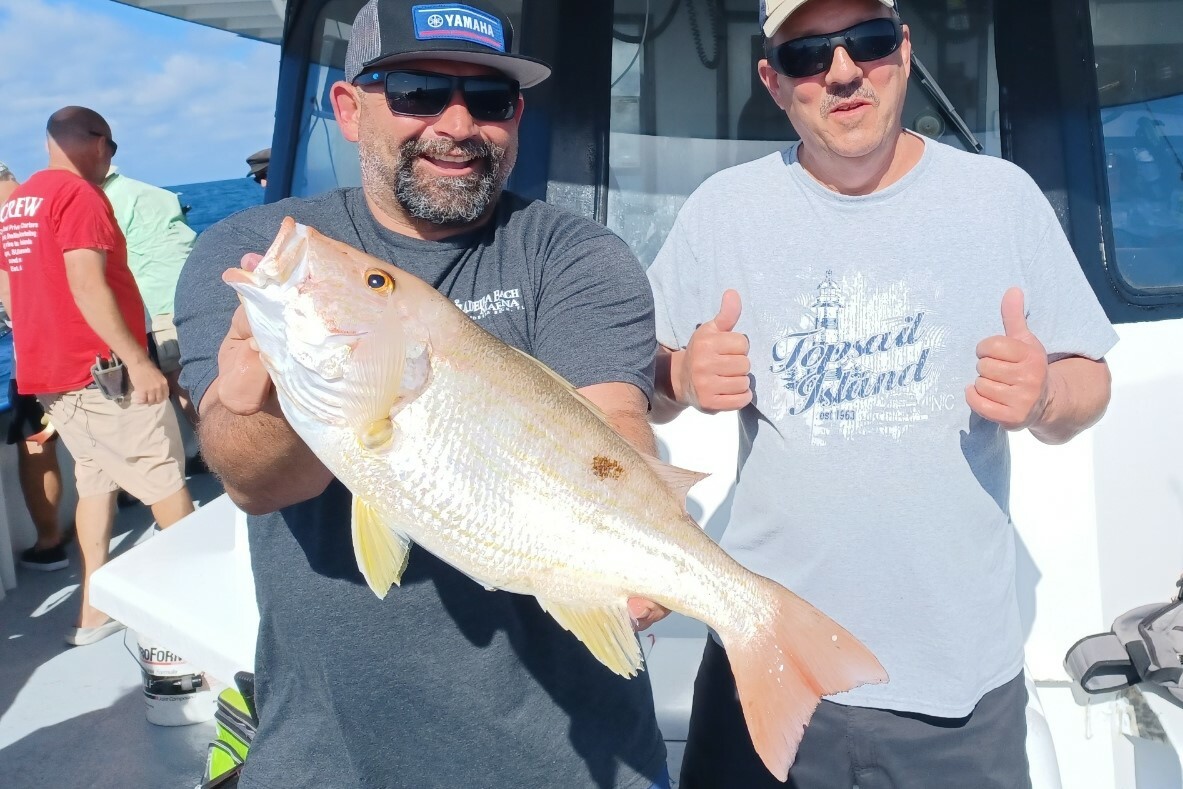 5-13-2022
Inshore Fishing Report This upcoming week should be a big week for fish moving around and starting to settle into more......
Read More