HM Fishing Report 3-24-23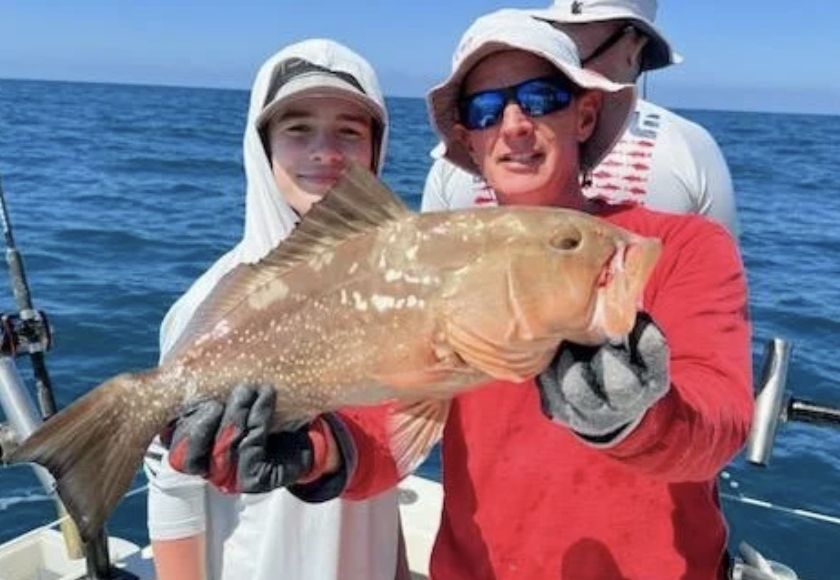 Red Grouper
by Hubbard's Marina Staff
3-24-2023
727-393-1947
Website

Inshore Report
Right now there is lots of good fishing going on in shore. We see the Pompano really feeding well around our inshore waters especially on our beaches, sandier passes and sandy approaches to local passes in cuts. The Pompano are looking for live shrimp on the bottom but they'll also take fiddler crabs, sand fleas and a variety of other small crustaceans. But many people target and catch a majority of their Pompano using the Pompano jigs like the goofy jigs or the small buck tails and even the naked ball jig. We find the Pompano moving along the beaches and the little troughs that run parallel to the beach that will be choked with snook here in a month or two but for now Pompano are using them as highways up and down the beaches to local passes like blinds pass, sand key, John's pass and anywhere where there's some sandy drop offs and cuts for those Pompano to ambush passing crustaceans.
 Snook fishing is going well right now too. We see a lot of those snook moving around the area really pouring out of the Back Bay waters and starting to get more and more active as they get closer to the passes and set up for their summer time patterns. The snook are loving the white bait. We're seeing a lot of white bait around the area and the snook are getting excited chasing these big schools of white bait around local passes and stacking up around dock lights and bridge lights at night to feed actively as the current moves white bait in and out of their ambush and feeding points. Snook fishing will get better and better as more and more fish move from the back protected bay waters out to our local passes and beaches as springtime continues.
 Redfish action is going well around the area too. We see a lot of redfish right now chasing the bait and moving around the Back Bay waters pushing out from the back canals and moving out onto the beach more and more as we see them move off the flats away from those mangrove shorelines and oyster bars and get more active around our grass flats and mangrove shorelines. Red fish right now are really keyed into those white bait and they've moved away from the crustacean bite that we've seen over the past few months when water was cooler. Red fish are being caught around the passes but mostly around grass flats mangrove shorelines and shore and other areas in shore.
 Trout action is on the move. We've seen those trout pushing from shallower flats to a little deeper as water temperatures warm. However we're still seeing some of the big trout around the area too, while numbers of trout are still going well too! Trout have been super active around back bay cuts and shallower flats really focused on the crustacean bite but we're seeing them still biting well on crustaceans but transitioning more and more to the white bait, and faster moving swim baits. Great time to get out there and target the trout around these areas of concentration and actively feeding fish.
 Jack crevalle are still active around the back bays we're seeing those Jack crevalle still moving in pretty decent schools and it's a great time to get out there and try to catch some Jack crevalle. Look for them in the Back Bay around early morning to early afternoon. We're seeing those Jack crevalle mainly chasing flashy faster moving lures. Jack crevalle are very aggressive reactionary feeders. They typically travel in aggressive schools and feed actively around Back Bay waters. We see those jack crevalle real active around the mouth of local bayous creeks rivers and canals.
 Black drum schools are still moving around local bridges. We're seeing a lot of those black drum around bigger Bay Area bridges with deeper faster moving water. We're also seeing schools of black drum out on our beaches around the passes and some local dock lines too. Some big single black drum will cruise the beaches and local grass flats too.
Nearshore Report
Big news near shore is the mackerel and kingfish are back in town. Huge opportunity to get out there near shore and catch plenty of good eating fish and have lots of extra fun while cruising around near shore waters. Mackerel are super thick on our beaches around our local fishing Piers and even some deeper water grass flats with fast moving water and bait present. Mackerel love fast moving flashy lures much like the Jack crevalle and they're very keyed in to feeding aggressively around areas that concentrate bait. This could mean crab traps along the beaches or local fishing Piers along the beaches local bridges along the beaches or artificial reefs and wrecks in 80 foot of water near shore. The mackerel generally are from the beaches to about 14 to 16 miles. Once you get passed around 70 to 80 foot of water the mackerel tend to dissipate. Mackerel are really chasing after those casting spoons and trolling spoons and we're also seeing them when anchored up chumming going after white bait and cut pieces of threadfin.
Kingfish are really active in our deeper near shore waters starting around 50 foot of water we start to have a good shot at kingfish the deeper you go near shore the more common they get however they will push shallower and shallower as we move into the peak of kingfish and mackerel time period. Water temperatures are getting right bait is active and we should see really active mackerel and kingfish action around our area for the next few weeks. We've seen some really big kingfish on the flat lines and a couple while trolling too. We generally catch them inside 50 foot of water trolling the king spoons and the number one or #2 planers once we're beyond about 50-60 foot of water the lipped plugs become a preferred option like the rapala X rap magnums or nomad DTX minnows. However flat lined fishing has become exciting on our five hour half day 10 hour all day and all the near shore private fishing charters. Were flat line fishing with kingfish rigs baited with dead threadfin or if we can sabiki up some live bait that's a great option. 
Hogfish action is still going well near shore. We're seeing those hogfish around 30 to about 80 foot of water really biting well on the live shrimp lighter tackle and minimal weight is key. Hogfish action should remain pretty good for us around our area until we get into that really warm time of year where those hog fish spread out start to spawn and get much less aggressive and much more leader shot. Hogfish are great eating fish but they can be tricky to target with hook and line and they're much less aggressive. However we catch them best in cooler months around October through April but as waters warm we see that hogfish concentrations recede and thin out.
Lane snapper and mangrove snapper around our near shore waters are going well we're seeing some pretty big concentrations and pretty actively feeding numbers of lanes and mangroves in our near shore water. A great way to target them is live shrimp small cut pieces of threadfin and the lane snapper will even take small cubes of squid. Live shrimp is definitely a great option when targeting these species and you can even catch perhaps the hogfish too.
 Red grouper fish near shore is going pretty well in our deepest near shore waters. We see more of those red grouper the closer we get to 100 or 120 foot of water offshore. Near shore we have to hunt through many undersized smaller red grouper to find those keeper red grouper that we're going after. Large pieces of threadfin large strips of squid or live pin fish are a great way to try to target those bigger red grouper. But generally while fishing near shore we have to pick through and hunt for those bigger red grouper among endless smaller undersized red grouper. However this is a good problem to have showing a healthy population of red grouper that are moving into the fishery as they get bigger. However it's our responsibility to make sure this robust number of juvenile fish remain healthy and we do our best to take good care of them as we release them and hunt for their bigger keeper sized brothers and sisters.
offshore Report
Speaking of red grouper, we know Red grouper fishing should  only get better as we move over the next few weeks because the 20 fathom closure or deep water closure is about to conclude. Every year the months of February and March we have a 20 fathom closure which does not allow the harvest of shallow water grouper complex outside 20 fathoms or 120 feet of water. Once this closure ends at the end of March starting April 1st we'll be able to go deep once again and keep those scamp grouper red grouper and others. We're looking forward to getting back out there unrestricted and catching a ton of red grouper, scamp grouper, triggerfish, mangroves almacos, porgies and many other bottom reef fish along with the active and plentiful pelagic action.  Offshore much like inshore we're seeing the biggest red grouper feeding best on larger live baits whole thread fins and long strips of squid. We like hunting red grouper around potholes ledges and large areas of Hard Rock bottom.
  Mangrove snapper fishing is going well for us offshore. We're seeing a lot of good mangrove snappers out there around 120 to 160 foot of water. Mangrove snapper love those cut thread fins on the double snell rigs. We also see some pretty good large sized mangrove snapper on those smaller to average sized pin fish. While fishing for mangroves we're seeing a large number of pretty big vermilion snapper, Almaco jacks, big porgies and a variety of other heads and tails species.  However mangrove snapper remain our target and we generally do pretty well on these long range trips this time of year. Especially as water temperatures start to change. Generally we see a really good increase in mangrove snapper action. They get excited for that springtime bite just like the near shore species.
  Triggerfish is open once again and we're seeing some pretty large keeper triggerfish offshore. We see more triggerfish once we get a little deeper past 110 to 120 foot of water and we're expecting some really good catches of triggerfish once this deep water closure is over. We catch triggerfish most frequently using small strips of squid but we've caught them on live pin fish and even small chunks of threadfin too. You never know when you might run into a triggerfish but most commonly we catch them while targeting for vermilions or mangrove snapper offshore.
  Pelagic action has been going well around our area offshore. We're seeing a lot of nice blackfin tuna while flat line fishing or trolling the lip diving plugs offshore and blue water. We're also seeing some really good sized kingfish vertical jig fishing slow pitch jig fishing flat line fishing or trolling. Kingfish are definitely the most prolific pelagic bite offshore right now. We're also seeing some pretty nice wahoo around the area trolling.
< Previous Report
Next Report >
< Previous Report
Next Report >
More Reports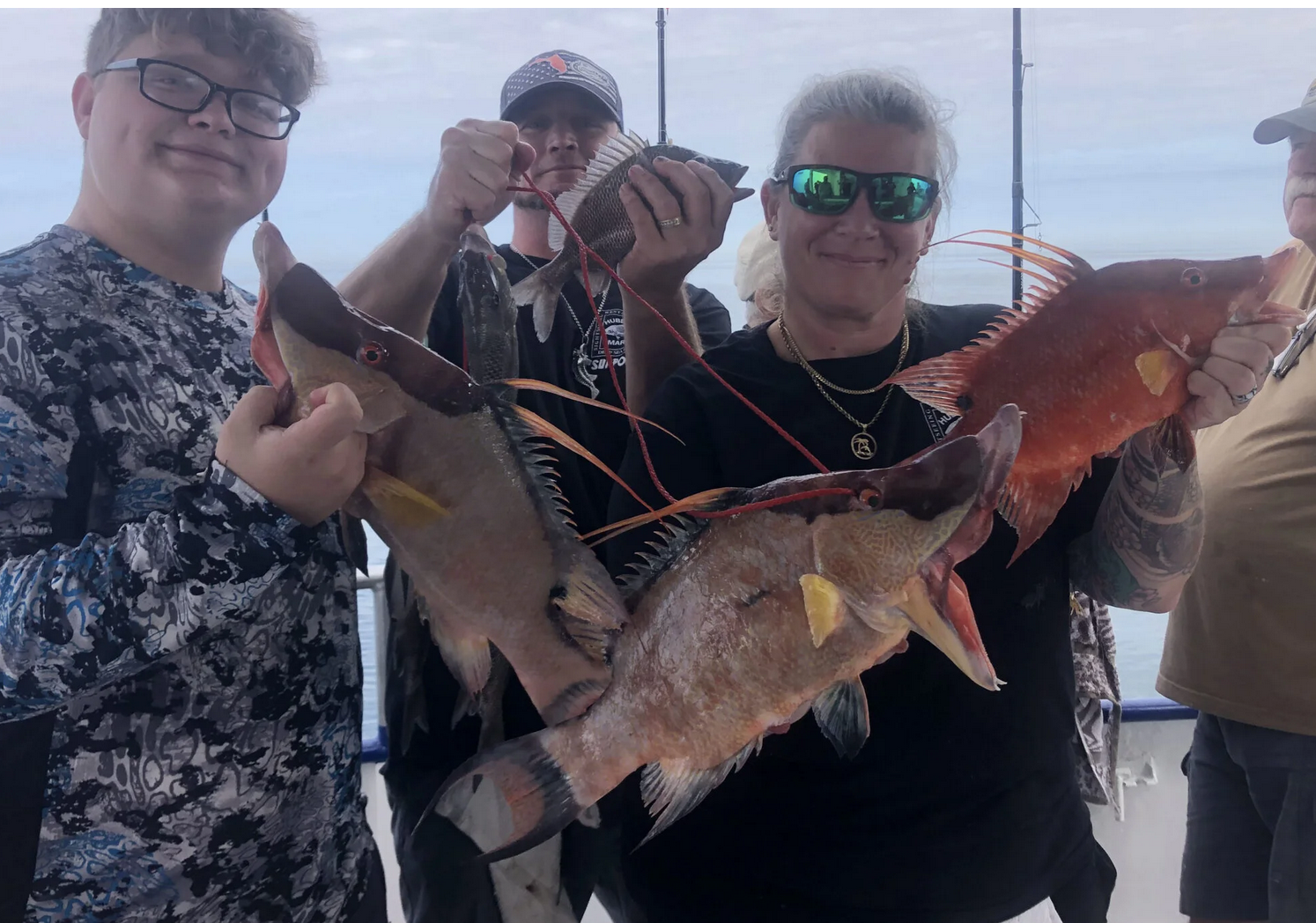 2-2-2023
Inshore Report Sheepshead fishing is going well in shore right now especially with the cold front blowing through currently! The sheepshead......
Read More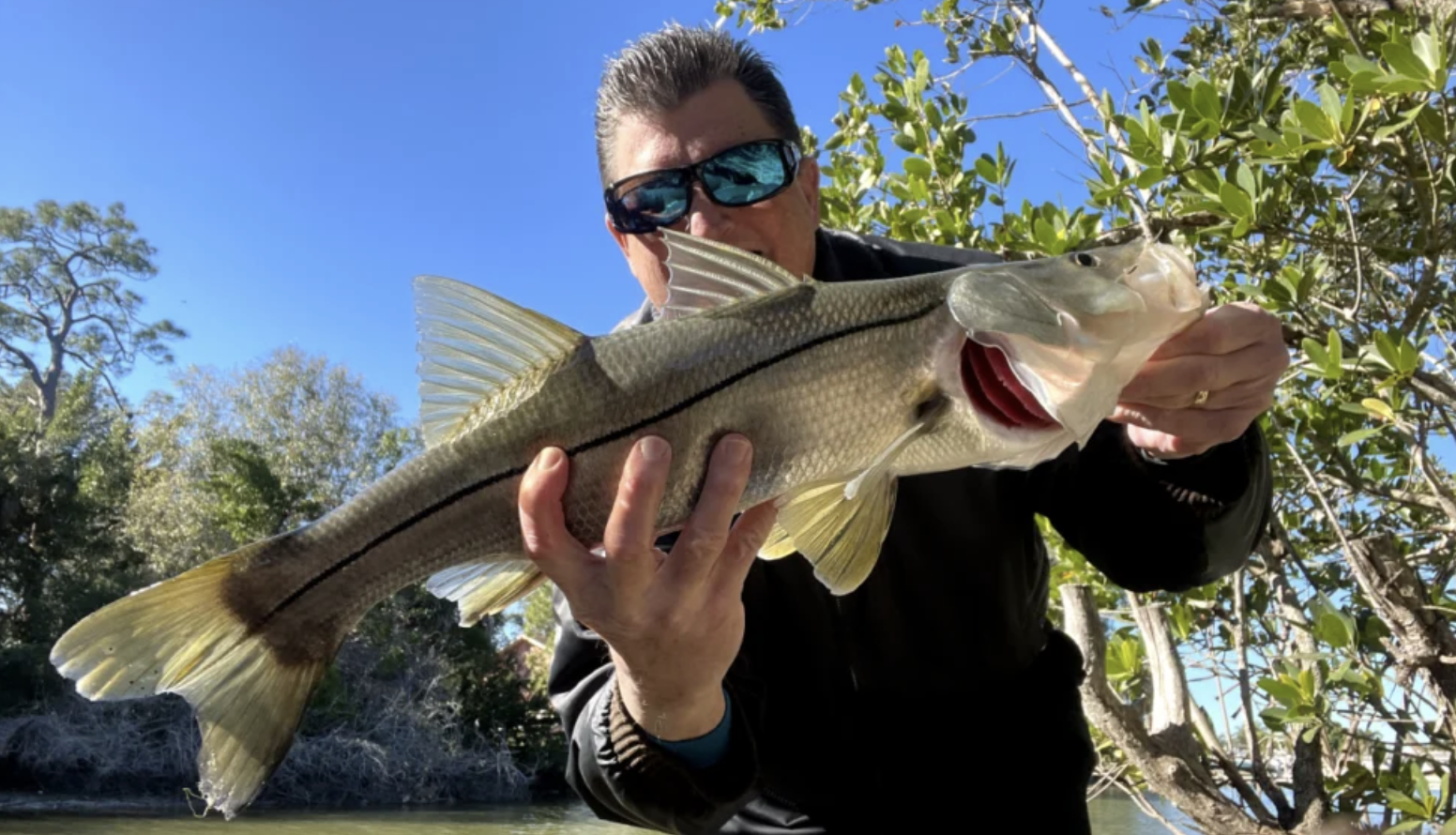 1-27-2023
Inshore Report Sheepshead action is definitely king inshore this time of year we see a lot of sheepshead around local docks......
Read More