La Paz Fishing Report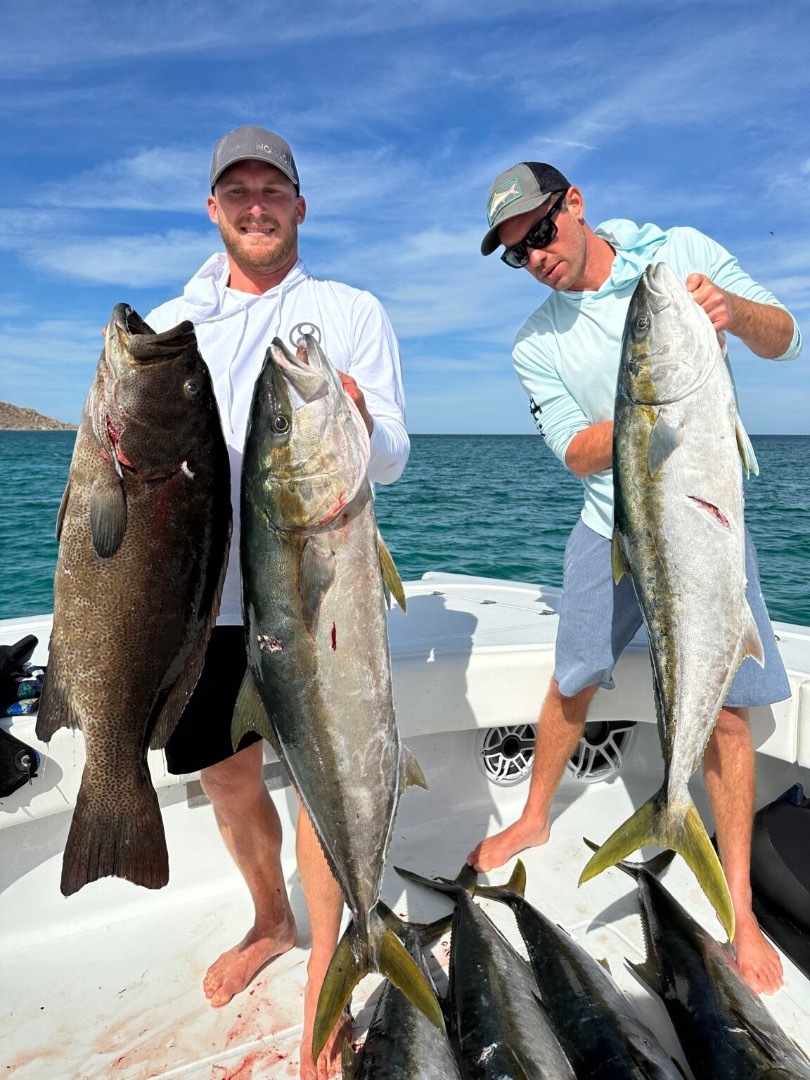 by Baja Adventure Company
5-30-2023
(619) 955-6003
Website

Bait & Weather
There's no question we are right in the middle of our transition season.
We go thru this every year, the water temperature is 69 degrees in the bay, that's winter temps. As you head east off shore within 20 miles of land the water temperature is north of 79 degrees.
 
Most areas that have structure, the currents are causing upwellings cooling the water and creating poor visibility. Offshore on the deeper flats the water is warming up nicely with clear blue visibility.
Most mornings we are experiencing our prevailing Coromuel winds. This is normal for this time of year but, they are definitely stronger and cooler this year. Fortunately they usually subside by 10am so you have following seas on the way out and flat seas coming back.
Bait is still widely available with Mack's and Cabs hanging in the shaded areas of the PMEX tankers. It literally take 10 minutes with sabikis to catch all the large bait you'll need for the day. Sardines are available for sale on the way out to the fishing grounds.
About fish
There are still plenty of spring season species available around the seamounts and rocky ridges but they are definitely starting to thin out and smaller in size than normal. The yellowtail and Cabrilla are still on the feed on both live bait trolled at depth and jigging 150 gram butterfly jigs in assorted colors. Large schools of AmberJacks running 30-50 lbs are hunkered down in their usual spots but, aren't feeding on a regular basis. The Spearos are definitely ahead of the game on these brutal Jacks with an occasional fish caught on live bait and 8 oz lead or down riggers.
The afternoon currents are ripping causing long current lines stacked with sargasso grass. The key is to troll small lures or ballyhoos around the current lines chumming sardines every couple of minutes. The rub is keeping the small chunks of grass from running down your line fouling up your lure. Patience is the name of the game. We have caught some real nice Dorado 30 pound class in open water. No grass no birds just blind strikes. Most of these fished are paired male and female. If your patient and lucky you have a great chance of catching both or in some cases losing both.
The striped Marlin are migrating up the Sea of Cortez in large pods. If this is your targeted species 5-7 fish per day in the 140lb range is pretty common. Trolling 12" plastics or pitching live bait to tailing fish are getting bit mostly on the ascending tide. Most of the Marlin are being caught 15-20 miles offshore.
Inshore fishing has been real consistent. Pargo have been up in the shallows spawning. If the water is clear enough you can actually see the water turn red from so many fish doing their thing.
Roosters are combing the beaches in search of food. Slow trolling Caballitos or lady fish around the sandy areas of the island is instant bendo. Not much eating quality but a blast to catch, especially if you are site fishing throwing poppers and swim baits. If Rooster fish are on your bucket list this is your chance.
We are preparing the boats and booking trips for the multi day trips out of Mag bay. This is one of the best trips I've personally ever done. The sheer size and variety of fish within an hour of the anchorage is truly amazing. This is a October, November gig as the winter winds start up by the end of November forcing us to head home.
We normally book up quickly so if your interested please notify the office and get your name on the list. I guarantee you won't be disappointed.
All the right conditions are falling into place. I wouldn't be surprised to see summertime Pelagic's entering our waters anytime.
Tuna and Wahoo are still a hit and miss. It's still a bit early so hopefully we will get a nice run come late June and beyond.
That's it for the week.
Happy Memorial Day
If you are a veteran Thank you for your service
Be kind.
Keep the faith,
Scotto.
< Previous Report
Next Report >