New Melones Reservoir Fishing Report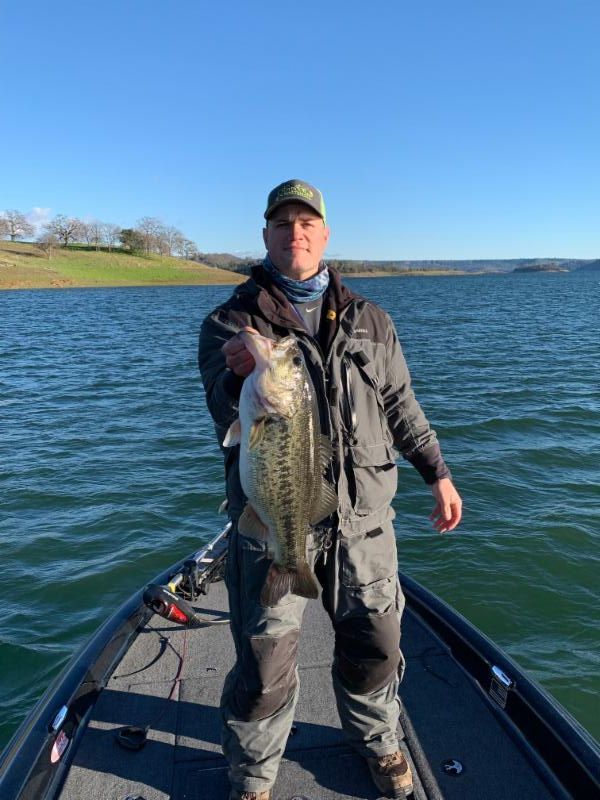 Largemouth Bass
by Glory Hole Sports Staff
2-18-2019
(209) 736-4333
Website

Wild weather throughout the Mother Lode has had a huge effect on New Melones Lake. Starting off the with the atmospheric river that went thru the area for 3 days, then the cold weather hit with snow level hitting here at Glory Hole Sports. More than one house boat had broken free from their moorings, and at least one partially sank from heavy swells on the lake. The upside is that the lake has come up significantly, rising 11 ft. since Feb. 1st. Also the fact that there is lots of submerged vegetation where the spawn will occur and the fry will have cover from larger fish. Current lake level is 1051.75 and 36.25 ft. from full. Mud staining the shoreline from rough waves has diminished, water clarity has been reported to be clear. Current water temperature is 53 d. Tuttletown upper ramp is working, Glory Hole Point side of the lake has the high ramp working. Angels Cove ramp also in use. This weekend on Melones, Future Pro Anglers Press will be having a tournament.
We like to promote catch and release on New Melones. If you do so, provide us a picture and bring it in for a copy or email it to us at gloryholesports@yahoo.com so we can put it on the board or in the newsletter.
Anglers FYI: For anyone with a potential lake record please call us at the store and hopefully we can send someone to weigh, photograph and measure the catch at the lake. GHS is the unofficial recorder of lake records for New Melones, and we understand there is sometimes conflicting interest in the welfare of the catch, whether or not to release the potential record, sacrificing your place as a record holder for the lake.
We do promote catch and release. For potential lake records, record the statistics of the fish... length, girth, weight and photographed at the lake before releasing her. If indeed we can verify the information that is provided, such as a witness, comparing the scale used with ours, a photograph with the fish hanging from the scale and can see the scale weight, etc...then we can accept this as proof. If your catch has expired than indeed bring it in to GHS so we can record it here, and you can have it mounted!

TROUT
Anglers report Angels Cove is giving up some nice rainbows from shore near the inlet where they are taking advantage of the high water runoff that brings insects into the feeding ground. Kastmaster, Tazmanian Devils, Crawlers on a bobber, and ned rig has produced some nice 4 lb trout this week.
BASS
Plenty of the 2-3 lb bass schooled up on the bottom, using wacky rig, ned rig. With the water rising, so are the bass with some larger loners traveling the surface to 15 ft. looking for opportunity. Casey Hill of Manteca landed this beauty using an A-Rig.
California Bass Federation was here Sunday Feb. 17, on a really cold snowy rainy day. With the temps in the mid 30's 28 boats and crew fought off the cold and the bite was good on the lake. 1st. place weighing in a bag at 28.08 lbs. Jason Remmers 2nd place 19.42 lbs Bruce Harris, and 3rd going to Jr. Diaz with 17.98 lbs. Congrats to all the winning anglers and all who held out all day long on a cold day.
< Previous Report
Next Report >
< Previous Report
Next Report >
More Reports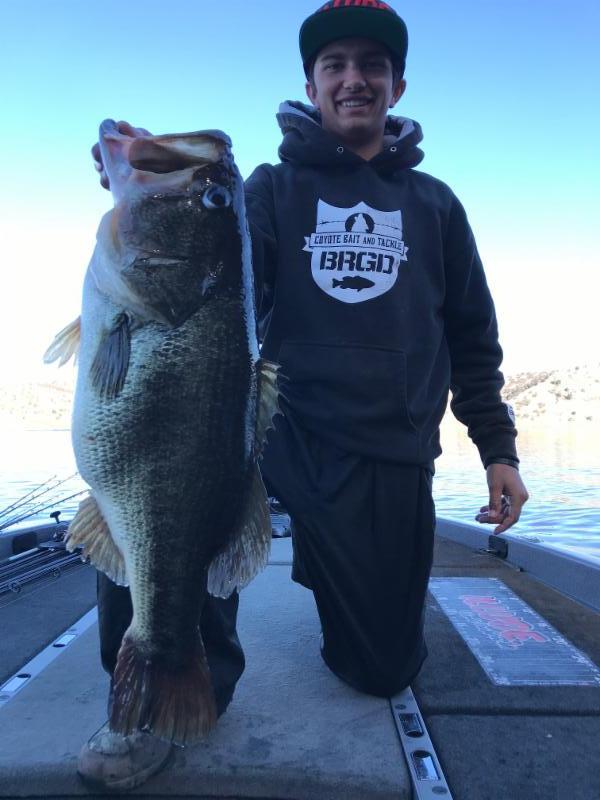 12-10-2018
New Melones Lake level is currently at 1031.06 and 56.94 ft. from absolute full. Lake level has begun to rise,......
Read More