Strange Currents, Late Season Warm Water Keeps Dorado, Sailfish & Stripers in the Area!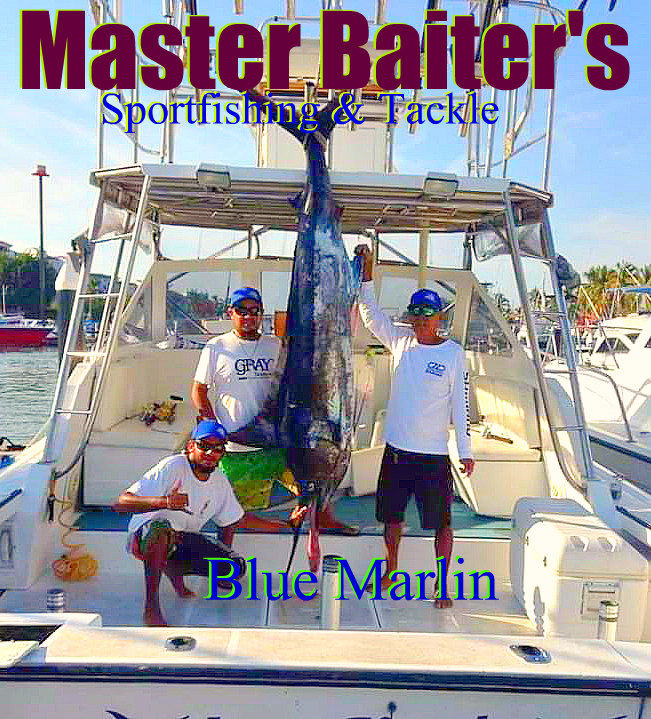 Photo Credit: Courtesy of Master Baiter's
by Stan
2-1-2020
011 52 322 209-1128
Website

We were hit with the normal end of December chill current that basically for a week kills the fishing for about ten days. Now we're seeing the expected after chill warming. The strange thing about this is the warming is very warm and several summer species that would or should be moving out, aren't. For that reason we still have Dorado in the bay, Stripers at Corbetena and Sailfish off Punta Mita. Nothing is automatic, many days are hit or miss. But to have warm water species at this time of the year is a blessing for the visiting angler visiting PV. For now we won't complain, but we always reserve the right! To complain that is.
Corbetena is turning into a fickle (cuss-word)! Water temperatures have ranged from mid-70's to 81 degrees. Most of the time it's about 78 degrees, this is why we're still seeing Striped Marlin at 150 lbs, possible freak Blue Marlin to 250 lbs, Sailfish, Dorado eight miles north of the rock. And 60 lb Yellowfin Tuna that are eating these small crabs, not Red Tuna Crabs but different. Every fish is full of these so this is your weekly challenge. How to get these "crab eaters" to pay attention to your bait! Ten hour trips are producing, but they're work and you have to be patient… North of El Banco there have been some rumors of Black Marlin in the -200 lb range. Yellowfin can also be in the area, but they'll be feeding on these small crabs as well. 
The Punta Mita area is 3 to 5 miles off the beach in Punta Mita Sailfish are running. Dorado are possible with any trash or floating debris, Rooster fish are still on the sandy beaches at the surf line. Jack Crevalls at 35 lbs are moving into this area as well. Fishing in this area is pretty spread out, no real concentrations anywhere at this time. Be prepared to move some water, but if you're heading out to deep water, stay closer in as this is where the action will be if you hit the bite right! UpDate: We've seen Sailfish, Striped Marlin, 
Inside the bay it's a wonderland of sorts. Dorado of good size, 20 lbs, Sailfish possible especially around the Los Arcos and in front of La Cruz Marina areas. Off Nuevo Vallarta there are plenty of Jack Crevalls to 45 lbs, Snook are close by as well at 20 lbs. Sierra Mackerels 8 to 10 lbs but are still thin in numbers. Interesting enough the buoy at the bay opening was alive with Sierra Mackerels at 10 lbs today! Plate sized Snappers are around any structure. Anything right now is possible in the bay and it's great for family fishing. You may even see a whale out there! 
Water temperatures are the real story this week. Fluctuating, swirling and confusing currents have the fishing best closer to shore or in the deep water locations. With some reports of over 80 degrees, others at 74 degrees, find the warm water, catch fish. But that's not the whole story, close in the currents are strong near the shoreline. Cross these currents and you'll find fish. Blue water is mostly the case out there right now, but the currents with blue and green water are full of bait, so fish will be in the area. The bite is still in the 08:00 to 09:30 range. It seems the Jack Crevalls are on a different bite schedule so be advised they can hit at any time! With so many varied and confusing baits out there I'd suggest just about anything and everything. For lures I'd be using the Petroleros and Guacamayos, then dead bait. Good luck amigos! 
Things to keep an eye on: All right, so you have the fishing report, what we're seeing right now is unseasonable warm water. Normally after the "cold chill" current we get every year just about the first week of January, fish start to transition out. Normally water temperatures are in the mid to lower 70's as we move into the winter season. Now what we've seen is an actual increase in water temperatures in the bay and at the deep water locations. This is one reason the Whales have been hanging around the Marietta islands! To continue, We're Seeing Sailfish, Striped Marlin and Dorado all being boated off the back side of El Morro. Not normal, not at all. From the end of February to the end of April will tell the story. To me the present conditions reflect what you'd expect in an on-coming El Nino year! I have heard no mention of this El Nino condition but this is how it looks in the beginning. First you keep seeing Sailfish and Striped marlin. Dorado don't move out and the frankly the fishing can be surprisingly great! What is going to happen, well I'm sure you're crystal ball is as good as mine. If this is the warm water species will hang around, feast on the "fast food" of massive amounts of bait and Whale food! All we can do is watch and react. But please keep in Mind this is normal, not a global warming type thing. I'll keep an eye on this so Stay Tuned!
Tuna Report: We all know that the Southern California Boys come down to the Tres Maria Islands to go after our Monster Yellowfin tuna! The funny thing is they always come down in our "Off Season" for Yellowfin Tuna. The clients fly down to Puerto Vallarta when it's comfortable weather wise. Can't say I blame them, but the fact of the matter is Yellowfin Tuna are primarily a warm water species. Now they'll hang around the structure of the Tres Maria islands because it's a natural bait reserve. So my point being, the fishing in the Summer months is much better, the Yellowfin tuna are much larger and when this all happens the Southern California Fishing fleets expand their season in Mexican waters. No grudge or judgements here. But again, as they expand their market they also expand the perception that this is the best time of the yeat to be at the Marias for possible world record YF Tujna! Nice fantasy and for sure there are no shortages of pictures of every person catching a Tuna for sure. What you don't hear or understand for the most part, fishing in off season is at times very slow. Many a trip to the Maria islands at this time of the year does not guarantee you Cow Yellowfin Tuna. Or YF Tuna over 200 lbs. Yew we have a nice, more affordable yacht per person that runs all year long, but the simple fact is if you want to get the "Monsters" aka Yellowfin tuna over 250 lbs on a consistent basis! For the true sportsman, the guy who wants to experience the best that the Tres Maria islands have to offer then Mid July is the time to start thinking "Monster City" happens in the summer. Yes a 200 lb YF Tuna is exciting, fun and challenging. But imagine what a 375 lb YF Tuna would be like to catch, for the same or less money, in the "prime" fishing season. So, for all you guys looking to boat a bucket list Yellowfin Tuna over 300 lbs, then the summer months are your best bang for your fishing dollar. Besides that air fares are cheaper, hotels for a day or two are plentiful... It's a much better time of the year to get what you're looking for. But, it will be hot, humid and unrelenting. Our Yacht even has a Fly Bridge that's got A/C. Sleep in a private cabin and of course have two first mates for the six we fit on the luxury yacht. It's a more private and upscale fishing trip for less than these long range boys at the per person price. So if you want a "Monster" in the Comfortable Season we can fix you up. Here is a link to my web page with a 360 degree tour of our 60 ft luxury Hatteras Sportfisher. You can read more about this World Class Fishing Experience on the web page. So take the tour, it's fun and see what a world class company, a Local Mexican / American company can do for you all year long. Compare our product, our pricing and our reputation. I'm sure you'll see there is a better option out there and now you know about it! 
Master Baiter's Yellowfin Tuna Experience, click the link below! 
Share the Reports: If you have some friends that you think would like to read my weekly reports, the only professionally published fishing reports from the Puerto Vallarta Area! As such this weekly newsletter is your best source of "decision" making information available today! So Share, Subscribe on any page of my web site so you can receive my fun reports directly! 
Looking to book a tour, we'd be happy to book what ever tour you'd be interested in as we book your next fishing charter. You can handle all this through one outlet, us at Master Baiter's of course, then deal with one trust worthy organization and have all the "work" taken care of ... Benjamin is my Tour Expert now and you can contact him at: 
[email protected]
 directly. If it doesn't work, just copy and paste in your browser. 
We're now renting Surf fishing poles with a lure packet, affordable and at popular request! Shared boats, Super pangas, you can have all the fun for half the cost. Tours, we do that too! And of course we can fix you up and know you're dealing with PV's Premier fishing company!
< Previous Report
Next Report >
< Previous Report
Next Report >
More Reports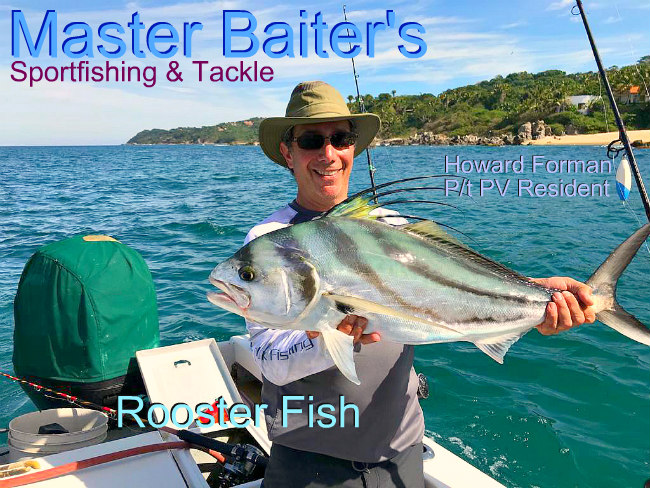 1-18-2020
It's a funny thing, the other day I was telling some friends that I've noticed a pattern that once we......
Read More