Great Fishing, Rooster fish, Sailfish, Dorado, and Jacks are Back!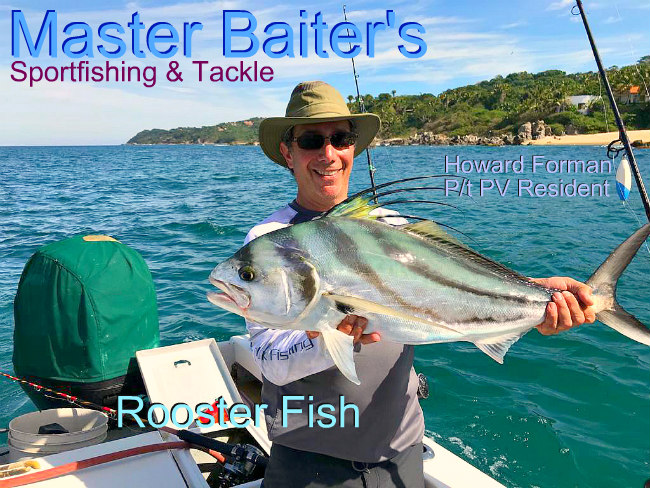 Photo Credit: Courtesy of Master Baiters Sportfishing & Tackle
by Stan
1-18-2020
011 52 322 209-1128
Website

It's a funny thing, the other day I was telling some friends that I've noticed a pattern that once we pass the New Year's holiday, we normally get hit with a cold snap. Then amazingly enough when it looks like the fishing is "over" for the rest of the "warm water" year. Then of course suddenly about the second week of January to the first week or so of February we have a second season. I don't' know for sure, but it seems that the warm water species are bailing the Southern California area heading to warmer southern waters. Presently we're seeing a resurgence of Dorado, Sailfish, Striped Marlin and we've seen Rooster fish move in, Ye-Ha! 
Corbetena is alive and well thank you very much. Sailfish are in the Northwest area past the Rock by about 6 to 12 miles. Yellowfin Tuna 60 to 120 lbs are thinning out a bit, but they're still ignoring your bait. Massive amounts of Squids and Crabs are the issue we need to overcome. Dorado are still in the 20 lb range. Water conditions are perfect, plenty of bait in the area in the form of Skip Jack Tuna, Sardines, flying fish and of course the list goes on. Right now it's well worth the ten hour day. Freak Black Marlin have been seen, but no reports of any being boated. All and all Corbetena is living up to its reputation. El Banco now is not exactly on top of the list for fishing destinations. Heading farther out is a fuel risk. There are some Blue Marlin in the 300 lb range running the area, but not for much longer and reports of Marlin of any kind are on the down swing. Yet I've heard there are Sailfish and Dorado around the high spots. Keep your ears on and message me for details if heading out!
Punta Mita, El Morro are still active and alive. Surprising enough there are nice sized Rooster fish in the 30 lb range around the sandy beaches from La Cruz Marina to Sayulita! Not surprising with Sardines moving as massively as they have. Jack Crevalls are finally coming in and taking baits running 25 to 50 lbs! Dorado and Sailfish are still in the area, but the secret is they're from 5 to 12 off the shoreline. Not a normal thing so take this advice when heading out, start shallow, work your way deep. Striped Marlin are still in the area as the water temperatures now are very favorable. Just look for diving birds and get your back side over there! Well worth the time and money for an eight hour trip. 
Inside the bay we're seeing more action that Jack Crevalls (at 35 lbs) have come home to the bay! With massive amounts of Sardines around the shoreline Jacks are being caught very close in at times. Dorado are also around Los Arcos area as are freak Sailfish. Skip Jack Tuna are all over the place at 7 lbs, Sierra Mackerels (10 lbs) picking up in numbers and should not be ignored as they're delicious! With this kind of fishing there is no reason to not get out on the bay amigos! 
The bite has been solid around 09:00 so getting out too early, especially on a four hour trip could see you miss the bite for the most part. The late bite is still about 1:30 in the afternoon. So get out a bit late and give yourself your best chances. Water temperatures are hanging around the 77 degree range. Not too cold, but not warm. So this transitions period isn't happening any too quickly. Bait is abundant, everything you can think of, but the one secret locally is dead bait. That's right, dead bait at times, especially when were "stuffed with bait" in the area, go figure. 
We're not renting Surf fishing rigs, 11 ft. pole and a few lures. We're also still looking for people interested in having a fun fishing day for half the money. That's right folks the shared super pangas are booking. So you can have all the fun for half the cost. And of course tours, we can fix you up and you'll know you were treated very well and got a good price on tours etc.
< Previous Report
Next Report >