Bishop Creek Canyon Fish & Trail Report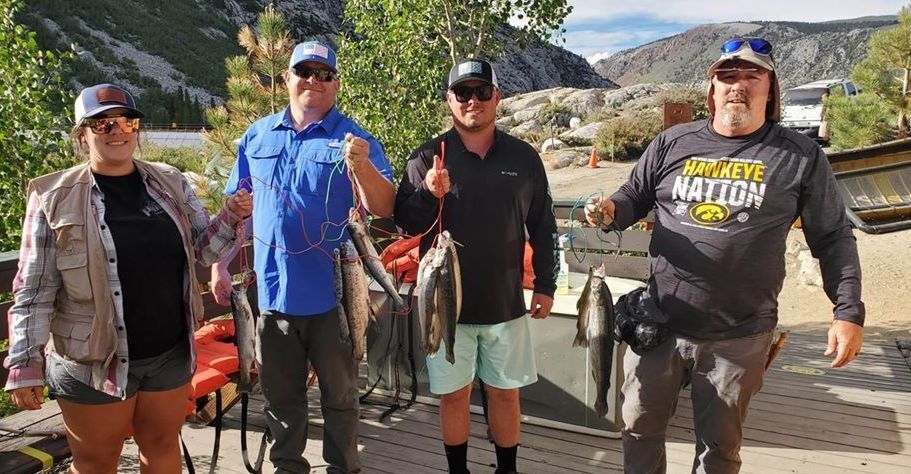 Photo Credit: Courtesy of Parchers Resort
by Parchers Resort Gang
7-30-2020
(760) 873-4177
Website

--Trail Conditions--
It's a hikers dream out on the trails right now. Far less crowded than many of the trailheads to our north, the Bishop Creek Canyon area is perfect for hiking right now. There are some wildflowers hanging around still and the mosquitoes are surprisingly mild….all in all it's PERFECT hiking conditions. Day use parking has mostly been unaffected by the road work, but there have been a few days where they have discouraged traffic up to the trailhead. The Tyee, Sabrina Basin and Piute Pass Trails are all open and parking is more readily available.
Be advised that despite the USFS press release last week, there is still paving work being done up at the Bishop Pass Trailhead and overnight parking is still prohibited where signs are posted. Vehicles have and will be towed if they are in the way of paving operations. Overflow parking is available down by Surveyor's Meadow. Make sure to watch for and obey the signage to avoid any unpleasant surprises.
--Fish Report-
--South Lake--
The lake level is still up and the conditions are great. Due to paving there has been some impacts to private boaters but for the most part day use parking hasn't been a problem. We dumped in a load of Rainbows from Desert Springs Trout Farm in Oregon on the 27th including lots of pan sized fish in addition to some truly massive trophy fish.
The bite has been hit or miss depending on who you speak to but on a scale of 1 to 10, we'd say that the fishing is a 5. Most folks are scratching out at least a few fish with a big one in the mix here and there. Considering there have not been any DFW stockings since June I'd say that's pretty good.
The launch ramp is open most days for private boaters but parking can be an issue and they have periodically closed the ramp to do paving work. There is no schedule or any way of knowing so it's just a blind gamble if you try to launch.
Hot Spots: Rock Slide, Inlets.
Hot Lures: Sierra Slammer swibaits in Sxy, Grasshopper Jigs
Best Flies: Grasshoppers, Midges, Bead-Head Nymphs, Blank ants.
Best Baits: Berkley Micetails, Nightcrawlers, Garlic PB, Gulp Pinched Crawlers.
Trolling: Worms, needlefish, Thomas Buoyants between 5 - 10 colors.
--Weir Pond—
No Reports
--Bishop Creek--
For the average angler its been pretty slow however fly fishers are doing very good fooling feisty Brown, Brook and Rainbow Trout on a combination of dries and nymphs. Waders are strongly recommended.

--Intake 2—
Crowded.
--North Lake—
Fly fishers are doing well on wild trout but there isn't much going on for the bait and wait crowd.
--Road Work Update—
Major road work continues Monday thru Friday through October. You can expect up to 30-minute delays in either direction and when leaving the resort. There is no road work on the weekends or holidays. These delays are admittedly very annoying, but for 2020 it's not a big deal all things considered.
--Fish Stocking Update—
We stocked fish from Oregon on Monday 7/27, which happened to be the last stocking for at least a week or two. The DFW has officially euthanized 3.2 million trout at the Mojave, Black Rock and Fish Springs hatcheries due to a rare bacterial outbreak and will not be stocking most high country waters for the remainder of the 2020 season. They don't plan to be producing stockable fish from those hatcheries until 2022. We have arranged for more fish stocking with a few private hatcheries from Oregon and Idaho to keep things rolling however California Department of Fish & Wildlife has put a temporary hold on import permits until those outfits can be tested. So unfortunately that means the Idaho fish we'd planned to put in this week will be delayed….but hopefully not for long as it's more or less just a hoop those trout farms have to jump through. More on that in the next fish report as we have LOTS of fish still ready to be planted once they are cleared to do so.
Sierrally,
The Parchers Crew
< Previous Report
Next Report >
< Previous Report
Next Report >
More Reports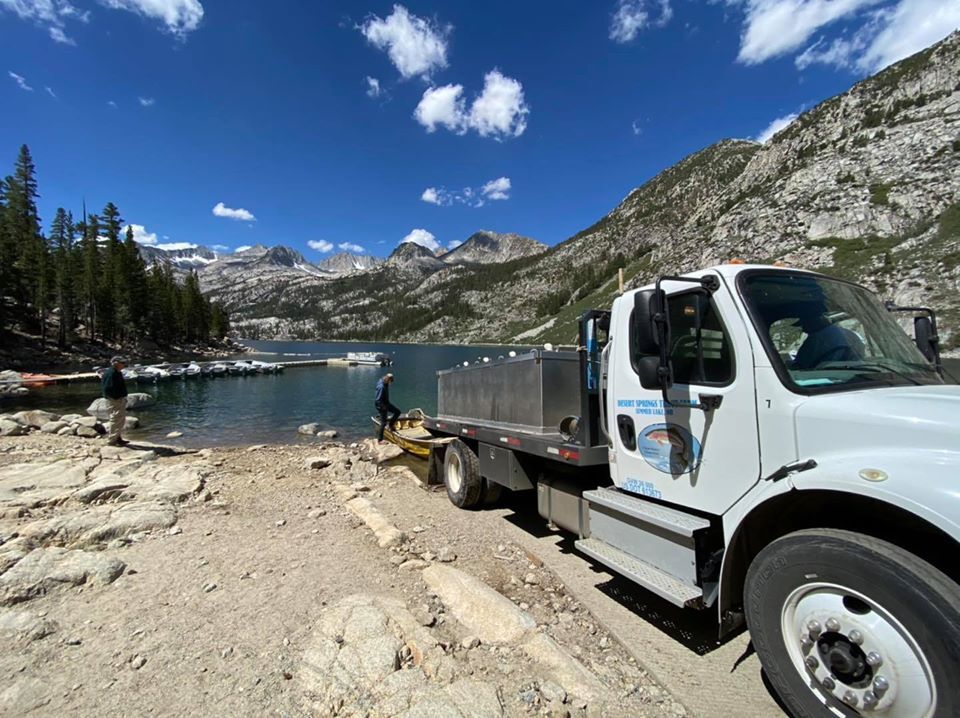 7-27-2020
Boom....sneak attack stocking of Oregon Rainbows at South Lake Bishop today. A nice mix of pan sized trout and some......
Read More