Hubbard's Marina Fishing Report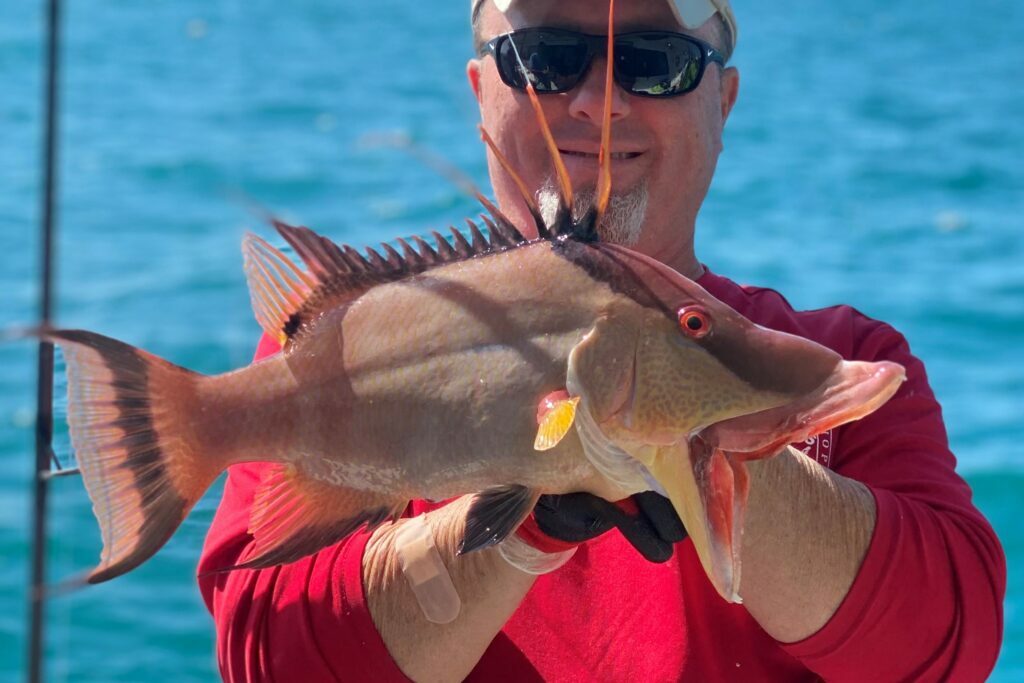 Hogfish
Photo Credit: Hubbard's Marina
by Hubbard's Marina Staff
2-4-2022
727-393-1947
Website

Weekly Weather
We are coming up on the first quarter moon on the backside of the new moon so tides will be weakening a bit this week. Plus, we have a big front coming through Saturday that will be stalling just south of our area. Due to this, we will have nearly a seven-day period of north winds which will stagnate our barometer low and temps lower as well. With a static low barometer, static wind patterns, cooler temps and weaker tides fishing will be tougher through the work week especially inshore. Best time to get out there would be today or right behind the front's weather on Sunday to take advantage of the moving barometer and stronger tidal flows before things get settled in for the week.
Inshore Fishing Report
We are seeing a good bite of redfish this past week around the area, especially in the later afternoons. The areas holding fish will be the ones with the warmer water temps where they can more actively feed. Look for those mangrove shorelines, sea walls, mud banks, or oyster bars baking in the afternoon sun for the best opportunities for more actively feeding fish. We did see some redfish action around the dock lines of the passes, but most often on those tides where that warmer water was pushing through the area. Live shrimp is becoming a great option for the redfish, but super slow moving soft plastics or cut dead bait is also working well too.
Snook were tough to find actively feeding this past week compared to the redfish as they are more susceptible to the cold slowing them down and shutting down their bite. However, some nice fish were caught in the back bay area where the water is shallower and it will warm up much more quickly. Especially where those mangrove shore lines and oyster bars but up with that darker bay mud that will radiate plenty of heat in the later afternoon after the sun has a chance to warm it up some. Look for those little cuts, pockets, and points around the mangroves and cast up into the mangroves working your bait away from it.
Trout action has been spotty around the area, but when you are able to find them, they have been biting well for people working those soft plastics, live shrimp or white baits. Definitely sticking a bit shallower and hanging on the edges, cuts, and potholes of the flats of the back bay areas. We are also seeing some decent numbers of trout on the underwater lights of the area too.
Sheepshead fishing is going well around the bay and along the coast where you can find some structure to fish with minimal weights and lighter tackle. They are picky and are looking for those smaller pieces of shrimp, cut oysters, clams or fiddler crabs. Try and use minimal weight just enough to get your bait to the structures. Even in that dirty stirred up water condition behind a front the sheepshead seem to flourish and still be plenty active and hungry.
Black drum are still around the area too, hunting around bridges, dock lines, oyster bars, and occasionally even the flats too. Look for them with the live shrimp or cut crabs weighted to bottom. Especially local bridges that are near grass flats or bayou areas.
Flounder are around the area biting fairly well if you can hone into the areas they are hanging. Especially those sandy patches around the flats, around local docks, piers, or bridges. They are always going to feed right on or near the bottom and they are looking for the live shrimp, mud minnows, small Pinfish or slower moving soft plastics bounced along the bottom.
Nearshore Fishing Report
The hogfish bite has been really good this past week especially at the start of the week we saw an incredible hogfish bite around 40-50ft of water on our half day fishing trip. Plus, the all-day trips have been doing really well on hogfish too around 50-80ft of water. Look for them on the lighter tackle around 20-30lb leaders and 3-4ot hooks and around 1-2oz weights on spinning rods. Look for the hogfish around smaller ledges, rock piles or hard bottom areas. They are really prolific around those shell bottom areas adjacent to the hard areas as well. Often where you find one, there will be more in the surrounding areas and structures too.
Lane snapper action has been very good around 70-100ft of water too. We can find them shallower too, but they are most concentrated past 70ft of water. They love some live shrimp like the hogfish, but we can get them on small pieces of squid and small chunks of threadfins as well. Smaller hooks work best like the hogfish; I wouldn't suggest more than 4ot for targeting the lane snappers near shore.
Mangrove snapper action has been pretty decent near shore as well. We are even seeing some fairly large mangrove snapper closer to 100ft of water. You can find them shallow too, but the deeper you get near shore the more likely you will find bigger concentrations of mangrove snappers. The cut threadfins, sardines, or cigar minnows on the double snell rig with 30-40lb leaders and around 4ot hooks are a great idea when targeting mangrove snapper in the deeper near shore waters. These guys are super smart and leader shy fish but lately the more stirred up water conditions have allowed us to have a great opportunity at catching them even during the day when typically, they are a more nocturnal feeder. Overcast conditions also help the daytime mangrove snapper bite too, combining overcast conditions with the more murky waters is a great recipe for a better opportunity to do well on mangrove snappers during the day.
Red grouper action near shore has been spotty at best, and most definitely gets better as you move deeper. Getting closer to around 100ft of water is going to give you the best chance at finding larger and more numerous red grouper. They are loving the whole threadfins with the tails cut or live Pinfish t, but we do often get them on butterflied grey snapper, grunts, or squirrelfish. Using around 6-7ot hooks depending on your bait size is a good option for the red grouper.
Offshore Fishing Report
Yet again it was a bumpier week of weather making it trickier to get offshore to the deepest waters to target the big offshore red grouper, scamp, and mangroves. However, we were able to get out there Monday and did extremely well on all three of these species.
< Previous Report
Next Report >
< Previous Report
Next Report >
More Reports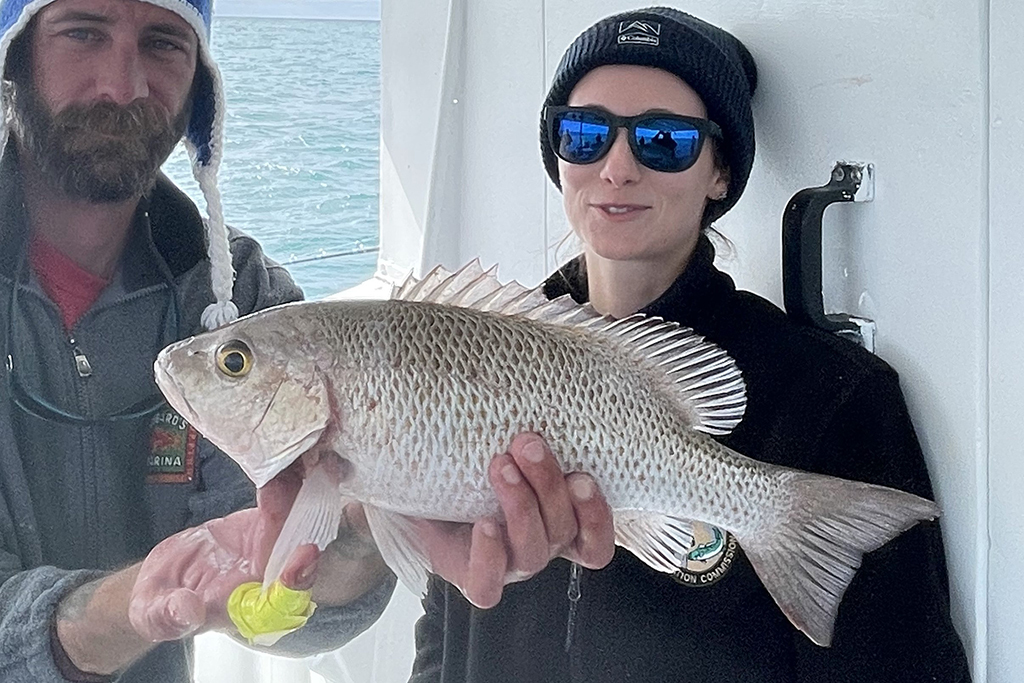 1-28-2022
Inshore Fishing Report The redfish action this past week was steady around the area and many of the fish caught were......
Read More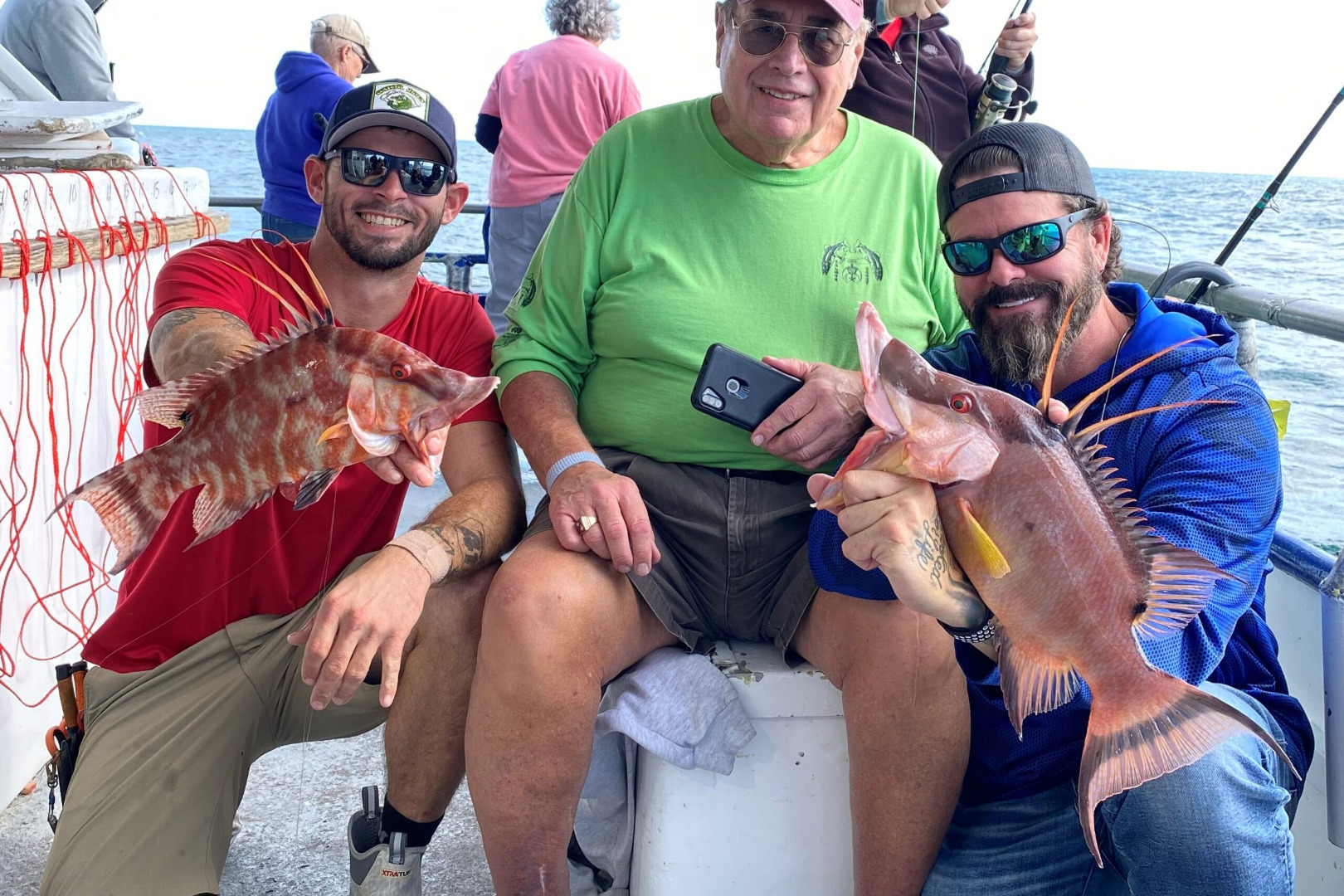 1-21-2022
Inshore Fishing Report It was a turbulent week of weather this past week especially at the start of the week making......
Read More