Hubbard's Marina Fishing Report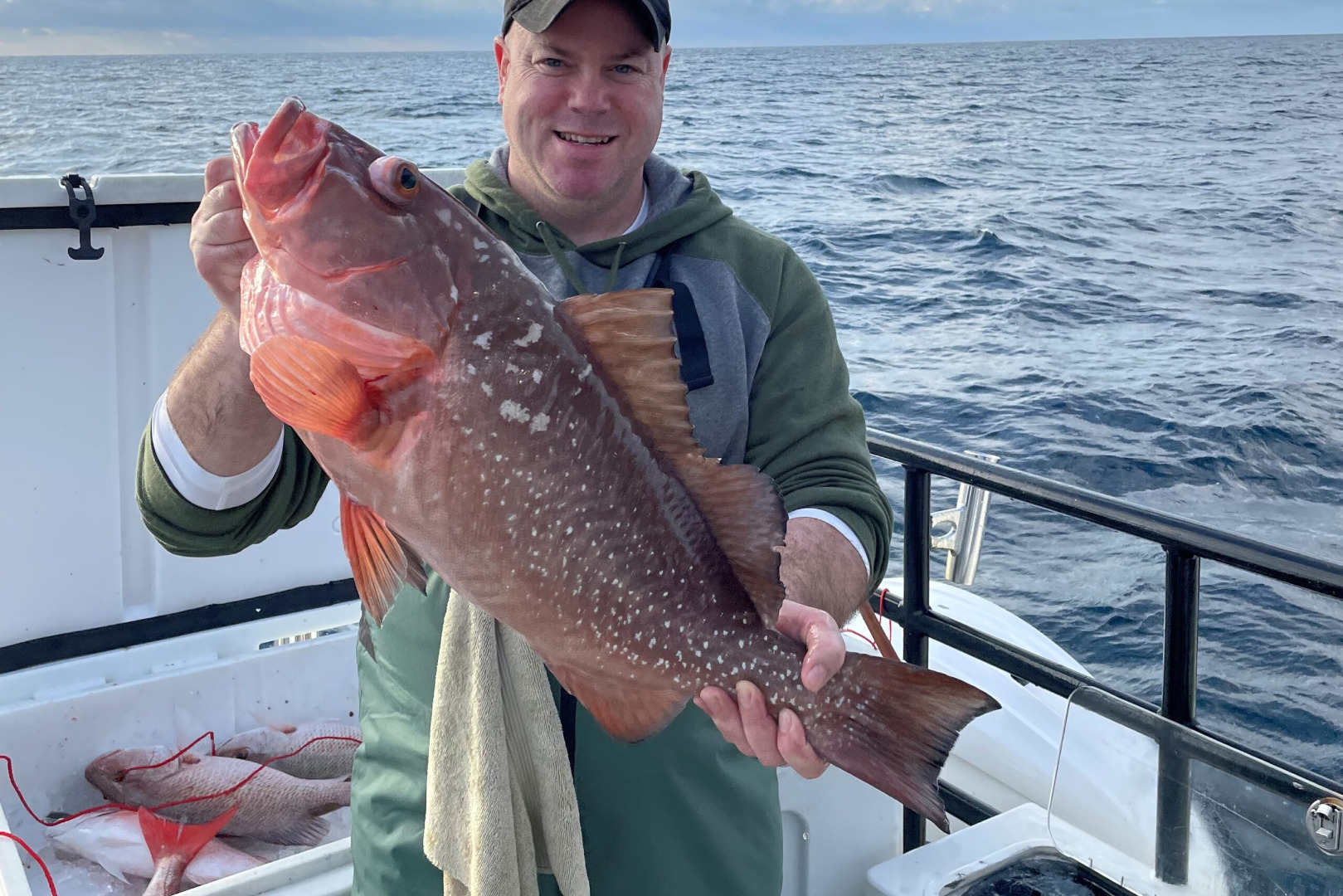 Red Grouper
Photo Credit: Hubbard's Marina
by Hubbard's Marina Staff
1-7-2022
727-393-1947
Website

Inshore Fishing Report
Redfish bite has been active recently around the area. We are seeing a lot of these guys around the flats and mangrove shorelines lately. Plus, some action around the passes; under bridges, dock lines and drop offs. Residential dock lines are holding redfish too, especially at the points adjacent to flats, passes and other areas that may concentrate bait. Slow moving soft plastics, swim baits, and slow jerk baits are working well for the redfish. Also, live shrimp is always a great option this time of year along with the medium sized white bait if you can find it. Look for the mullet moving around the flats and often you will find numbers of redfish in tow behind the schools of mullet. You can also find them around the oyster bars when tides get high enough to let them forage the bars that get covered up by the water as they hunt for shrimp and other crustaceans.
Snook action has been a little slower this past week around the area overall, but some still being caught around the flats. Also, creek and river mouths becoming hot areas to look for the snook as well. They are holding to structures like residential docks, mangrove shorelines, or the drop offs, cuts or potholes around the flats. You can find them cruising shorelines too. Soft plastics, top waters in low light conditions, and jerk baits are good options for artificials. The live bait they are loving right now is live shrimp, but white bait is a great option if you can find it. Also, in deeper areas small to medium pinfish work well for snook.
Trout action has been pretty good this past week around the flats, mangrove shorelines, dock lines and even into the passes. They are more widespread right now and love the soft plastics, artificial shrimp and live shrimp too. Look for them with the lighter tackle, slower action rods due to their soft mouths, and target areas they can ambush passing baits with ease. These guys are pretty often stacked together on the drop offs, down tide side of the bridges, piers, or docks or moving around on dock lights at night.
Sheepshead are prolific through the area especially on or near structures where they can hunt for shrimp, crabs and other crustaceans and mollusks. Residential dock lines are hot areas to hunt for sheepshead especially in the back bay areas where waters are a little shallower and growth is abundant. If you find a set of docks where there's lots of mangroves or adjacent to the flats you will find plentiful sheepshead. Local bridges and large docks are good places to look as well. Minimal weight and light tackle are needed to target the sheepshead too.
Flounder action has been spotty, but we are seeing more of them caught as of late. Look for them in the shadows of docks, bridges, or in the potholes of flats when fishing shallower. When deeper, look for them in the sandy areas where they can ambush baits down tide of structures or ledges where bottom depth drops off near flats, shorelines or structures. They are often adjacent to rock piles or bigger structures in deeper waters too like around Tampa Bay.
Pompanos are around our local passes, beaches and fishing piers. However, you must get out there in the early morning and work those areas with the pompano jigs religiously to follow these fish around the area. You can find them on sandy areas adjacent to grass flats too but fishing along the mouth of bay, Fort De Soto area or local passes and bridges is most common.
Triple tail action is still around the area. We have seen a downward trend in numbers of triple tail, but still some are being caught. Look for them under floating debris, buoys and around the markers of Tampa Bay. Even occasionally dock lights at night in the area with the right variables present will hold some triple tail.
Black drum are still around and most prevalent deeper into the back bay and intercoastal areas. We are seeing them around docks, bridges, and mangrove shorelines hunting for shrimp, crabs, or cut dead bait on the bottom. Fishing local bridges with cut crabs, big dead shrimp or even cut threadfin are great ways to target them.
Nearshore Fishing Report
Red grouper season is open and off to the races. We aren't seeing a ton of them near shore right now with cooler waters, but you are able to find them when fishing the deeper near shore areas. Look for them on the hard bottom areas, small ledges and potholes. Use things like longer strips of squid, Smaller whole squid, butterflied baits, or even cut fillets of white grunts, squirrelfish, mullet, or mackerel. Anything nice and smelly and/or oily is a great option to target the red grouper near shore and even offshore too. We are typically fishing 40-60lb test with around a 5-6ot hook near shore when targeting red grouper with medium gear ratio conventional reels.
Lane snapper finally re opened at the end of December and are remaining opened up through the 2022 fishing year hopefully. We are seeing some solid numbers of lane snapper near shore around 50-100ft of water. Fishing about 60-80ft seems to be the sweet spot for seemingly never-ending lane snapper on squid chunks, cut threadfin, and live shrimp. Using around 30-40lb test and about a 3-4ot hook is a great way to target these great eating fish near shore.
Mangrove snapper are around near shore too. We aren't seeing massive numbers or huge concentrations. However, the ones we do see seem to be very large for near shore mangrove snapper. We are targeting them with cut threadfin and a double snell rig of 4ot hooks with 30-40lb leaders when fishing up to around 100ft of water. However, we often get them as by catch when targeting hogfish in deeper hogfish areas like 60-80ft. You can catch these guys as shallow as you want near shore, but they are most common the closer you get to 100ft of water in the deepest near shore areas.
Kingfish are still around near shore but only in very select areas where bait is present and the conditions are right. We pick them up trolling out occasionally with the planners and spoons around 40-80ft of water. There's the occasional mackerel around still too, but numbers are definitely dwindling as water temps continue to downtrend.
Offshore Fishing Report
The red grouper bite was super-hot for us this past week as we transitioned from gag grouper fishing to the red grouper. This past week on our 12 hour extreme trip this past Wednesday we caught a boat limit of keeper red grouper that means everyone on board completely limited out on keeper red grouper. We had them coming up on slow pitch jigs two at a time, while using live and dead bait too. It didn't much matter at all the potholes, smaller ledges, bait shows and hard bottom cuts we saw plentiful red grouper action. Fishing around 160-200ft of water is a great area to start targeting these plentiful and fat offshore red grouper.
Plus, while out deeper targeting these red grouper we are seeing some nice scamp grouper too. The scamp bite has been steady offshore in deeper waters closer to that 200ft area. We are seeing them on the jigs, cut squid, and small to medium pinfish too. However, they are often caught while targeting mangrove snapper on cut threadfin using that double snell method.
Mangrove snapper action has been good offshore lately too. We are seeing these guys  as shallow as we fish offshore up to that deeper 200ft area. They are biting steadily and seeming do best during the day in overcast conditions. The double snell rig and cut threadfin are the go to option for targeting mangrove snapper with 30-40lb leaders and a fast gear ratioed reel. Using a rod with a super sensitive and lighter rod tip and decent back bone is the way to go when targeting these fast biting and smart mangrove snapper.
We are still seeing plentiful porgies, vermillion, almacos, and occasionally yellowtail snapper too while offshore targeting the red grouper, scamp and mangroves. Plenty of heads and tails while offshore fishing. Especially as we go deeper the bigger we see the plentiful vermillion snapper. At our fisheries meetings this week the council is discussing severely increasing the vermillion snapper catch limits as fishery scientist have recorded the largest vermillion snapper recruitment ever recorded. This means we should see a huge influx of those keeper sized vermillions entering the fishery and a healthy fishery for years to come!
Pelagic action out deep is very hit or miss, but we are seeing the blackfin tuna, kingfish and wahoo while out fishing deeper waters. Trolling the nomad DTX minnows, Nomad Madmacs, or the rapala xrap magnums are the go to lures we use on our deepwater trolling set ups. However, the dredges, plugs, and skirts are all working well. Wahoo love the darker colors like purples, blacks and dark blues. The red head white body classic color pattern is a good option always too!
< Previous Report
Next Report >